Hook up your kid's denim jacket with this cute little sugar skull made out of felt. All you need are some scissors, needle + thread and some patience.
I can rarely sit down to watch a movie and/or TV unless my hands are doing something. It just feels like wasted time to me. I am usually folding laundry, matching socks, organizing Michael's clothes, clipping the kids toenails or sewing something.
So while we watched a movie, or should I say I watched it, Michael slept and forcefully blew air out of his larynx–not enough blood and violence to captivate his attention, apparently–I finally finished up Maya's jacket that I started way back in April.
Only now it doesn't fit her (her arms are too long), but it is just right for Xixi. Since Maya had her heart set on the jacket, now I have to go out and buy a new one in her size and do one just for her. My daughters are really competitive like that. And they are only 3 and 4! This is only the beginning.
I think it came out really cute. I used felt squares, glue and a needle and thread. Eventually, my goal is to make all of my stitches straight and uniform. And I need one of those thimble thingies because I stabbed myself about twenty times.
It hurt like crazy.
Lest you believe I am incredibly talented and creative, I should say that I totally jacked this idea. Totally. There is this chick named Suzi Boneshaker. She is amazing with the felt and stitching. I saw some of her Day of the Dead stuff and loved it. And naturally, my artist mind thought, hmmmmm, I could do that! So I did. And I'm quite satisfied with myself.
RELATED: Dia de los Muertos DIY | Calavera Back Patch on Denim
But I have to give props where props is due.
So thanks, Suzi. Thanks for creating this really cool idea that I could then appropriate and eventually replicate for myself.
How to:
–cut your felt square into the shape of a sugar skull
–cut out eye sockets, nose, mouth and teeth shapes
–cut out bow shape
–glue down shapes onto another felt square
–use needle and thread for decorative stitching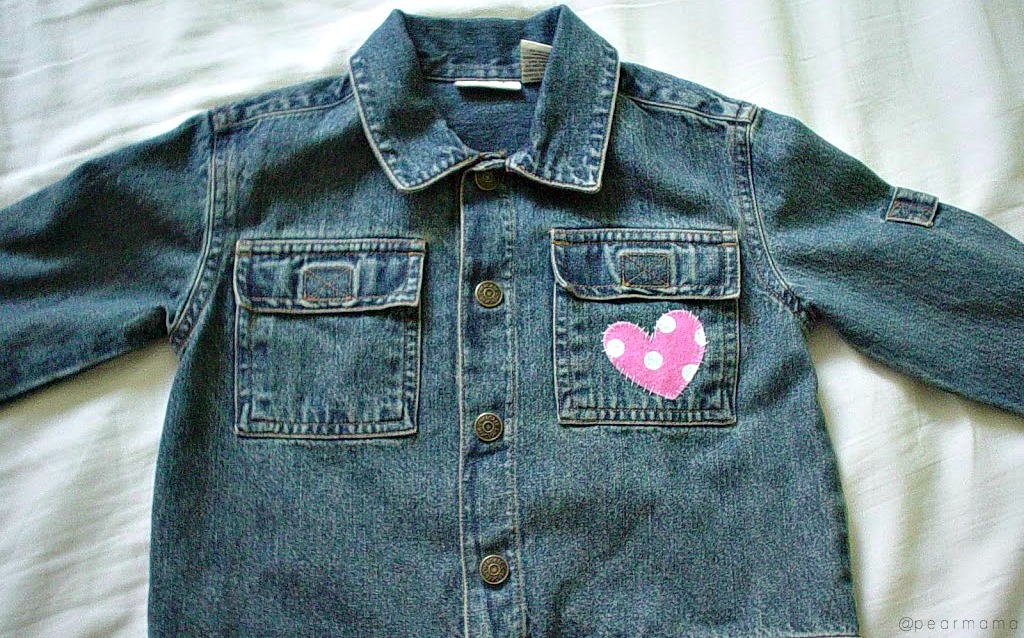 Just a little love on the front of the jacket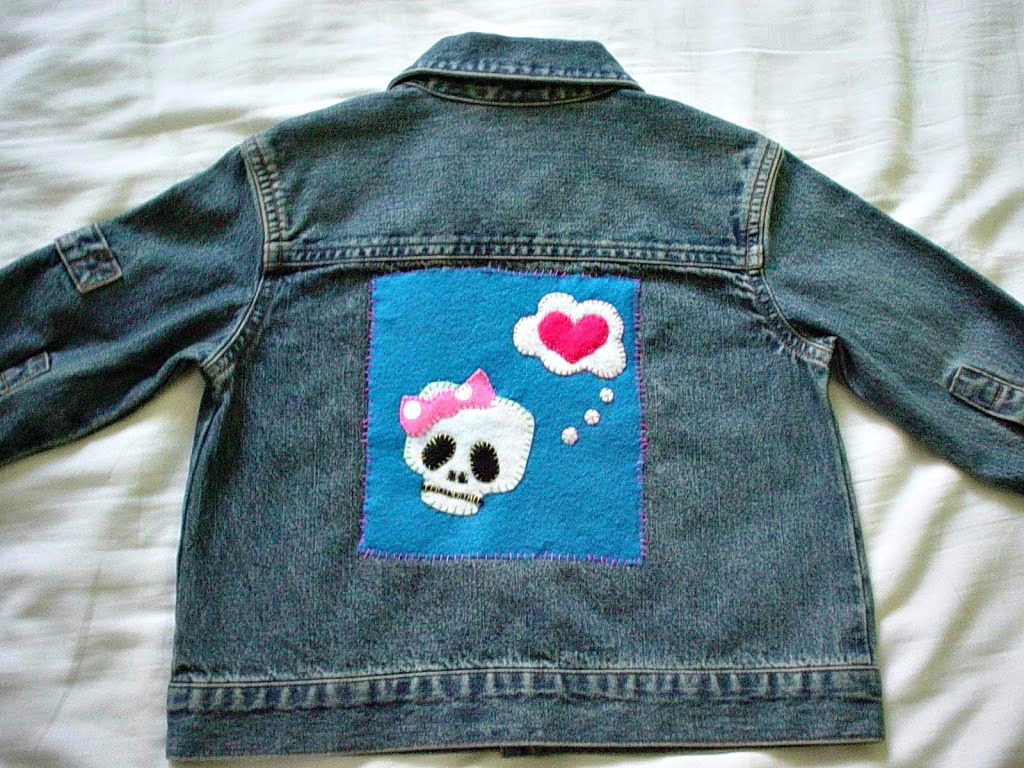 Since my girl is boy crazy just like her mama, she is always thinking about love. I thought it was a cute idea.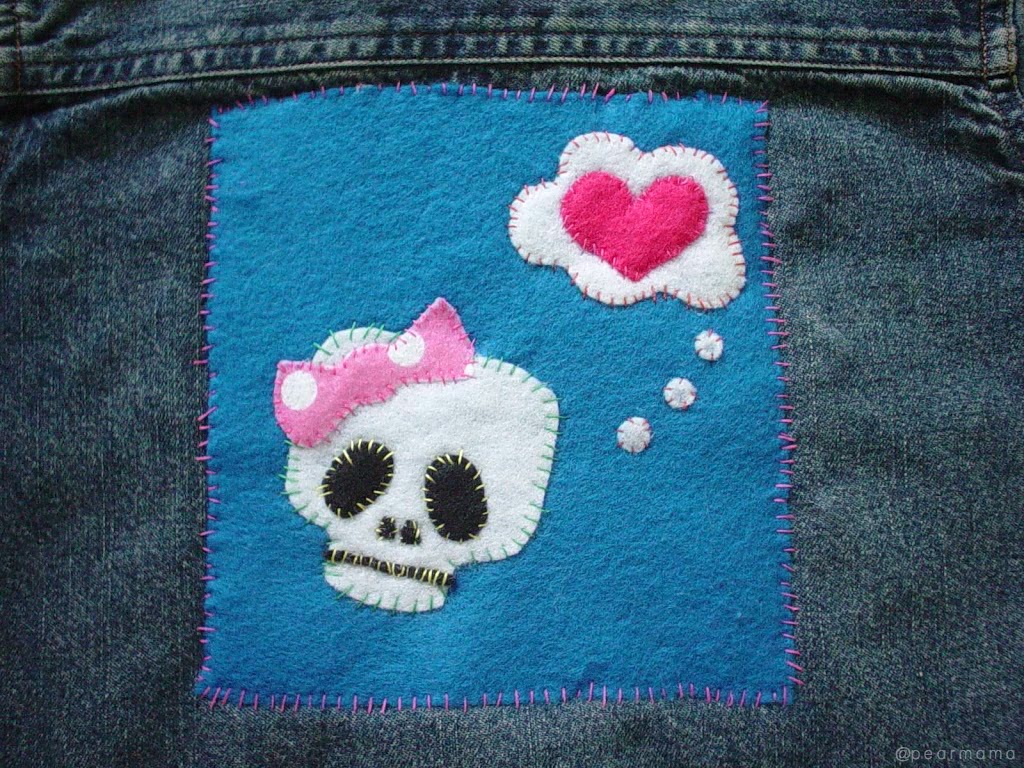 I used some of the colors she wears alot–pink, light green, baby blue, and yellow. This is the perfect kind of jacket to wear over a cute sundress.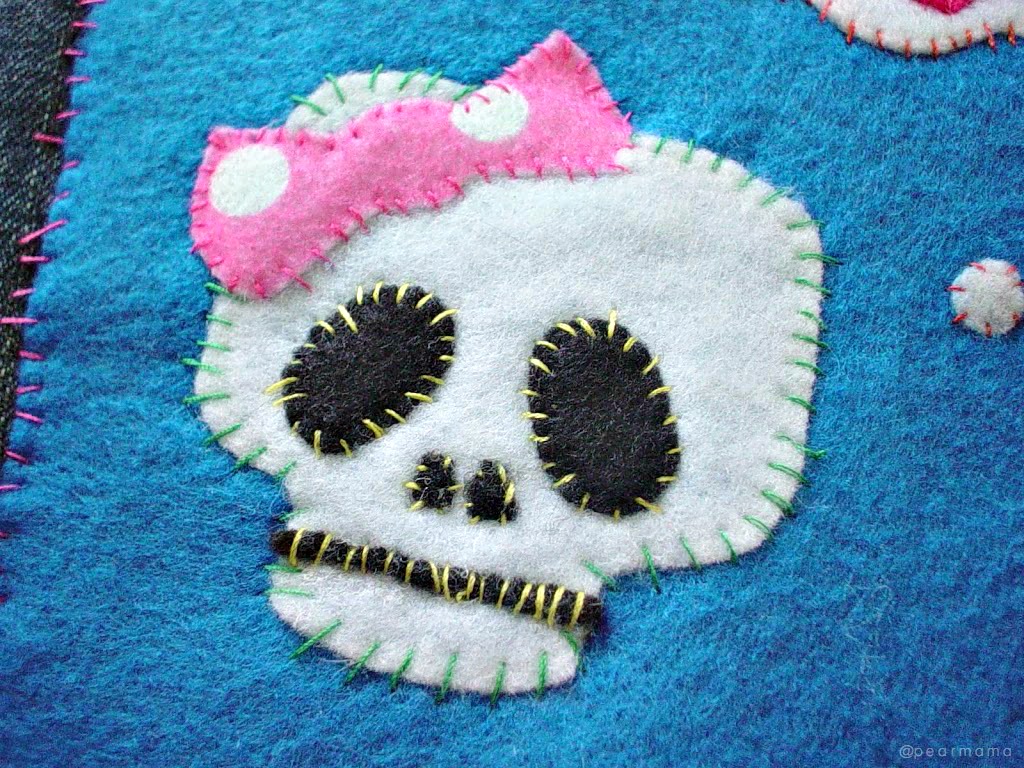 Close up. The crooked yellow stitching on the mouth drives me nuts but I wasn't about to take it out and start over. I think the bow turned out really cute.
PIN FOR LATER