The night I went with my family to celebrate Dia de los Muertos here in downtown Riverside, I was flabbergasted by how much this event grew. I do believe it doubled in size this year. Which is fabulous for all of us Mexican folk art lovers and sugar skull fanatics. They were a ton of vendors, selling the wares I've come to expect from this type of event. But then, there were a few really cool and unique things offered that night.
Xochico was one of them.
I discovered a booth that was selling the cutest, most adorable little coin purses, pillows and backpacks. All shaped just like pan dulce, sold in pink pastry boxes.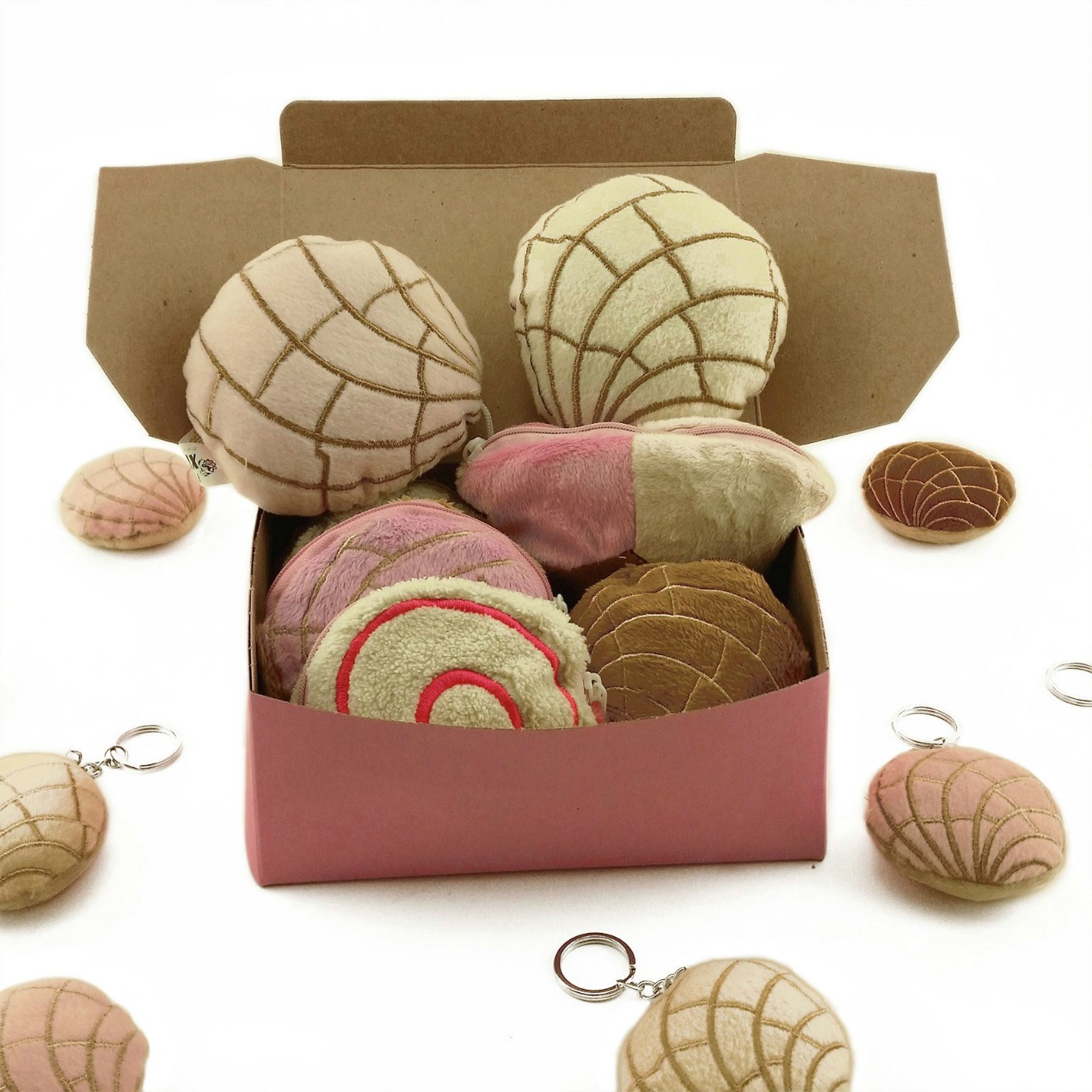 I about died because they were so cute. Dead right there on Dia de los Muertos. They had to revive me with a carne asada taco and a cup of champurrado. The Mexican version of smelling salts, if you will.
What is pan dulce? You might be asking yourself. Baked goods. Sweet bread. Americans have their apple pie. The Sicilians have their cannolis. The Greek have their baklava. The Chinese have their almond cookies.
Mexicans have pan dulce.
When I lived in East L.A., there was a tiny panaderia right off of Eastern Ave. They had the most delicious pan dulce I've ever tasted. I would walk in there and the smell alone would make you swoon. When I first moved back out to Riverside, I had to settle for tough, crumbly pan dulce. Sad face.
The pan dulce predicament has gotten better over the years. Or maybe I've grown desensitized. Who knows. My point is, I shared all that so you could know how us brown people feel about pan dulce.
So when I stumbled upon Xochico selling pan dulce-shaped purses, pillows, fuzzies (to hang from the rearview mirror in your lowrider), keychains and backpacks, I found myself swooning again. They were so cute. My girlies saw them and started squealing. There was no explanation necessary. They knew exactly what they were. The cultural reference was unmistakable.
Xochico, if you read this, hook a hermana up. I wanted a backpack for each of my two girls but you only had one in stock that night.
I love it when brown people come up with such original, creative ideas. You go, Xochico.