Make your own Frida Kahlo ornaments to adorn your Christmas tree this year.
Any time of the year is a good time for Frida Kahlo, in my very humble opinion. Valentine's Day, Cinco de Mayo, Halloween, Groundhog Day–you name it, and I can incorporate my muse. What can I say, I'm #obsessed.
Now, of course, you can have vintage ornaments or a collection of snowmen hanging from your tree. That's nice. But wouldn't it be bad ass to have a few of your favorite Frida Kahlo portraits, too?
RELATED: Frida Kahlo Body Cast Printable
This DIY ornament project is so easy, guys. There are so many ways you can make your own handmade ornaments, but this is how I made mine.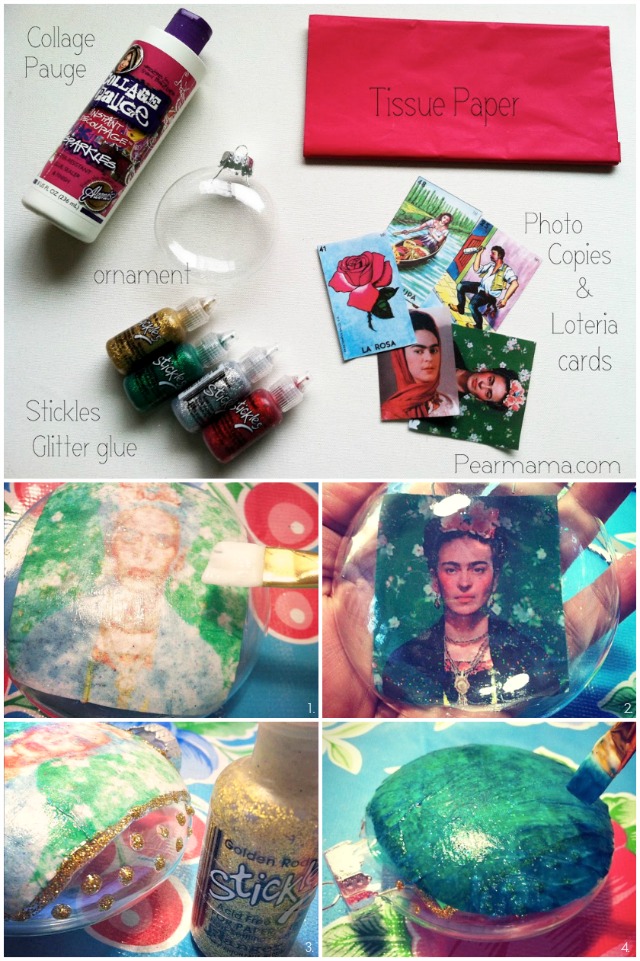 Step 1: Place a Frida color copy on the ornament, face down. You'll be looking through the ornament when you hang it from your tree. Brush a coat of decoupage glue over it, making sure there are no air bubbles. I've found the best way to do this is to let the medium sit for a few seconds and get tacky. Now brush another coat decoupage glue. Let it dry.
Step 2: Flip your ornament over. You should be looking at Frida through the glass, as in photo #2.
Step 3: Start making your ornament fancy using glitter glue. I tried a few ornaments with loose glitter and it was making me lose my mind — this is where glitter glue stepped in and rescued me from a loose glitter-induced hell. The glitter glue tip gives you perfect control, too.
Maybe that's my problem–I want to be in control all the time. I can't lose myself with abandon in loose glitter. They look beautiful in tubes but in real life, it's just too messy. See, art really does double as therapy. Don't let anyone ever tell you otherwise.
Let the glitter glue completely dry. Go and make yourself a sandwich (I like turkey, swiss and avocado, if you have any). Take a nap. Go scrub the toilets. In other words, make yourself busy because it's going to take a while for the glitter glue to dry.
Step 4: Add tissue paper as your background color. I went with tissue paper for this project because paint can easily scrape off craft glass. Tissue paper is cheap, it dries very sheer, it comes in many colors and when paired with glitter, it takes on this pretty, sari-type effect. Very lovely.
I eyeballed the size and cut out a circle in the tissue paper. Trim it down and find the size that best suits your design. Brush a few strokes of decoupage glue and place your tissue paper on top of the Frida image. The tissue paper won't take a lot of abuse so work quickly. Brush another coat on top of the ornament to seal it. Let dry.
And now, you have this magnificent little beauty. Ornaments as delicate and beautiful as Diego's little paloma.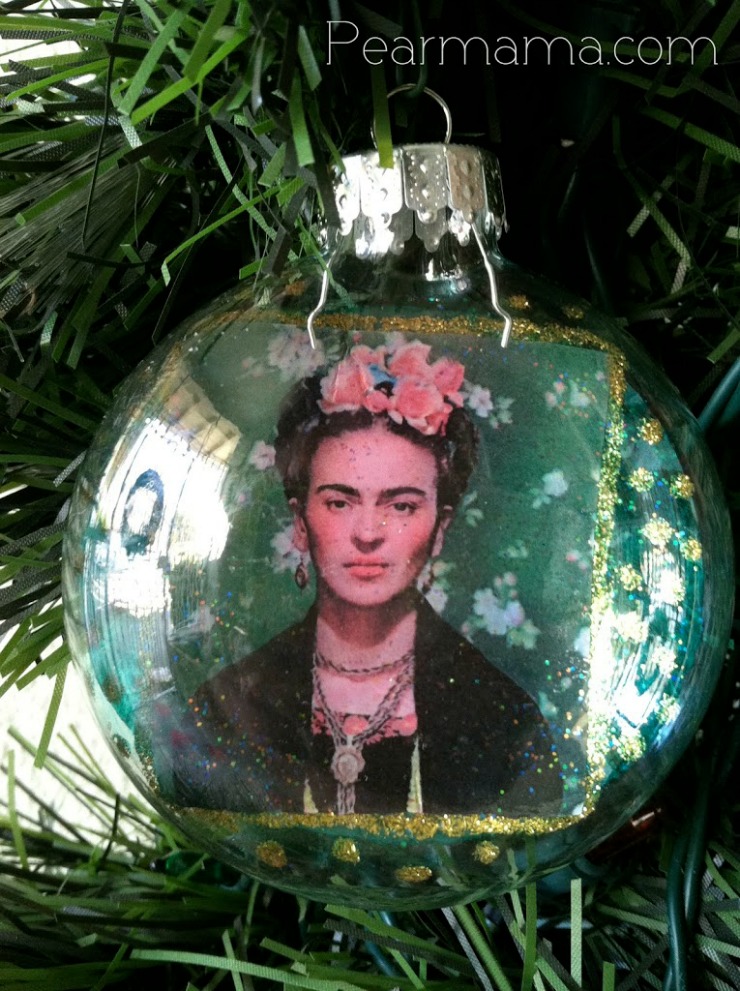 Because I fell in love with my new Frida ornament, I kept on making more. I just couldn't help myself.
RELATED: Stenciled Burlap Christmas Luminarias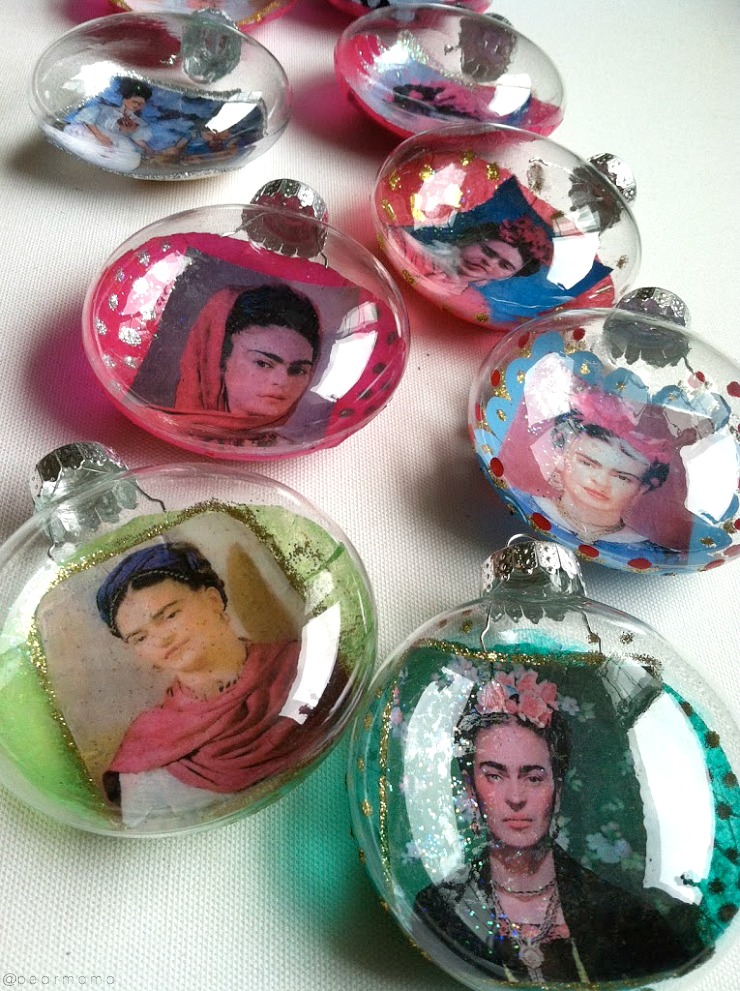 Happy crafting and Merry Christmas!