Make your own Aztec-print denim shorts and rock them all summer long.
Is it just me or do kids grow like weeds come summertime? Jeans that fit my daughter just fine last September make her look like she's waiting for a flood in June. When I organize my kid's closets and pull out summer clothes, I take stock of all the jeans we've accumulated.
Dark rinse, light rinse, skinny, straight leg, and bootcut (my girls hate bootcut). I just made my girls try them on and then I brought out my trusty Fiskars and started cutting them into cut-offs, which are great for summer.  I was able to salvage 8 pairs of shorts.  Eight pairs!
RELATED: Bleached denim shorts with lace
With upcycled denim jeans being all the rage now, I decided to get creative with the cut-offs and give them a cool DIY treatment. There are tons of YouTube vids on bleaching denim, and the best one instructed me to rinse with vinegar to stop the bleaching process because it will save your fabric. Since it's diluted, the lightening process takes longer but that's okay, I think it gives you a little more control over the final outcome.
Some of the bleach crept over to the other side of the denim but I didn't mind–you really can't make a mistake doing this! It'll look cool either way.
What you'll need:
 pair of bleached denim shorts (or light-colored shorts)
ballpoint pen (to sketch your design)
ruler
Tulip fabric paint in Ebony
paintbrush
scissors
You decide how high you want to take up the bleach. I wanted it white so I let it process for a while longer. I heard putting it out in the sun speeds up the process, but I didn't do this. I bleached in my dark, funky garage because I didn't want it to spill anywhere.
RELATED: DIY Graffiti denim shorts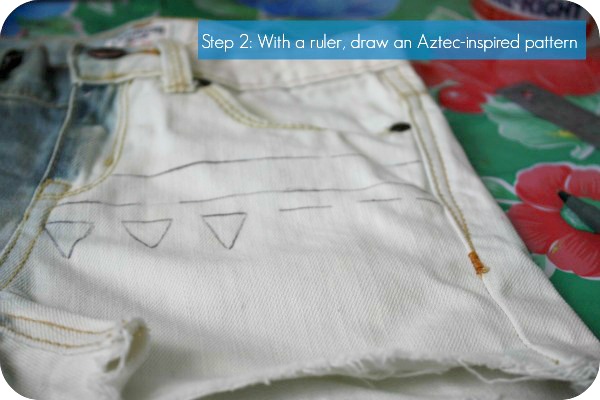 Draw your Aztec pattern using a ballpoint pen. All you need to do is sketch your shapes, so don't use a dark pen on your white shorts. You can use the ruler to help you keep your lines straight. I did that for about 3.5 seconds before I thought, forget this, and I proceeded to draw my shapes freehand. Google a cool pattern or you can use a variation on mine. I don't mind–we can share.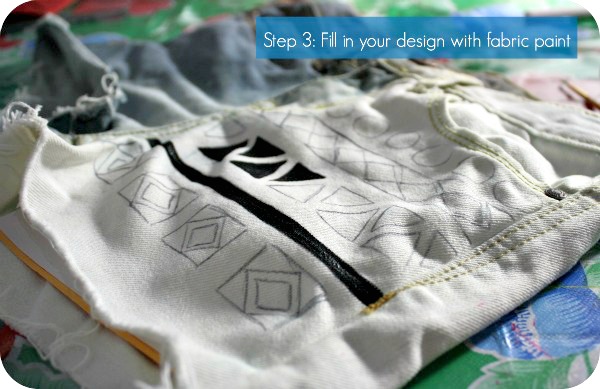 My first plan was to use fabric markers instead of fabric paint. If you're not used to painting, markers will be your best bet. It's so much easier to draw it and color it in. Personally, I just liked the richness of the black paint. Just remember to slide something–piece of paper, magazine, cardboard–inside the pant leg to keep the paint from seeping to the other side of the denim.
RELATED: Pink ombre denim shorts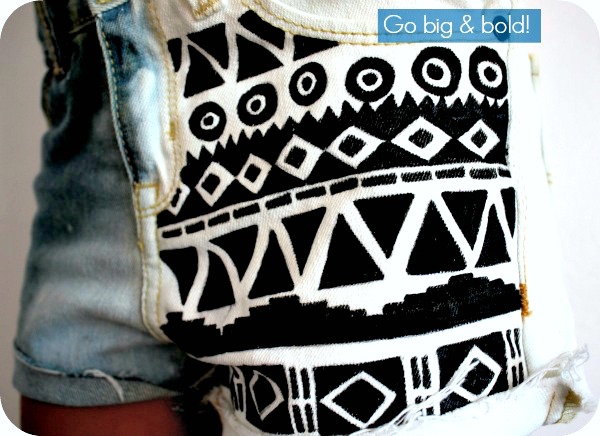 I started out with some very modest triangles, then I realized these were for my baby girl, and I wanted her to love them and feel fashionable when she wore them. I decided to forgo ripping holes in the denim because they are for a little girl, but I did fray the edges and once it takes a trip into the laundry, it'll have that perfect worn look.
I love the way they turned out. Maya can't wait to wear them!