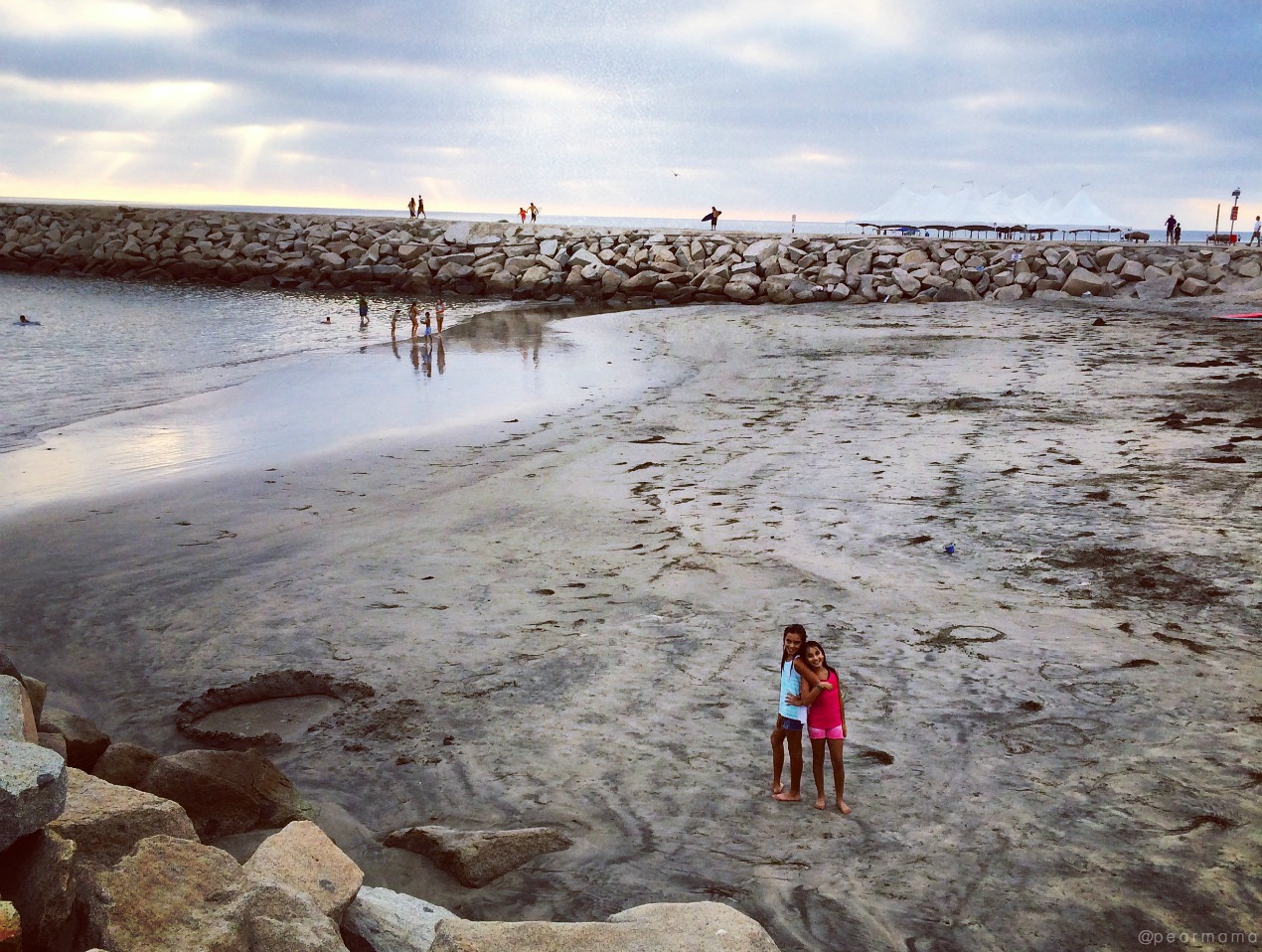 Summer is here.
I have a love/hate relationship with summer. I love the idea of barbeques with family, the 4th of July, swimming, fire pits at the beach and cool evenings sitting under the moon with my husband after the kids are all asleep. That is what I love about summer. That tangible feeling of schools out for summer and you can do whatever you want. Funny how it's been 15 long years since I've been in college but I still have the same feeling come over me every June.
Now, for the unpleasant part of summer. The hot, sweaty, I-want-to-throw-myself-of-a-cliff part of summer. Extremely hot weather kills me. Fat girls can't cope with the heat. I mean, maybe other fat girls can. But not me. Not me. Not me.
But the good times of summer outweigh the ugh parts. For my family, summer is kicked off by our annual camping trip. A large part of my extended family gets together and we spend four days hanging out at Campland on the Bay in San Diego, where it's cool and breezy but the sun is shining bright. Our kids spend most of their days swimming in the pool or the bay. There are a bunch of fun things they get to do–crab hunting, paddle boats, skateboarding, bike riding, volleyball and dancing under the stars by the bandstand.
5 Packing Tips for a Family Camping Trip
Pop-up laundry hampers. I have two just like these and they save my sanity! I usually pack all of our towels and beach towels in them. Once we're all set up at camp, they become the catch-all for our dirty laundry. So much nicer than the kids stuffing their dirty clothes into their backpacks along with their clean clothes and it keeps the tent tidy.
Swim cover-ups. My little ladies aren't comfortable hanging out in their swimsuits if they're not swimming. The minute they get back at camp they want to change. Meanwhile, their cousins are playing with their little buttcheeks hanging out. It drives me nuts because when it's time to head back out to the beach, they tear off their clothes again and put their suits back on! To remedy that, I bought them a swimsuit that came with a little skirt/sarong so they can stay in their swimsuit and still preserve their seven and 9 year-old modesty. Board shorts work great, too!
Arts & crafts. I bring a small bin filled with paper, crayons, markers, and books–anything that will entertain the kids during those in-between times when you are busy preparing dinner, cleaning up or just relaxing. If all else fails, let them relax in the tent with your phone. Thank you, Netflix app.

Individual toiletry kits. Instead of packing all our of toiletries into one bag, I wised up and bought small travel containers and filled them up with the essentials and gave them to each child. It is so much more convenient than wanting to spit nails because someone took the conditioner and didn't put it back–let's face it, if you're not going to bathe at the same time each day–and we're not–everyone needs their own stuff. Some of the kids used their toiletry kits faithfully. The other more natural and earthy types (coughDiegocough) didn't even bother to use them at all and I still have full bottles to prove it.
Pack light. Of course, this is dependent upon your destination. Here in Cali, we don't need much beyond a pair of shorts and a tee. In the past, I've packed way too much clothing for my kids when in reality they spend the entire day in swim trunks and flip flops. I always pack a warm hooded sweater because even So Cal can get a little nippy at night. When vacation is over and I'm washing laundry, I thank my lucky stars I decided to pack light.
Have fun and enjoy your summer.