Make your DIY denim shorts oh so pretty using a simple piece of lace.
Hello, there. If you have spent any of your hard-earned cash on this type of hipster shorts, just stop.
Stahp.
Like right now.
You're killing me, Smalls.
They are so expensive. I was browsing at Urban Outfitters in Hollywood last week and oh em gee…$54 for a pair of their "festival shorts"! 7 For All Mankind Faded Cut-Off shorts for girls clock in at $69! I don't even want to pay $19.99 for these at Old Navy or Target. It's cray cray.
That, my friends, is highway robbery.
I gathered a pile of jeans that my daughter's didn't fit into anymore and turned them into shorts, then I got to work.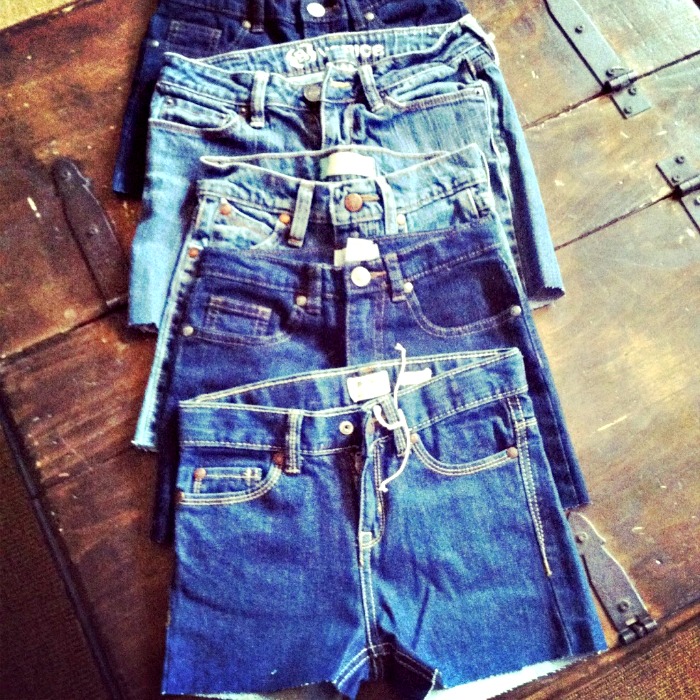 Well, I have more incentive than ever to get creative. I'm nothing if not thrifty! Since they'll be wearing shorts well into November (darn you, crazy long Southern California summer and nonexistent Fall), I thought I'd make a few different looks.
RELATED: DIY Aztec-print on bleached denim shorts
Here are the deets for this pair: I dipped half of the shorts into a solution of one part bleach to two parts water. If you want to speed up the process, add more bleach. But know you break down your fabric by using so much bleach. Somehow, the bleach solution crept onto the non-bleached side of the denim but it's okay, they still look cool. Once they were fully dry, I got busy distressing the denim a little.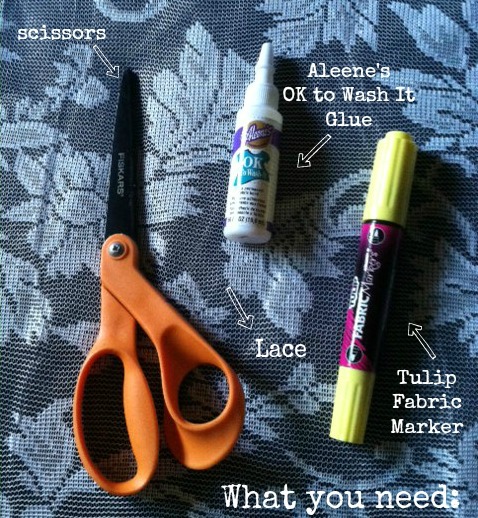 I'm still experimenting with glues. For this project, I used the OK to Wash It, which is a washable adhesive that permanently bonds fabric and embellishments to fabric. It dries clear so you can't see it through the lace.
RELATED: Pink ombre on bleached denim shorts
You can go about measuring the area of your shorts that you'll be gluing the piece of lace onto whichever way you choose. I just placed my lace directly over the shorts and used a light-colored fabric marker to trace the shape. It was easy because you can see through the lace.
Cut out your shape with scissors
Glue lace onto the edges of your fabric
Don't glue down the lace in the center–too messy!
Once your glue has dried and the lace is permanently bonded onto the denim, you can distress them further by making tiny tears with the edge of your scissors, or lightly sanding them with fine grit sandpaper, like so. Once you run them through the wash cycle, the ends will fray nicely.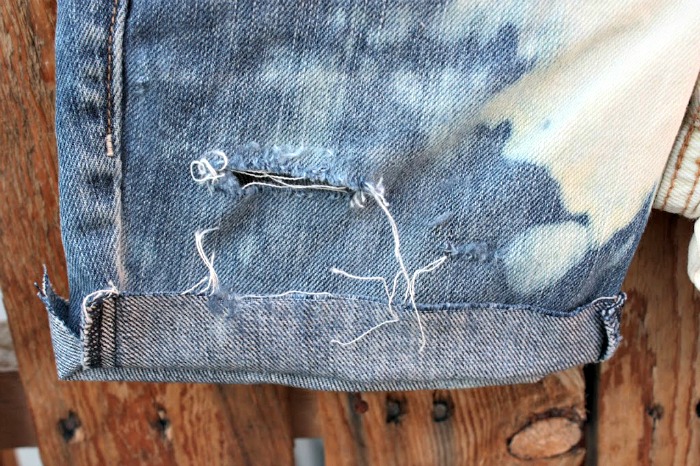 Your lace doesn't have to be perfect–the color of the bleached denim and lace is very forgiving.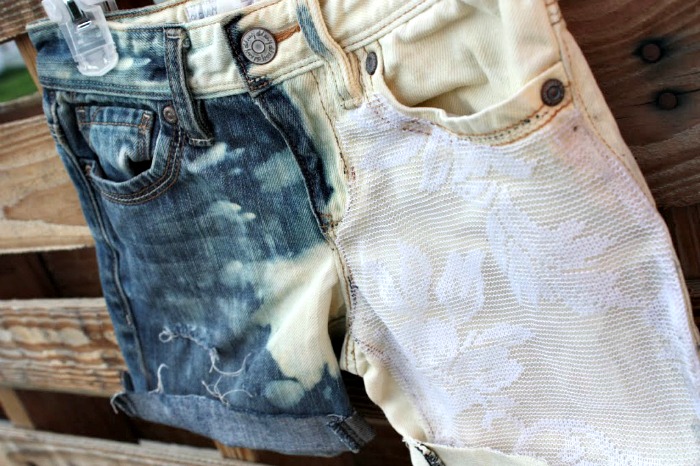 I'm loving the way these turned out. I still have a few more pairs up my sleeve, so keep your eyes peeled like a pepino sprinkled with Tajin.
RELATED: DIY Denim shorts with graffiti
Until then, never pay full price for "festival shorts", people.