Create an ombre effect on a pair of denim shorts using bleach and tie-dye.
This was totally going to be a craft fail post.
It doesn't happen very often because a I'm professional, man.
However, when I do mess up, I mess up big time.
Here's how it went down…
I wanted to make some cute 4th of July denim shorts for my girls. I had grand plans. They were gonna go viral on Pinterest, I just knew it.
RELATED: DIY Aztec-print shorts on bleached denim 
Then I got a bottle of Tulip One-Step Dye in red. Here is an Instagram video of me working on this project:
I followed all the instructions, everything was fine and dandy.
Until I rinsed them.
I went to check them out the next morning, and to my horror, the rinsed red dye looked similar to…blood. Like, rinsed blood. Like, the kind of blood that visits you once a month.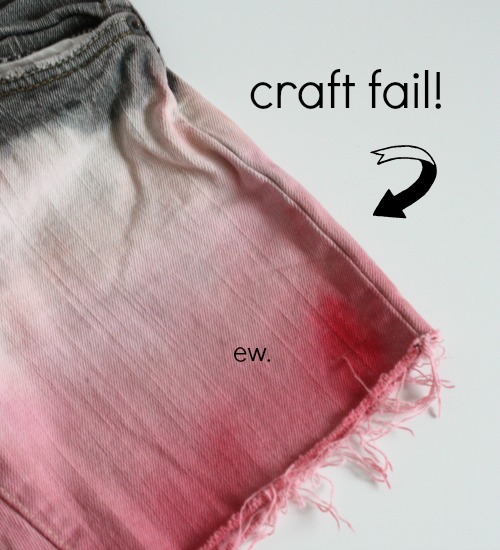 Of course, I kept obsessing over it. It looks fine, my husband Michael kept saying. You're being weird.
But I couldn't help it–the color just gave me this instant recoil reaction. I was not going to let my girl's wear those shorts.
RELATED: DIY lace denim shorts
So the "period blood shorts" just stayed in my office until I figured out what to do with them. I didn't want to use another tie dye color because all the colors I had would clash with the red.
So they just sat there.
And sat there.
For about two months, to be exact.
Finally, I couldn't take it anymore. I had to rehab those poor shorts. First, I freshened up the bleached areas with a Clorox bleach pen. It made it nice and white again. Then, I found some Tulip Fabric Spray in my craft stash. The color was vibrant enough to cover up my craft fail.
So easy–why didn't I think of this sooner?
I put a piece of cardboard in between the pant legs so the paint wouldn't seep to the other side of the denim. Then, working from the bottom of the denim shorts on up, I began to spray the fabric spray and saturate the denim. I shielded the upper portion of the shorts with another piece of cardboard so there wouldn't be overspray. Keep spraying so it looks like the pink has a gradient effect.
Start at the pant leg and work your way up the shorts, toward the waist. You can use a paintbrush to fill in the pink on the cuff.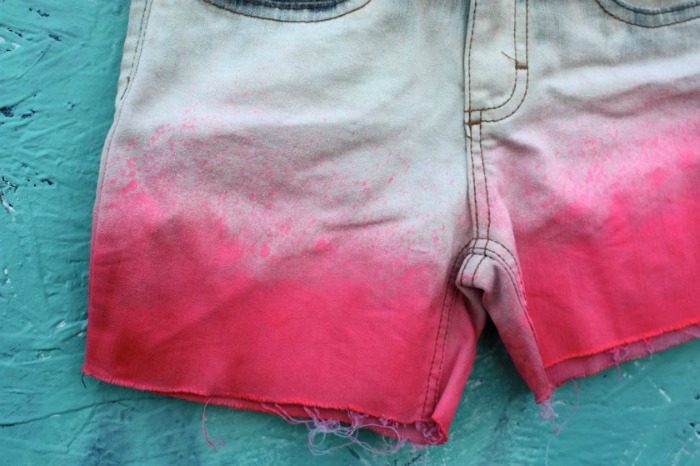 I love the way the paint splashes look against the bleached denim.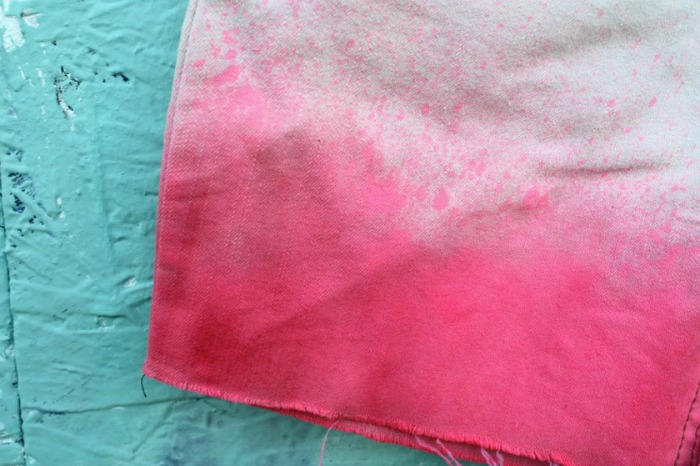 Finally, the shorts are done and just in time for back to school (here in So Cal we still get another month or two of warm weather). The pink is cute and fresh and so not "bloody" looking, thank you very much.
RELATED: DIY Graffiti denim shorts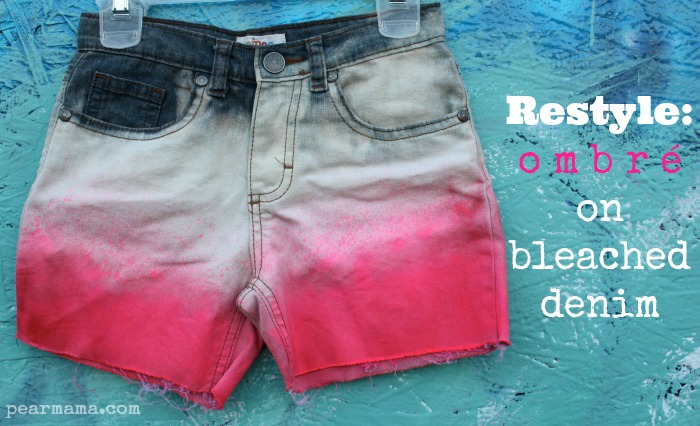 Enjoy the last few days of August, my friends. I can't wait for Fall!