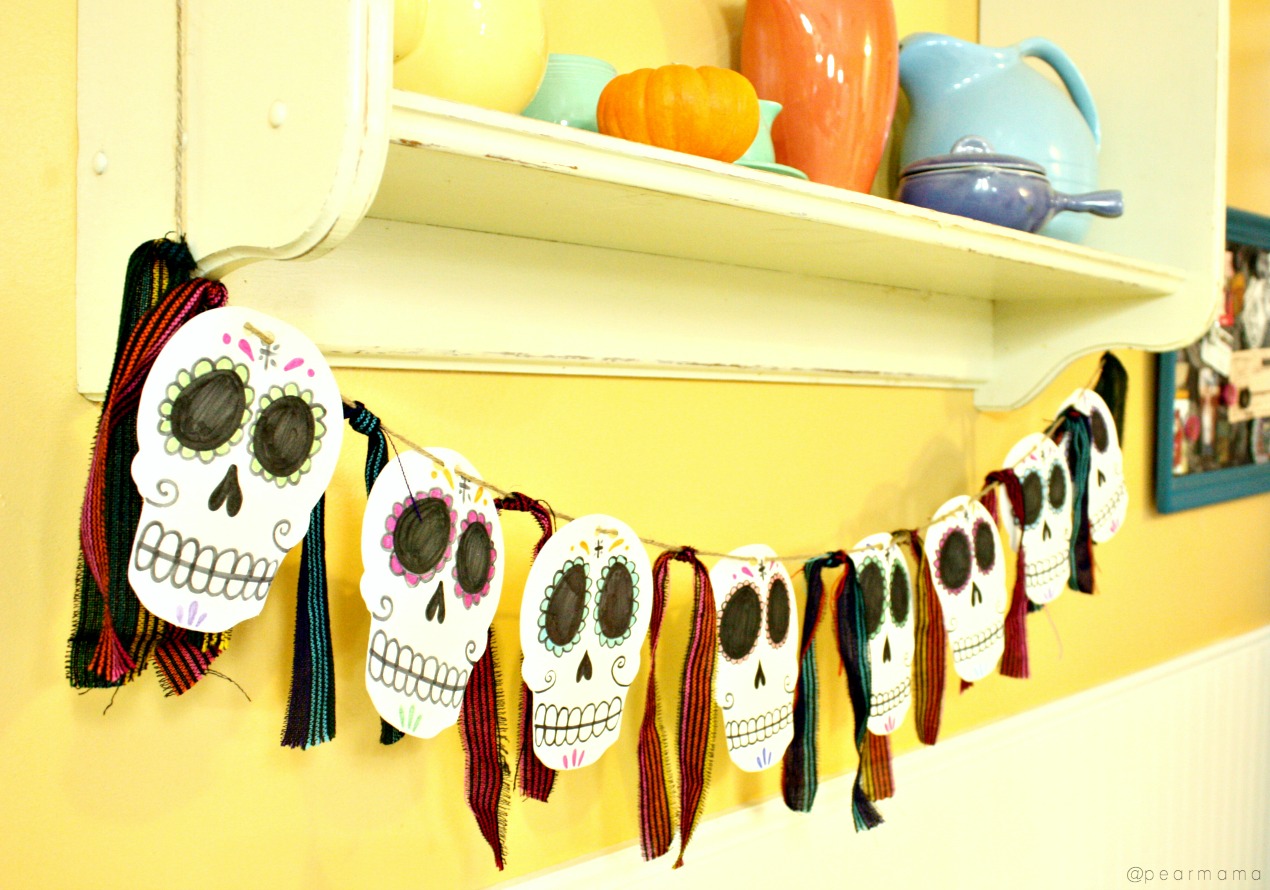 Make this simple Dia de los Muertos-inspired garland made from dollar store foam skulls, jute twine and Mexican fabric.
In case you haven't noticed, I've been on the hunt for crafting goodies from the dollar store that I can diy this month. It's not something I planned on–I just grabbed a bunch of cool stuff and threw it into my cart, hoping for the best.
I have to report that dollar stores are the bomb. That is all.
What's on deck next? A calavera garland made from dollar store foam skulls. It looks really cute hanging in my kitchen.
When I saw the skulls (they came in a pack of 20), I thought maybe I could use some glitter glue to embellish them, draw on them with markers, etc. But when I got them home, I realized they were a little too creepy looking for me. When I think of Dia de los Muertos, I always see happy, smiling calaveras. I wanted to stick with that spirit.
RELATED: DIY Dollar Store Sugar Skull Travel Mug
The skulls had a cool shape, so I just flipped the foam skull over and drew on the backside, using the foam skull as my shape.
Whew–that was easy.
Let's get started–we only have three days til Dia de los Muertos! ¡Andale!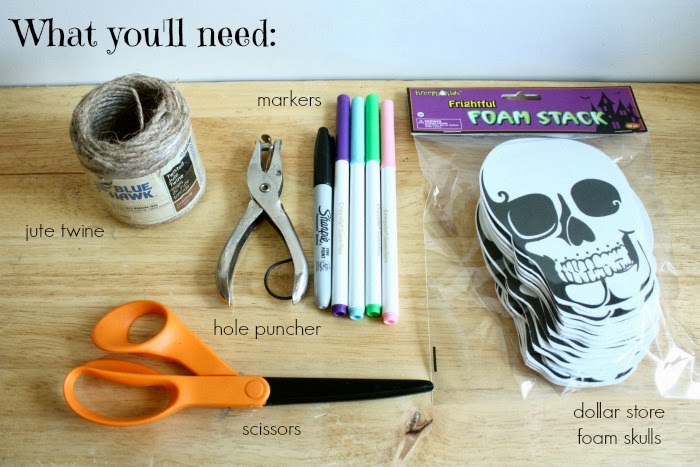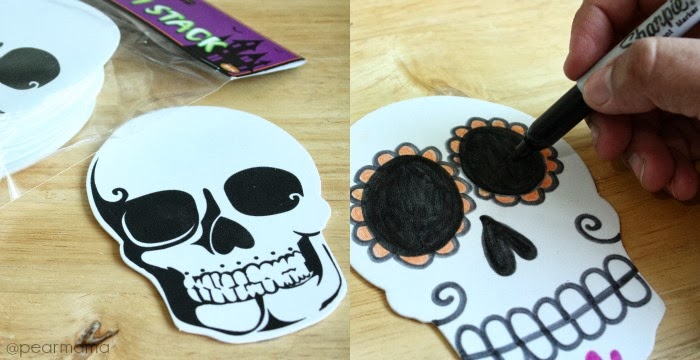 Flip that foam skull over and go to town. Draw your eye sockets, nose and scallop the edges. Draw swirls, flowers and teeth. Keep it as simple or as intricate as you want. You can let your kids color it in if you want. We used their Crayola Supertip markers and they worked great on the foam.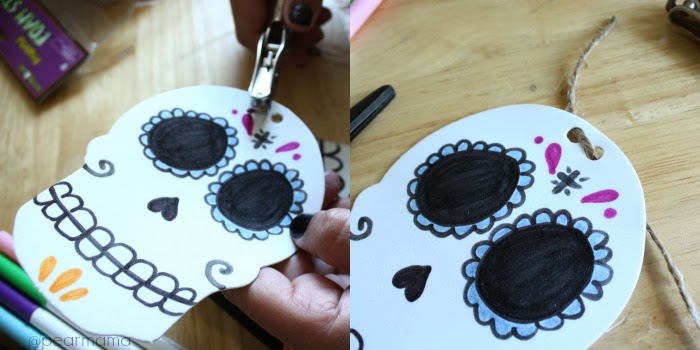 After you've added some fun details to your calaveras, grab the hole punch and make two holes side by side. This is important. If you only punch one hole, the calavera will face sideways on the jute twine and we want them to be flush, facing forward. Once your holes are in place, thread your jute twine. Your size will be dependent upon where you plan to hang it. I wanted my garland to hang in the kitchen where I spend about a million hours a day. Heh.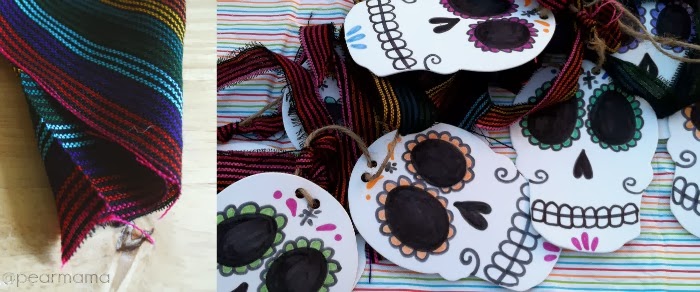 RELATED: DIY Calavera Denim Jacket
I decided to cut some leftover Mexican fabric into thin strips so I could add it to my garland, similar to a rag garland. I didn't measure mine, just estimated the basic width and length of each piece of fabric and cut it. Then I tied the piece in a loose knot in between each skull. You can spread the calaveras out or you can push them together.
Then I hung it up right under my vintage shelf that holds some of my pottery collection.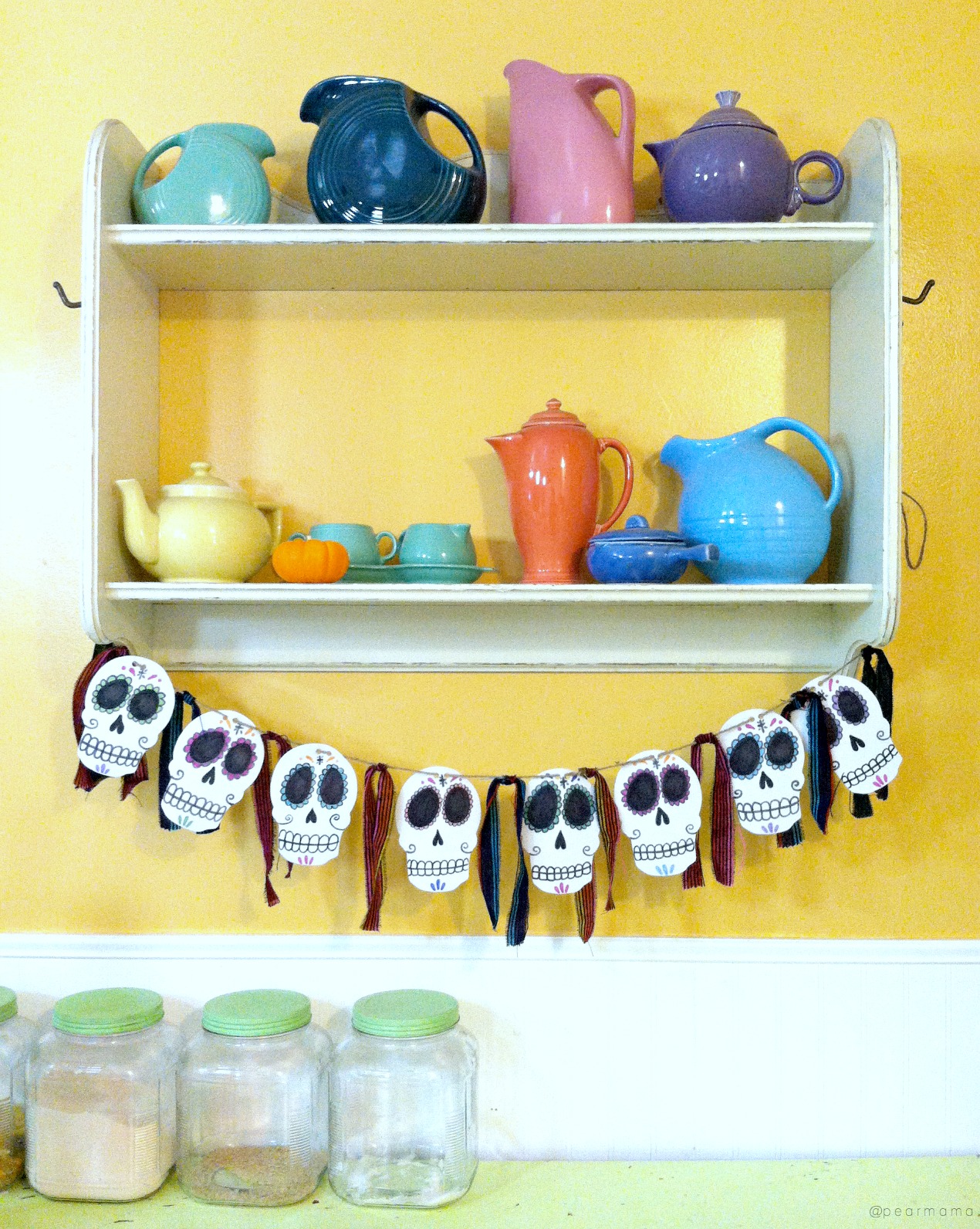 I love the way it turned out.  My calaveritas are happy to be alive in my kitchen. So simple yet so cheery!
RELATED: DIY Sugar Skull Potato-Stamp Kitchen Towel
PIN FOR LATER