To me and my family, the holidays are synonymous with tamales.
Every year for as long as I can remember, the women in my family got together around a huge bowl of masa on the table. Armed with aprons and spoons, we spread the thick, corn mixture onto softened corn husks, or hojas. We had a mini assembly line in those days–me and my sister (and an assortment of friends, aunts and cousins) would spread the masa, my mom would fill them with deliciously spicy pork bathed in red chile and my Nana would wrap them and place them in a pot large enough for a small child to bathe in.
Then we would wait for those delicious little-wrapped gifts to steam so we could gobble them up. In the meantime, we spread spread spread more masa and wrapped more tamales until the kitchen was overflowing with good things to eat.
My Nana is no longer here to take her spot at the table during the holidays, but my mother has continued the tradition and it's something our entire family looks forward to every year. Making tamales is definitely a labor of love.
Tamalada Time
I was recently invited to the home of Nicole Presley from Presley's Pantry for a holiday tamalada. A tamalada is a party that brings friends and family together to assemble tamales. I couldn't say no to an afternoon with my amigas and the promise of some yummy tamales. There was quite a spread–everything from pan dulce to arroz mamposteao.
Our tamale station is ready to go, complete with soaked hojas, corn husks.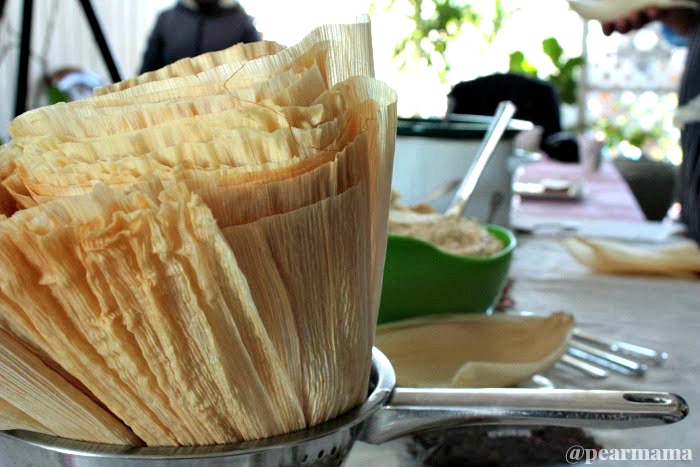 It takes strong hands and a lot of love to prepare the masa for tamales. Masa is a type of dough made out of freshly prepared corn hominy.
Having a good quality pot to steam your tamales is so important–you don't want all of your hard work to be ruined by a pot that doesn't cook your tamales evenly. The Princess House stainless steel stockpots have a rack that is essential for steaming. Stainless steel is ideal because the metal won't interfere with the flavor of your food–plus, it's easy to clean.
Princess House very generously gifted everyone at the tamalada with this 18 qt. stock pot and I couldn't be more thankful.
My grandmother was so particular about the pots she used to steam her tamales, she even nicknamed them so we would know which ones to use when it was time to cook the family tamales. In many ways, they have become family heirlooms because my mother still uses them to steam her tamales to this day.
Happy holidays and happy tamale making! 
Disclosure: This sponsored post is brought to you by Princess House. All opinions expressed are my own.