Make your own garland for Valentine's Day using cardstock and watercolor designs you can paint yourself.
I was paid the ultimate compliment today. They said I was not a "craft blogger" but more like a lifestyle blogger who blogs about life and also happens to make awesome crafts. The icing on the cake was it was said by someone who I admire and respect–this made the compliment extra special. Yes.
I've been having a struggle trying to figure out my place in the craft blogging world. You see, if I compare myself to "craft bloggers", then I'm sorely lacking in the content department. Not in the quality of my projects, but in the quantity. Bottom line, I can't keep up with the sheer volume of stuff they churn out. Which makes perfect sense seeing as how I teach art classes, I write, we homeschool four of our kids and someone has to do all the laundry around here. This is why I never get enough sleep. It's also the reason why I'll never be able to keep up with craft bloggers.
Take the month of February, for example. Valentine's Day is a craft blogger's high holy day, just behind Christmas and Halloween.
RELATED: Valentine's Day Love One Another Printable 
But, instead of just spitting a few craft projects out because I should, I'm going to share this Valentine garland with you because it's cute and I wanted to make one simply because it would look festive in my bedroom. In short, I just wanted to be reminded about love, ya'll.
Life happens and in the midst of it, I'm going to make cool stuff and then share it with you because it makes me feel happy. And it might make you feel happy, too. I think this is a very compelling reason on its own.
What you'll need:
scrapbooking squares or paint chip samples
thick cardstock in a neutral color
glue
scissors
X-acto blade
hole punch
jute twine or ribbon
patterned paper (I used a custom watercolor design)
If you're like me, then you love to play with watercolors. It's so relaxing! The result, I have lots of cool watercolor paintings in my sketchbook and they are perfect to use in this garland project. Instead of going out and buying patterned paper, why not just use your own?
RELATED: DIY Clay Heart-shaped Jewelry Dish
Good quality watercolors are wonderful to work with, but if this is your first time dabbling with this medium, student grade watercolors are a good option.
Watercolor painting is a delicate art–they are definitely not like acrylic paints. Every stroke is deliberate.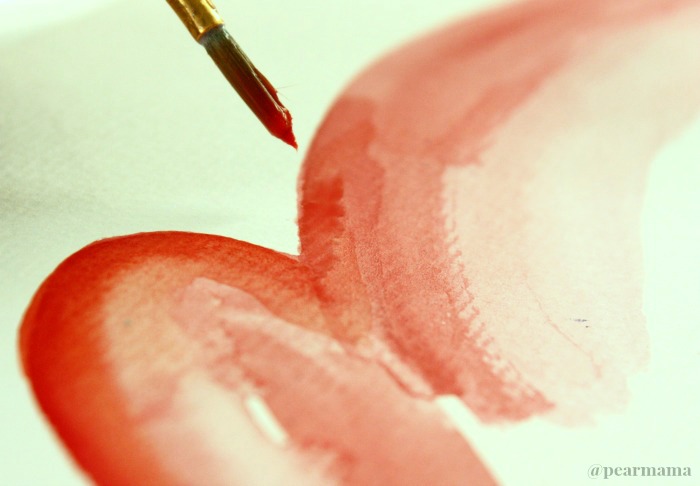 Play with the paint. I painted a few hearts and natural shapes. Go ahead and let the paint dry. This allows you to go back in and shading, deeper colors and patterns.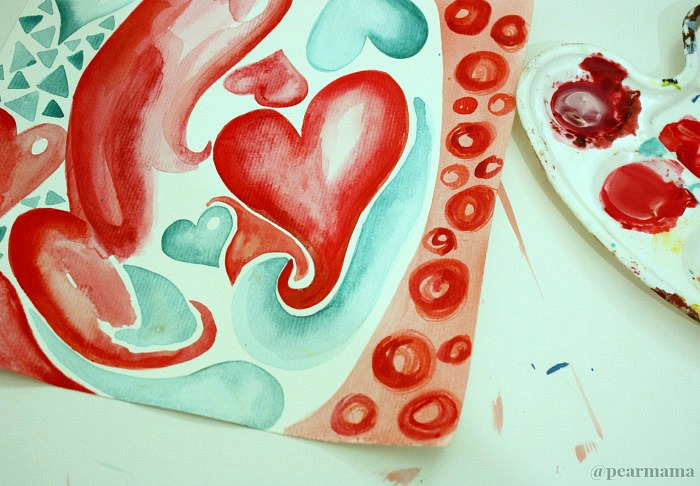 Sometimes the paint with cause the paper to curl up, so I simply place a book on top of it so it would lay flat for thirty minutes or so. When you're ready to create your garland, lightly trace the l-o-v-e letters with a pencil. I drew mine by hand, but if you have a fancy Cricut or Silhouette Cameo machine, use that. I'm not that fancy, so I just traced a simple cursive-style design and cut it out. I also used an x-acto blade to cut out the inside of my letters. Make sure you have something to protect your surface when using an x-acto blade.
I used a few squares from the fat stack of paint chip samples I've accumulated from all the local home improvement stores. Yes, I'm that weird paint sample hoarder lady. Add a few different shades of the color you want because it adds some visual interest to your design.  The cardboard cardstock was thick, which is necessary when you are gluing multiple pieces of paper onto it. We need sturdy.
RELATED: DIY Glitter Heart Shoes
Coordinate your background colors with your watercolor design.
Once you've laid out your design–glue one watercolor letter onto each square. Use whatever glue you have handy. Let dry.
Don't forget to make two holes for the jute twine to thread through.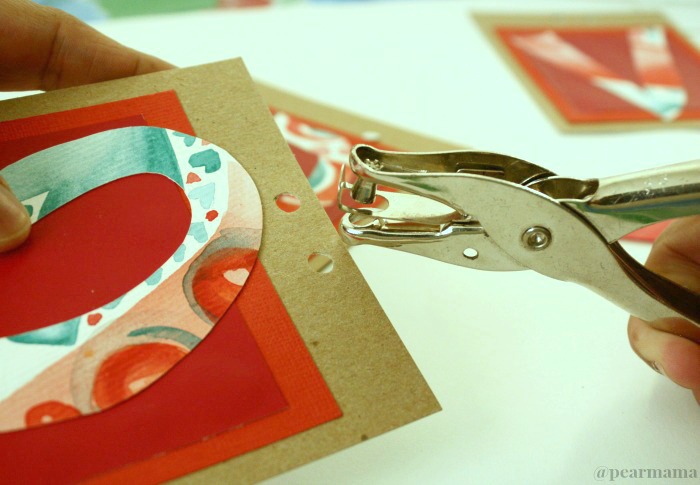 I love how the watercolor designs make the letters pop. So much better than patterned paper!
Hang this banner where you can see it every day in the month of February.
Show love. Be love.