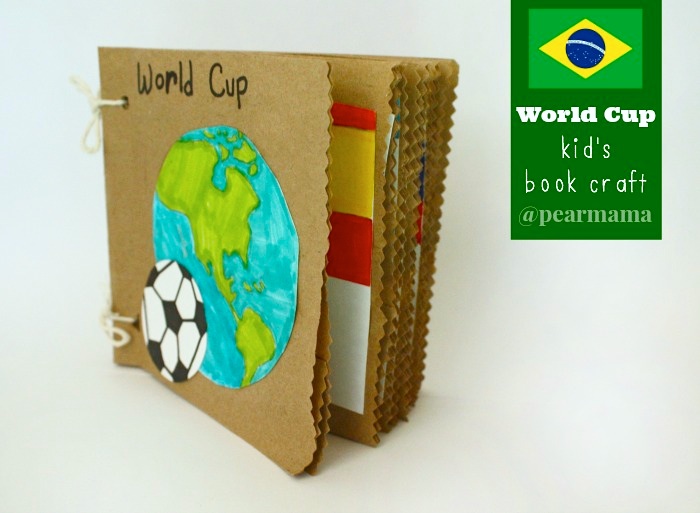 I didn't grow up in a family that watched soccer. I know, I know. We can still be friends, guys.
It was all about baseball and football. My dad and my uncles lived and died by the Dodgers and the only futbol I knew about was Monday Night Football and the Rams (when they were in L.A) so soccer has always been a mystery to me.
Until recently, that is. My son played his first ever season of soccer and loved it! My brother Eric is really into soccer (he was also my son's soccer coach) so he is pumped up about the FIFA World Cup. To add to the World Cup fever, he thought of this great idea to get our kids interested in soccer and the games, with a little bit of education thrown in.
Everyone was assigned a few teams. Their job was so find out a few details of the country: their flag, capitol city, population, biggest exports, etc. After gathering all of the information, they were supposed to display it in a way that they could share with everyone else on game day.
Well, you all know I couldn't just let my kid's stick some paper onto a poster board and call it a day. We had to get crafty with it because that is how we do. We decided to make a cool book out of a simple brown paper bag, complete with "pockets", this way my daughter could decorate each sleeve with one of her teams and add all of the facts she compiled into the pockets. These little books are so addicting to make!
This craft is super fun and easy and kids can easily make these on their own.
What you'll need:
brown paper bag
scissors
decorative edge scissors
glue stick
hole punch
yarn, string or jute twine (to tie pages together)
white cardstock
markers

The paper bag is going to be the book itself. All you need to do is cut the edges off so the pockets can open. If you want more than two pockets, add more paper bags to your book. Align your folded paper bags and punch three holes along one side (opposite where you cut the edges off for the pockets). You can thread string, yarn or the twine through the holes and tie them tightly. Now you have a book!
My daughter Maya's teams were: Spain, Argentina, Russia, Algeria and Croatia. She drew all of the flags by hand and colored it with markers. I am lucky that she even let me touch it long enough to help her with the globe and the soccer ball. Sheesh.
She wanted full creative control of this one.
I'm so proud of her hard work! The book came out so awesome. She learned a lot and she's now fully invested in her teams. She spent all day Friday watching the games and loving it! She also wants to play soccer in the Fall.
The decorative edge scissors give the pages of the book some flair.
The more pages you want, the more paper bags you add.
I love how each pocket opens like an accordion.
Spain's flag was a challenge but she pulled it off.
She slipped the facts about each country into each pocket.
I have to say a big thank you to my brother for spending time with my kids and giving them World Cup fever!
Gooooooooooooal!