Bring Frida Kahlo's La Casa Azul in Mexico City to your own home by painting an outdoor wall a vibrant shade of blue.
I've always had a deep love for Mexican artist Frida Kahlo but that's no surprise. I've been sharing my love of Frida on my blog since the very beginning. The fact is, I discovered her at the tender age of 18 and I've been obsessed ever since. I've had the pleasure of seeing her work in person and it always hits me in the feels.
It's delicate and fragile, just as I imagine she was. But it's also as powerful as the Earth–just like Frida was, too. She was her own person, outspoken and unique, yet trapped in a broken body.
Magdalena Carmen Frieda Kahlo y Calderón was born on July 7, 1907 in Coyoacán, Mexico. She died on July 13, 1954. I've come to think of July as Frida's month — her paintings, her face, her style, her life, her home–it captivates me.
RELATED: Exuberant Pink Accent Wall from Sherwin-Williams
Frida's home in Mexico, La Casa Azul, has always been on my bucket list. I'll get there someday soon. Inspired by the Blue House, I decided to bring a little bit of Frida to my own home.
Since we live in Southern California, we spent a lot of time outdoors. My kids skate and my husband paints while we hang out in our patio. We have a large cinder block wall that really needed some love. Check out the remnants of painted sky and a word cloud over in the corner.
Since it's still July and I've been embracing everything Frida, I decided to search for the perfect blue color — one that would make me feel like I was visiting La Casa Azul.

Since I've been working with Sherwin-Williams, I knew I would find what I was looking for. Sure enough, I zeroed in on Hyper Blue SW 6965 because it was rich, vibrant and the perfect shade of Frida blue. Since I was painting an exterior wall, I wanted to make sure my color would stand the test of time. I chose Emerald™ Exterior Acrylic Latex Paint, which is self-priming, resistant to mildew, peeling and color fade. It's also backed by a lifetime guarantee, which is great! Also, the Emerald paint was like buttah.
Amazing.
We listened to the soundtrack from the movie "Frida" while we painted the wall, for good vibes and inspiration.
What I really loved about the Sherwin-William's Emerald paint is it was luxuriously thick and provided solid coverage. I've used lots of paint in my day — this paint was the bomb! I was concerned that the blue color wouldn't be as vibrant on the wall as it was on the paint chip but I was pleasantly surprised. Two coats was all that was needed.
RELATED: Make Your Own Painted Mexican Tile
The blue looked absolutely vivid and beautiful once it was fully dry. I couldn't be happier with the results.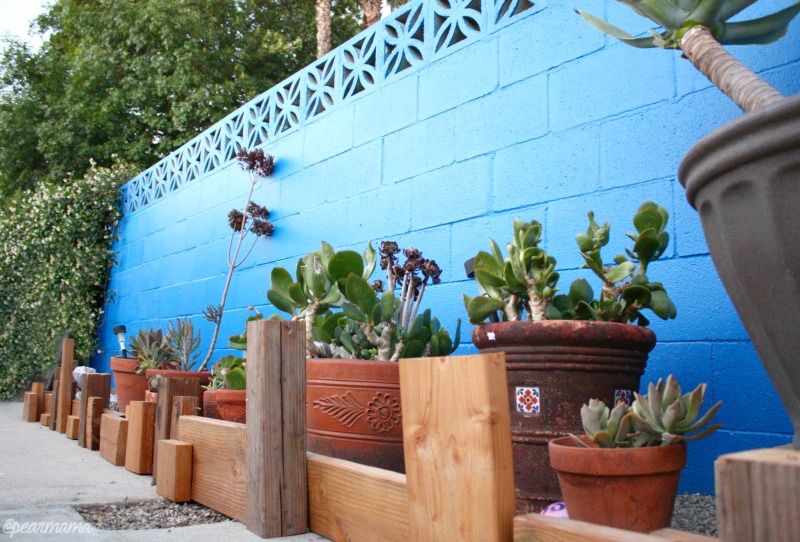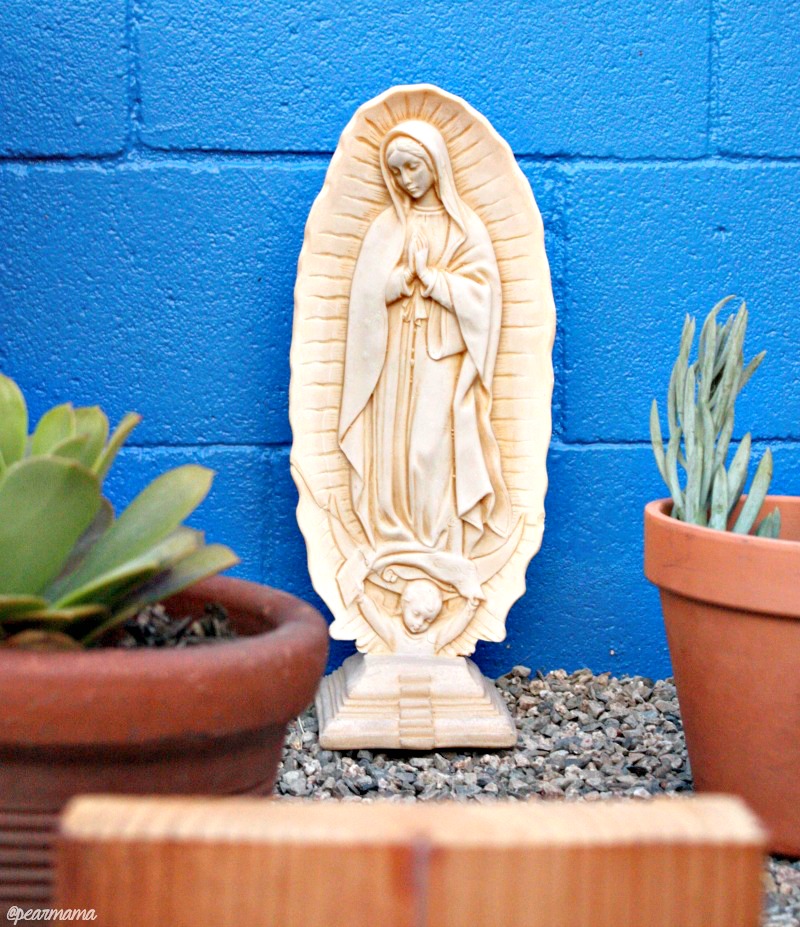 RELATED: Paint your own geometric wall design
If you want to read the original post in Spanish, head over to Sherwin-Williams Latino. Also, check out my Frida Kahlo Pinterest board for more inspiration!
Follow Denise Cortes | Pearmama.com's board Frida Kahlo | The Muse on Pinterest.

Disclosure: This post was sponsored by Sherwin-Williams. As usual, all thoughts and opinion are 100% my own.