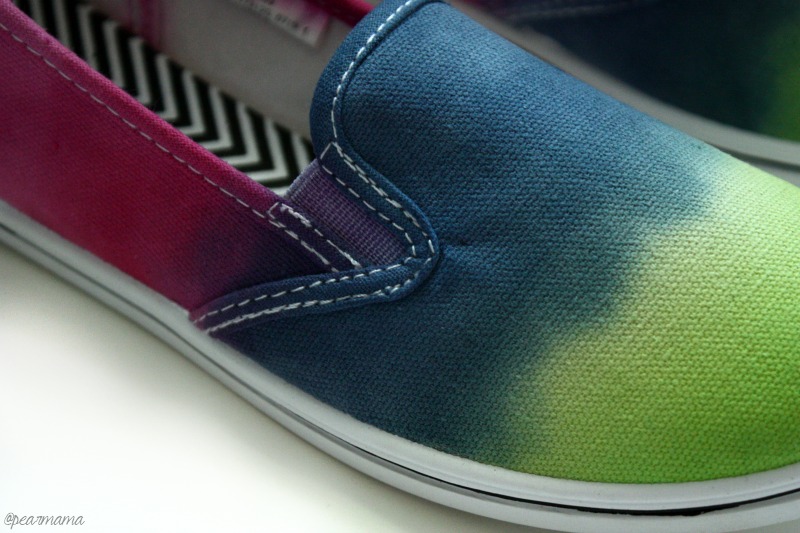 With back to school right around the corner, I wanted to diy an inexpensive pair of shoes for my daughter so she'd have something cute and unique to wear on her first day of school at our charter school's learning center. And since her mama is the art teacher, of course, it would have to be something fun and bright and nothing says fun and bright more than tie dye!
The artist in me loves ombré. I love the delicate, painterly vibe it brings and I'm happy the trend has been around for a while now. I've used this technique with watercolor and acrylic paint, but never with dye. When I Love to Create sent me some of their Tulip One-Step Tie Dye, I knew I had to try it.
What you'll need:
Tulip One-Step Tie Dye Kit
canvas shoes
paint brush
2-3 small containers for water
Optional: spray bottle (filled with water), painter's tape (to tape off sole of shoe)
The One-Step Tie Dye Kit contains three colors. I loved the Vibrant kit because of the Violet and Lime. Follow the instructions on the box — it's so easy, guys. The powdered dye is already in the plastic bottles and all you have to do is add water and shake. That's it!
Since ombré is essentially a technique of gradually blending colors (either multiple colors or from light to dark), you may want to start off with a wet shoe. If this is your first time trying the ombré, water will help you create those seamless blends. You can either spritz your shoe with a spray bottle filled with water or you can wet your shoes before. I used a brush and added a just bit of water ahead of each area I blended, for more control.
I added some dye into a plastic cup so I could easily dip the brush in it, instead of using the squeeze bottle the tie dye came in.
If you want to protect the side of your shoe, you can use painter's tape.
How amazing is this Lime color?
When you're ready to introduce the second color, the water will do most of the blending work. Always extend the dye toward the back of the shoe.
Once I added the Violet, I used more water to make it gradually lighter. Keep adding water to your brush and this will help achieve a perfect blend.
Once you're finished, cover shoes in plastic to keep damp and let set 6-8 hours. Rinse as directed in the Tulip directions.
How cute are these shoes? Perfect for those first few days of school when your kids want stand out from the crowd. I really liked applying the dye this way — so simple and the colors are so vibrant.