Inspired by the Abstract Expressionist artist Kandinsky, create this fun paper collage the kids will love making at home during craft time.
I am a big fan of Google Doodles.
I love to see how Google changes its logo to recognize and celebrate special days, holidays and people. It's so creative!
Today's Google Doodle captured my art loving eye in a heartbeat. December 16th commemorates Russian painter's Wasily Kandinsky's 148th birthday. Kandinsky is considered the father of abstract art, and I have a huge love for abstract art.
RELATED: Abstract painted tile squares for kids
I was inspired by this project and wanted to recreate it with my kids (who were only 3, 4, 6, 8, 10 and 12 at the time — my babies!) and my lovely art students that I taught at our homeschooling co-op.
Kandinsky: Concentric Circles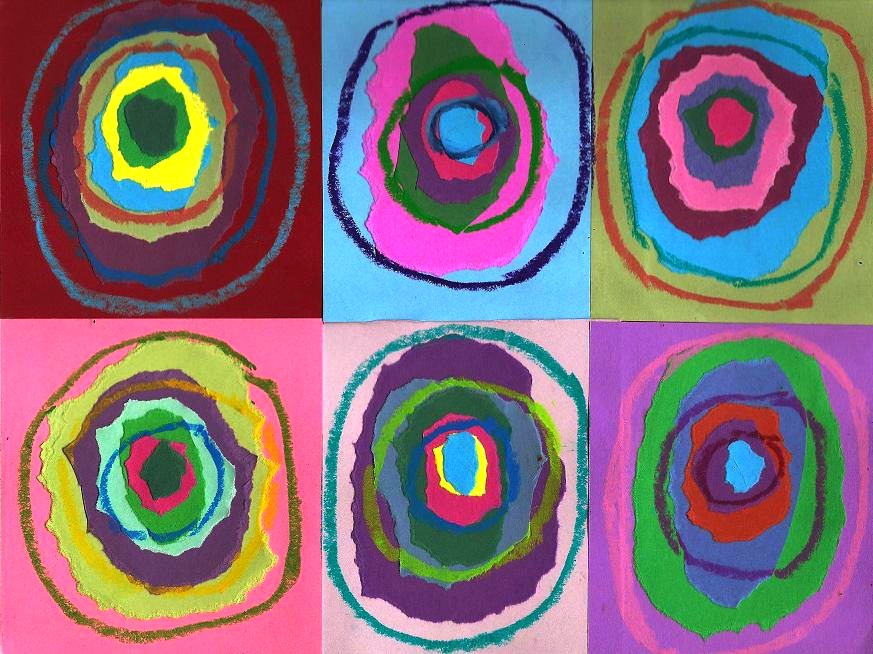 Wasily Kandinsky (December 16, 1866 – December 13, 1944) was a wonderful artist from Russia who created art of pure abstraction. He was inspired by things such as jazz music, nature and from creativity that held no definitive subject matter or logical reasoning. Abstract artists are like that sometimes.
RELATED: Favorite food collage craft for kids
Just color, shape, line, movement and feeling…Abstraction Expressionism was born.
Modern Art 4 Kids: Collage
This is a simple, fun project that lets kids (and adults!) get creative with just a few components. This would be a great rainy day activity now that the kids are home during the holidays. Inspired by Kandinsky's Squares with Concentric Circles, let's make this collage using torn paper and oil pastels.
Get this:
-scrapbooking paper squares (colored construction paper works fine, too)
-glue stick
-9 x 12 posterboard or thick card stock
-oil pastels
Make this:
Begin by gluing down six squares onto the thick cardstock/posterboard. You can choose whatever colors you want but make sure they are the same size so they can fit on the 9×12 sheet of paper. Now you have six individual sections to create your concentric circles.
Start by tearing your paper into round shapes. No scissors needed!
Each square should have at least three circles on it, varying in size and color.
Tear smaller circles to fit in the larger circle and then get sequentially smaller.
Glue all shapes down on the paper, creating interesting patterns of color and shape.
Once the circle shapes are arranged in the manner you like, use 2-3 different oil pastel colors to make contrasting circle shapes and accent your torn paper shapes. That's it!
Happy birthday, Wasily Kandinsky!