Revive old furniture by painting it with a bright, lively color such as Coral Reef, Sherwin-Williams 2015 Color of the Year.
Anytime I see an old, beat-up piece of furniture, I get stars in my eyes.
I start to envision what it would look like with a fresh coat of paint and some shiny new handles. I wish I could tell you how many pieces of furniture I've painted and distressed over the years. When I look around my home, I only have one item that I haven't painted, and it's an Art Deco armoire that my mama passed down to me. I don't have the heart to paint it. Everything else is fair game.
Back in the day, we didn't have money to buy new furniture so I tried to beautify everything I could get my hands on with a gallon of paint and a paintbrush. As the saying goes, "necessity is the mother of invention". Even when my babies were really young, I managed to drag a random table or dresser to the backyard so I could paint it. In truth, it was my only creative outlet at the time. With little ones playing underfoot and a baby in a playpen, I would turn up the music, enjoy the sunshine and transform things that I could display in my home with pride.
RELATED: "Cooled Blue" Painted China Cabinet 
I can't remember where my mama found this side table, but she knew I'd like it. She was right.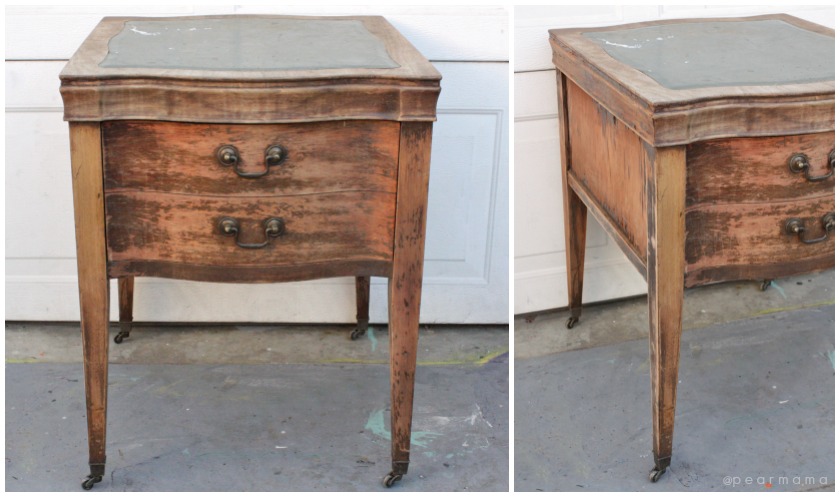 Because of its petite size, I wanted to go bold with the color so I chose the Sherwin-Williams 2015 Color of the Year, Coral Reef SW 6606. I wanted to add a pop of color to my living room and this vivacious blend of pink, orange and red did the trick. I knew exactly where I could put this side table after it was all said and done.
What you'll need:
paint (I really like Sherwin-Williams Emerald Interior Latex paint — smooth like butter!)
quality paintbrush
sandpaper (to sand away any rough patches or flaking finish)
wood filler (to fill in any holes or gaps in the wood)
Once your furniture is prepped, free from any dust and debris and you have removed the hardware, you are ready to paint.
I always choose the Emerald line of paint because it contains a paint and primer in one and I really like that much needed time-saving step!
RELATED: Girl's Bedroom Accent Wall in Exuberant Pink
My new side table only took two coats of paint and it was ready.
I love the way my beat-up, dingy side table turned out. The power of paint, my friends.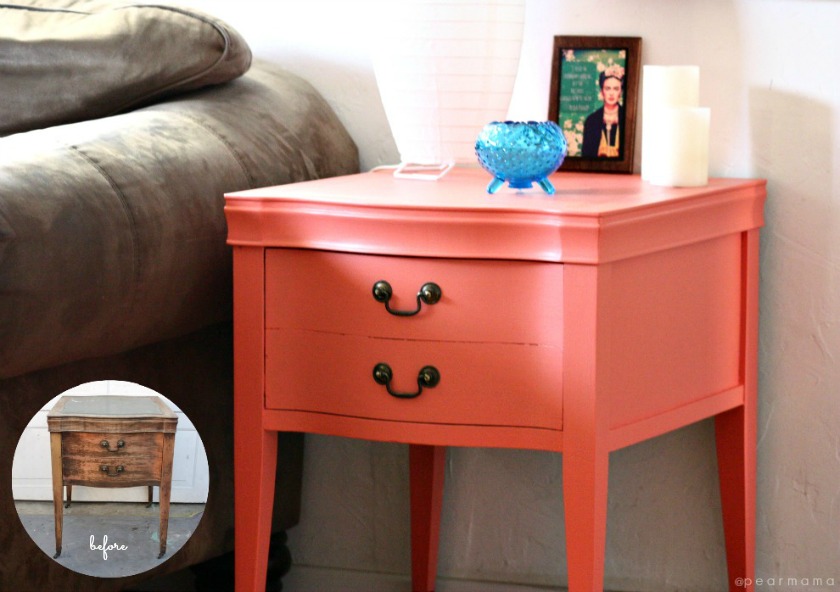 Disclosure: This project was originally posted on the Sherwin-Williams Latino site in Spanish. They provided the materials to make this project possible. All opinions are mine.