Blogger conferences can be anxiety-inducing, but the We All Grow Summit by Latina Bloggers Connect in L.A felt more like a reunion of familia.
I confess that I'm a total spaz when it comes to conferences. Having to travel to a place I've never been, meeting people I don't know, sleeping in a foreign bed, functioning in a different time zone etc. might pump some people up and get them all excited but for me, it's always a challenge. I'm just a mama who writes stories in a top knot, yoga pants and eats dried mango slices at her desk. I mean, really.
My brother Jeshua likes to tease and call me "socially awkward" and…he ain't never lied.
It's kind of the truth. Still, I kiss my babies goodbye and put my big girl chonies on and I go to network like a boss — meeting new people, potential clients and new business adventures. I've been looking forward to the We All Grow Summit by Latina Bloggers Connect ever since it was announced last year. A three-day event to connect Latina bloggers and social media influencers in L.A was such an exciting idea. A born and bred California native, I loved the thought of having the "home court advantage"!
Now, a blogger conference may not be all that interesting to you, dear reader, so let me frame this post in a different way. Most of us are online these days and establishing connections with people all over the world via a computer, smartphone and wifi. For me, this was like gathering all those beautiful people in one place, to see in the flesh, to talk to, to laugh with, to cry with, to break bread with and collaborate.

We All Grow was like a reunion of familia, seeing beautiful faces that have inspired me in this online space for so long. For that reason, it didn't feel like a "conference".
Where: The Line Hotel in KTown
Photo cred: Robson Muzel and We All Grow Summit 2015
The Line Hotel, located in Koreatown (KTown), was everything. It had me at the Shepard Fairey "Peace" mural and the various "found art" sculptures in the lobby. It was the epitome of California cool, from the "bellhop" uniform of black jeans and Nike Cortez to the mural of deceased hip hop rappers on the Cafe wall. Every night we got our life to the music the DJ was bumping in the lobby (I was pumped to discover I got to hear a #LastThursdays set from the Beat Junkies during my stay — bomb!). My amiga Monique from Curves and Chaos and I even "had dinner" with Beyonce one night at the hotel's restaurant, Pot. Yes, that Beyonce. And when I say "had dinner with Beyonce", I totally mean that Queen Bey was sitting two tables down from us and every time I tried to snap a pic — because, pics or it didn't happen, obvi — her very tall and mean-looking bodyguard Julius would mad-dog me to the point that I would sheepishly put my phone down. Alas, the dark, blurry on-the-DL photos are too shabby to share here. But trust me, with or without Beyonce, The Line Hotel is the ish. Hands down, this has been the best hotel I've ever been to for a conference!
I miss this amazing view. How can you not want to conquer the blogging world when you wake up to the sight of the Hollywood sign and the Griffith Observatory?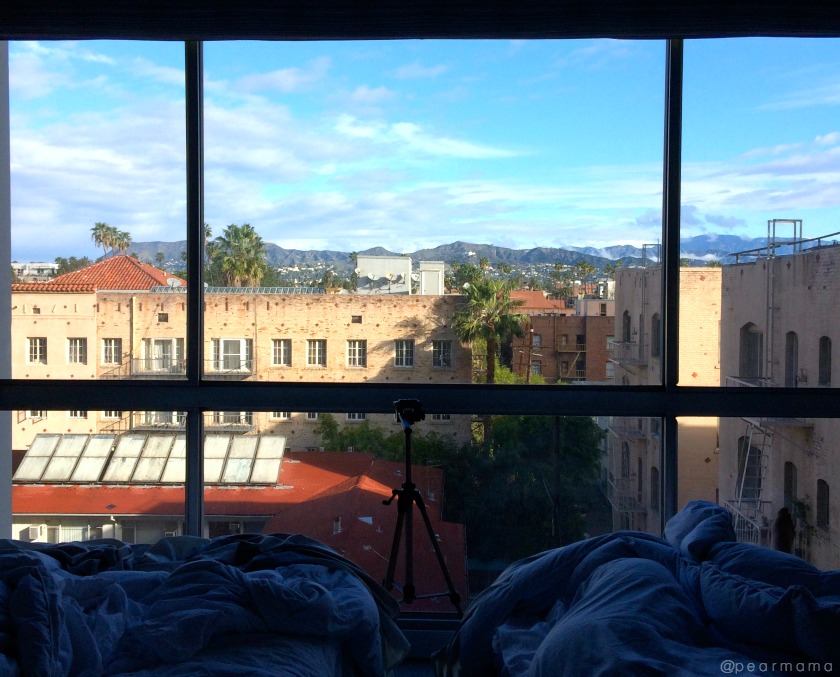 But, back to We All Grow. The moment I walked in with my ginormous luggage (one can have never have too many kimonos), I was enveloped in hugs and selfies with my amigas. It felt amazing to be around so many talented, creative and influential Latina women — women juggling children, spouses and everyday life just like me. Their amazing stories and blogs motivate me to get my hustle on and be a better writer. This is when I truly embrace the "When one grows, we all grow" philosophy because if my amigas can do it, so can I — a work-from-home mama juggling six kids, with limited time and money to make it all happen.
Photo cred: Jeshua Viveiros
I heart Latina Bloggers
I told myself I wasn't going to be a comadre and stay with my tight circle of besties the whole time because I wanted to be open and welcoming to other bloggers but dammit my circle of besties are just so amazing — how could I not? I was greedy and gobbled up all of their essence as we sat together in sessions, ate lunch together, our voices sprinkled with laughter. My heart was light being around such powerful women (and men, since my baby brother Jeshua was there, too). They make me remember why I started blogging in the first place, as an isolated stay at home mama with lots of little ones underfoot that desired a creative outlet for all the crazy stories motherhood provided on a daily basis.
Photo cred: Robson Muzel and We All Grow Summit 2015
Although it may appear otherwise on social media, it's not just about rooftop parties and sponsor swag at these events (although I must admit We All Grow had the best swag! Thanks to Vive Mejor, Neutrogena, Dove and a host of others). The sessions are invaluable and I'm always grateful to listen to experienced bloggers share their knowledge. Educating myself and elevating my blog in some way is the goal. I learned so many useful things about implementing solid SEO practices and separating myself from the pack of other bloggers. Choosing brand partnerships carefully and standing by things that are authentic to me and my life is another goal.
Dove Storytellers
Photo cred: Robson Muzel and We All Grow Summit 2015
For me, one of the highlights of We All Grow was the Storytellers, sponsored by Dove. Led by my "conference wife" and crafty bff, Kathy Cano-Murillo of Crafty Chica, six amazing bloggers bravely stood before us all and told us their stories. I wish you could've been there to experience it. They were stories of loss, pain, fear, family, triumph, motherhood and love. We all laughed and cried and I ended up with this overwhelming sense of sisterhood as wives, mothers, friends, entrepreneurs and women.
I can't help but swell up with pride when I think of how grateful I am to be a part of all this. I have truly found my tribe.
Thank you to Ana Flores and Latina Bloggers Connect for this amazing event and Mom.me for allowing me to attend.