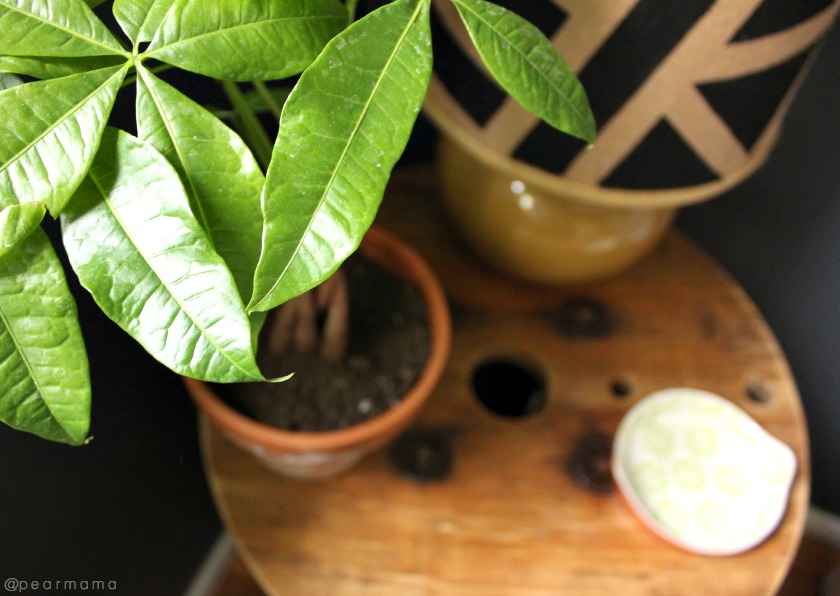 Making my home beautiful is an integral part of my wellness. Being creative with my living space also helps cultivate a peaceful atmosphere.
I feel like I've been blogging every place but here, my own little piece of interweb heaven, my blog. When I do blog, I'm dropping mega-ton bombs on your head, opening up about marital struggles, life with teenagers (ugh), what I've been eating (and haven't been eating) and giving up a life-long addiction to smoking pot.
Like, whoa.
A big part of me wants to get back to sharing the things I create because, really…that is my lifeline, an integral part of my wellness. Besides my family and my faith in God, the ability to create something with my hands is what keeps me sane when everything around me feels like its been turned upside down.
And trust me, shit is upside down at the moment. Sigh.
Thankfully, my creativity adjusts itself accordingly. When I have the means and the time, I paint — watercolors because it's so easy to lose myself in it and the delicate technique watercolors demand. Or I draw because Lord knows I possess enough markers. If I'm not sitting at my desk writing or creating art, I'm making something for my home, to make it unique. When my children were really young and creating art was out of the question, I decorated my home — I painted furniture, potted plants, added pillows, art, hung photos, rearranged furniture, etc.
RELATED: DIY Aztec-inspired Lamp Revamp 
Making my surroundings beautiful gives me good soul feelings. Being creative with my living space / home space / work space also cultivates a peaceful atmosphere, which I desperately need.
A big part of that is keeping my eye out for funky pieces I can repurpose for my home. I never realized how important this was until recently. It's not so much about decorating or making everything "perfect" — it's about starting a project and seeing it through to completion. It's almost like therapy, but it's free.  I also end up with a cool piece to display in my home so it's a win-win.
Dragging the project out to the patio, sanding, patching, painting, staining, repurposing and reinventing — it's a ritual I've subconsciously been doing my entire life. I'm working through emotions as I'm doing these do-it-yourself projects, you know? Giving new life to something old and battered and making it beautiful, with a whole new purpose — well, if that's not a metaphor for life, I don't know what is.
I had my eye on these quirky wooden cable spools for a while now. I saw them repurposed at church and I knew I had to get my hands on one. Like, I was obsessed. Not because they are fancy or especially pretty to look at — I just thought it would make a cool side table. I think my husband rescued it off the side of the road for me.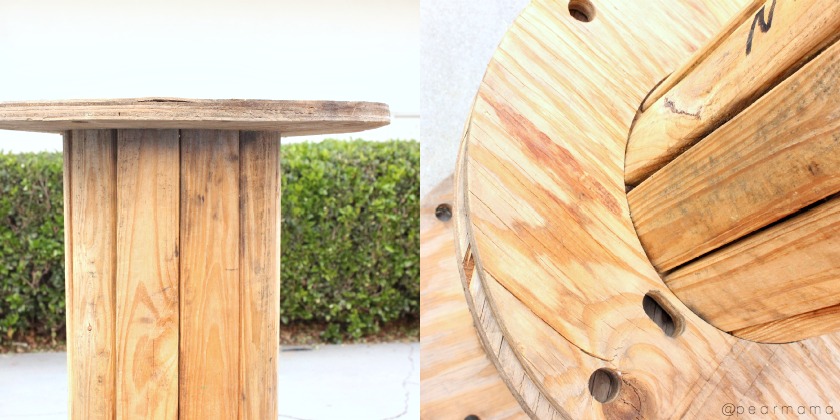 It was in relatively good shape. A little wobbly, a little distressed and what can I say, I can totally identify with this description. It also had marker scribblings all over it and several rusted bolts. I cleaned it up and enlisted my son (the one who is good with his hands) to sand the rough edges until it was smooth and add a clear coat of Minwax Polycrylic Protective Finish. It made the world of difference.
RELATED: Turquoise China Cabinet
The end result? Rustic +  industrial + bohemian = very cool.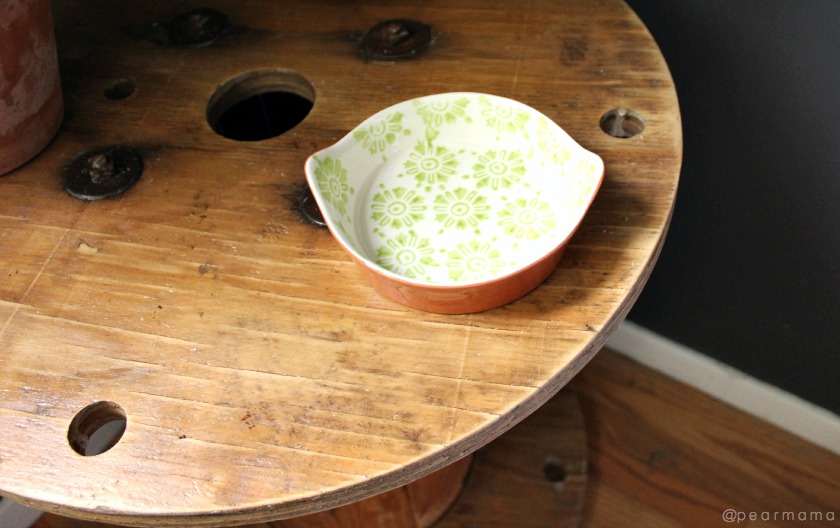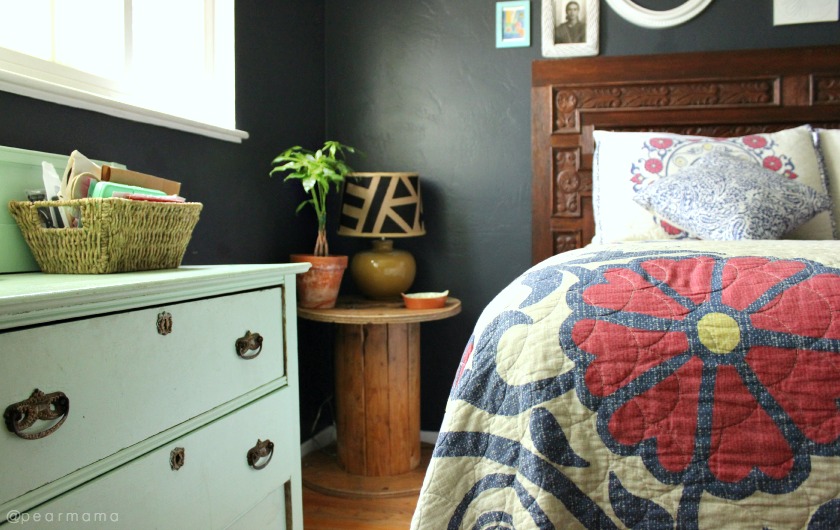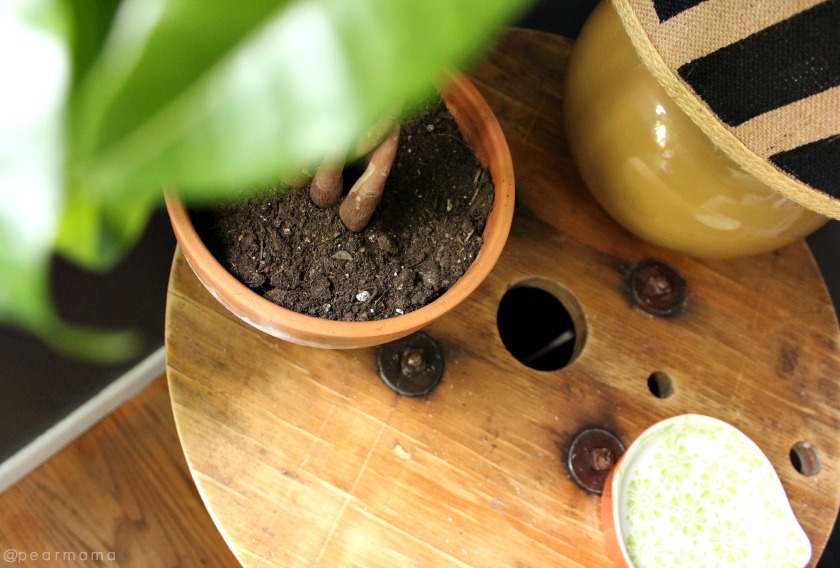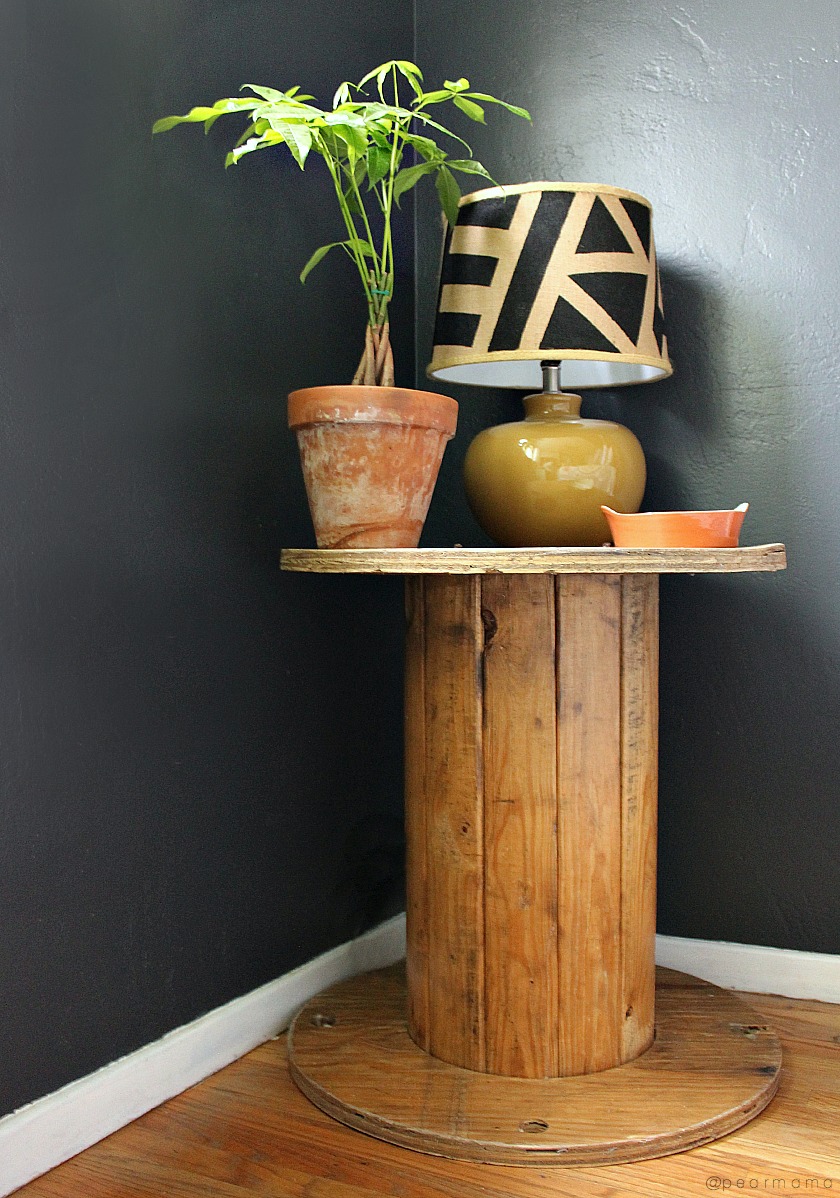 I'm happy with it. It's kind of crazy how this funky wooden spool and that plant and my lampshade and that bowl can make me feel good, but it does. And besides, my practical side is also happy because I finally have a place to rest all of the stuff I seem to accumulate before bed (phone, glasses, iPad, remote etc.). It's the little things, my friends.
This is why you should make your space beautiful…because beautiful things make you feel good, plain and simple.