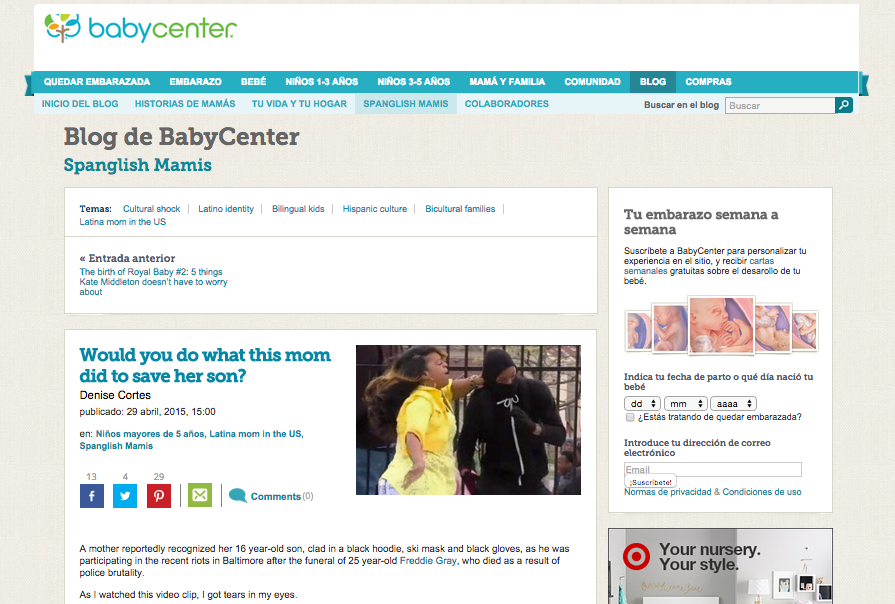 The sad reality is, this is exactly why people of color parent their kids the way they do. They fear for their child's life and would rather step in and deal with them harshly rather than let them be killed on the streets.
I feel you, Miss Toya Graham.
Open up that can of whoop ass on your son.
Better you than a fleet of aggressive, hot-headed police officers with steel-toed boots and batons that just see him as another hoodlum or thug.
Today I am over at BabyCenter en Español, talking about one mom's rage that went viral: Would you do what this mom did to save her son? Toya Graham, a single mom of six, saw her 16 year-old son with a brick in his hand and rioting on the streets of Baltimore, in response to the death of 25 year-old Freddie Gray. She responded accordingly. I don't question her judgment. We should, however, be questioning a system that forces us to beat our child –or brutalizing our children, as Latino Rebels put it — in order to keep them safe and out of jail.
I am the mom to four teenage sons, age 13, 14, 16 and 17. They are my heart — I would do anything to keep them safe, just like Toya did.
Especially this son right here, who is currently giving me a run for my parenting money these days.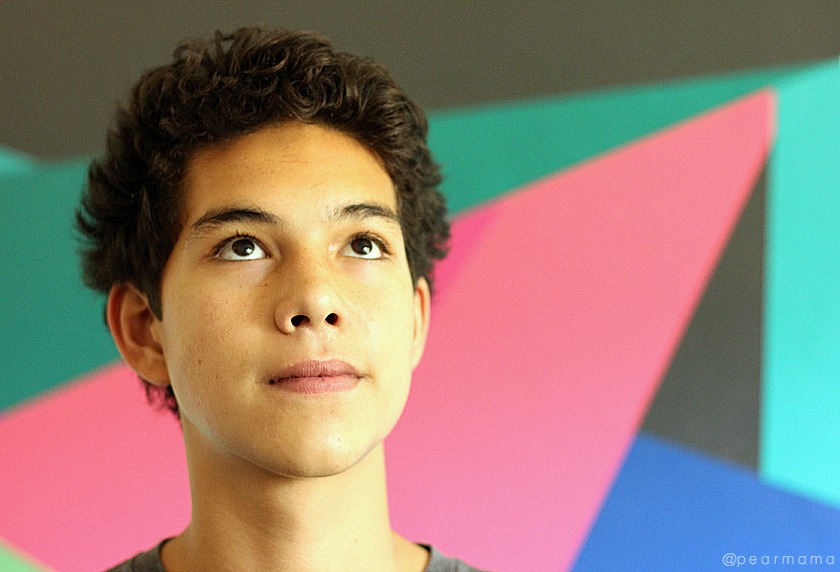 It makes me have heart palpitations to think I must protect my sons from the police as well.
What really struck me was the fact that this mother recognized her child from the crowd, even though he was wearing head-to-toe black — black hoodie, black pants, black shoes and a black ski mask. Yet, she still recognized him. She knew the way his arms hung at his sides. She knew his walk. She knew the shape of his head.  She saw him in the midst of chaos and she knew, that is my son.
Both my husband and I have made it a point to talk to our sons about police brutality over the years. Michael grew up in Mid City L.A, smack dab in the middle of gang territory. He is no stranger to violence inflicted upon a person because they are a young, male person of color by a man in uniform, whose job is to serve and protect. Bottom line, they could hurt you simply because there no one else is around to stop them.
To be honest, his mistrust of law enforcement has always made me nervous. If you're not doing anything wrong, then the police won't have a problem with you, that has always been my stance. You don't understand, he would shake his head at me. Still, I never wanted my sons to grow up with a fear and mistrust of the police. But I realize now, it doesn't matter if you are committing a crime or merely existing and minding your own business — the police can do what they want. Our kids are seeing this on YouTube, on their Facebook feeds and on the news.
Nevertheless, protecting my sons is paramount. I worry about them when bike over to grab a pizza, when they walk to work, when they are riding their skateboard around the neighborhood. They have long hair, they wear ratty Rasta-colored ponchos, they have brown skin — like it or not, they are targets on somebody's radar.
I understand why people are praising Toya Graham's actions. I feel a sense of relief and triumph for her, too. She didn't let her son get away with what he was doing. Good on you, mama. She saved him from himself. But at the same time, it breaks my heart to think of what this mother was feeling at that moment. The sheer terror of seeing her baby in danger. The sad reality is, this is exactly why people of color parent their kids this way: they fear for their child's life to the point that they'd rather step in and deal harshly with their child rather than have them killed by the hands of another person on the streets.
This has definitely opened up a dialogue in our home and while it's a conversation I'd rather not have, it is one that is absolutely necessary. It makes me feel both heartbroken and angry all at the same time.