I've been wearing VANS for as long as I can remember.
My obsession with this waffle-soled, Southern California native shoe began back in 1983, when I used to rock a pair of checkered slip-ons with my Stray Cats muscle tee and hot pink sunnies and rode my bike around the neighborhood with my little brother. I thought I was so bad ass.
Before each new school year, my Dad would take us to the local Vans store. It was a tiny shop, filled to the brim with all of my favorite old skool classics which were totally not old skool at the time. The minute you opened the door, that sweet rubber smell would hit you square in the face.
Bliss.
Thus began a lifelong loyalty to VANS shoes.
I would wear out my Vans until my toes started peeking through. Then it was time to buy a new pair. What I love most about Vans is their style is so iconic to California — they are the epitome of skate and beach culture. Of course, when I became a mama, my babies began to wear VANS, too. Checks, old skool, Sk8-hi, slip-ons, half-Cabs, leopard print, suede, leather — we don't discriminate. These are just a few pairs from over the years. I wish I had saved all of my shoes.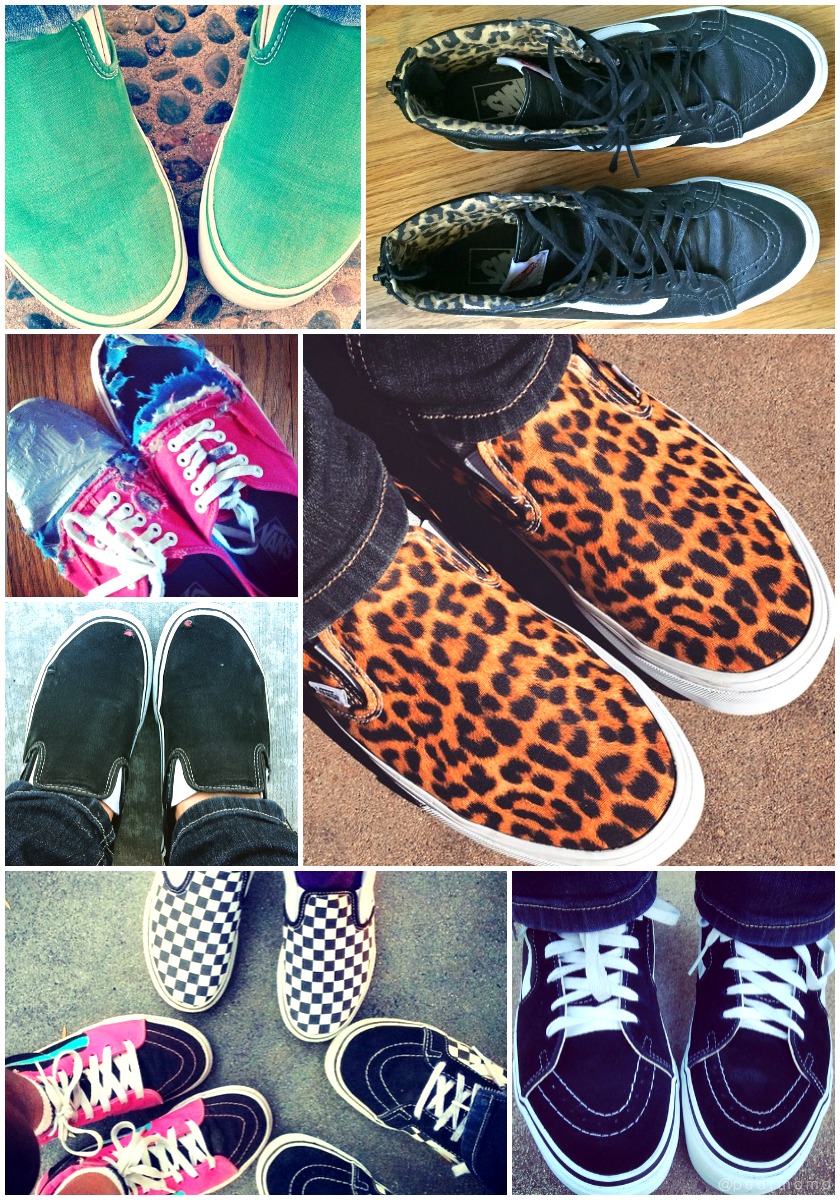 That chewed-up pair belongs to my skater boy. He absolutely destroys his shoes, each and every pair of VANS he owns.
Imagine my swoon factor when I discovered the Disney x VANS collab.  I mean. Hold me. This is exactly what I need in my life right now. The Winnie the Poor pair (I die). The Princess Jasmine print (dying). The Little Mermaid (dead). The pair I really, really want? The Disney Villains pair because of none other than Ursula the Sea Witch (rest in peace, pearmama). Sigh. They would look so perf as I am strolling through Disneyland with the fam, don't you think?
RELATED: Why I will always fangirl Disneyland
This is one of the reasons why I love VANS and their brand in general. I love the story behind this family-owned business and how they catered to the Southern California skate culture in the late 70's/early 80's. Being a creative person, I also admire their creativity with patterns, custom styles and collaborations, like this extremely cool collab with Disney. This is why this brand is beloved by so many people.
RELATED: How to have the perfect "kid-free" day at Disneyland
Guys, this is also why I'll be rocking VANS until you wheel me to the nursing home. Love!