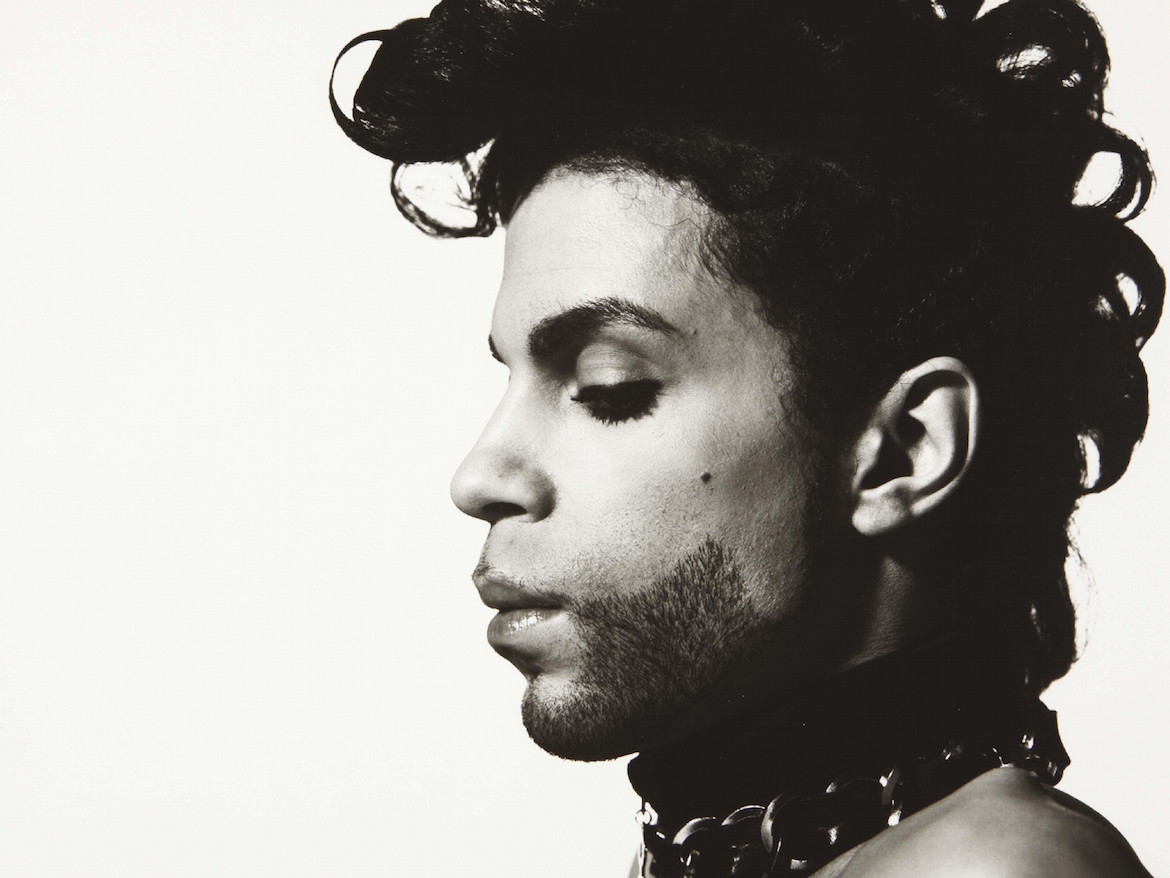 Prince is gone from this Earth and I'm having a hard time accepting it. Gone at the age of 57. Gone way too soon.
I was in Memphis when I heard the bad news. My Pops sent me a message with these words: Bad news, mija. They just found Prince dead. I was in shock. There I was, sitting in the middle of a bustling cafeteria in Tennessee, food left uneaten on my tray (the mac 'n cheese though), conversations and laughter swirling all around me. I tried to reel in my feelings and carry on with my busy day. What I really wanted to do was hang up the "we're closed" sign on my heart and call it a day. I wanted the freedom to hide out in my hotel room and properly grieve the way any devoted fan does: by listening to Prince music, creating playlists, watching videos and concert footage.
And remembering. Crying. Grieving.
I was dreaming when I wrote this
My story really begins with my father, so it made sense that he was the first person to tell me about Prince's death. It was the 80's, in all its raunchy glory. My dad was newly single and I was about ten years old. During one of our summer visits to his place in San Diego, I noticed my dad was really into this diminutive musician named Prince. My ten-year-old curiosity was piqued when I saw the person who was creating this funky dance music. The fact that he strutted around wearing nothing but speedos, thigh-high boots and a trench coat, all the while crooning Sexy Dancer, well that just sealed the deal.
I mean. How could I not be curious about that?
When 1999 came out, I spent hours gazing at the purple artwork on the cover. And inside the album? Well. I surreptitiously took the album jacket inside my uncle's copy of 1999. He was a DJ so I doubt he ever missed it. I always say that this photo of Prince and his watercolor set kicked off puberty with a bang.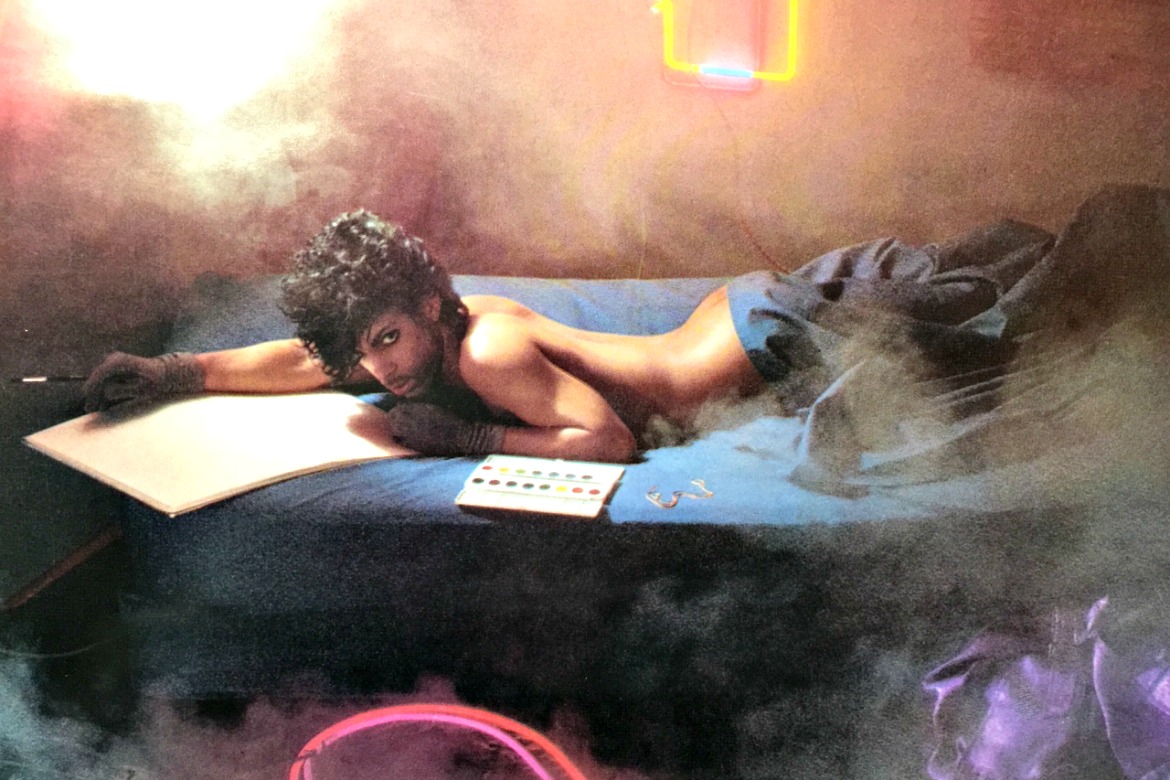 Because I knew my mama wouldn't approve of Prince's lyrics, I listened to his cassettes (cassettes!) on a Walkman, where I grooved to Lady Cab Driver and D.M.S.R and International Lover to my heart's content. I think the bulk of my sex education came from listening to Prince music. He taught me some thangs. Sorry, mama.
Dearly beloved
The Purple Rain era was a glorious one. I begged my dad to take us to see the movie and of course, he did. My baby sister and I sat in the movie theater swaying our hands from side to side and sang the chorus, Purple Rain, Purple Rain. I was now at the tender age of 12 and lowkey obsessed. While all of my classmates were into Def Leppard and Quiet Riot, I was fantasizing about a funky, purple world filled with Prince's music and people walking around in lingerie and lacy, Victorian shirts, velvet shoes and purple trench coats. It was everything to this nerdy, frizzy-haired chubby artist on the eve of her teen years.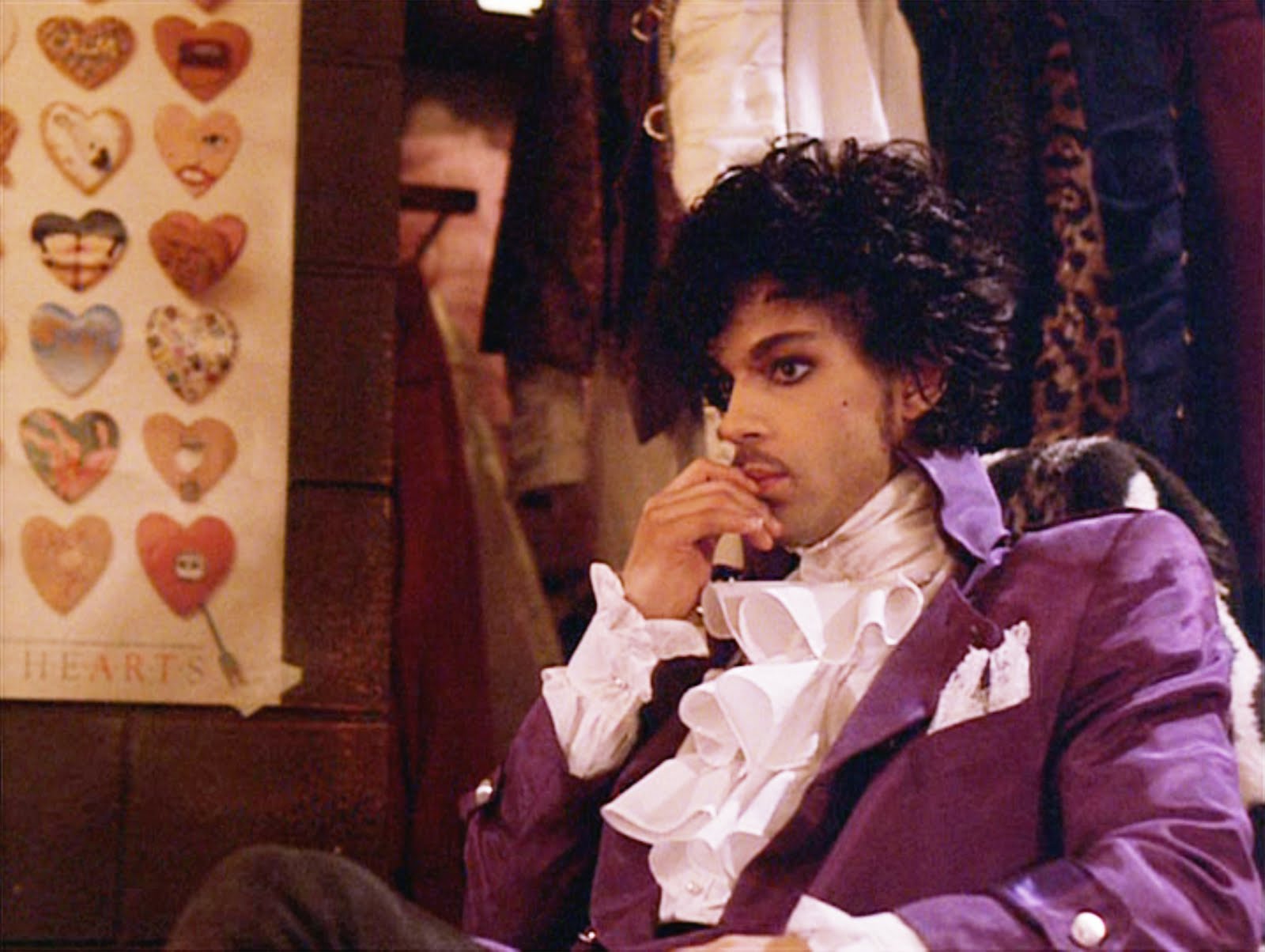 I prayed to God my mom would take me shopping somewhere where I could find cool clothes like Prince and The Revolution wore. The lace, the chains, the black eyeliner — it screamed cool and hip and otherworldly to me. Leap years away from the uniform of mullets and Jordache jeans everyone was wearing in the small dairy community where I lived. Sigh. And that asymmetrical haircut that Wendy wore (or was it Lisa?) — I spent the better part of the movie trying to come up with a scheme so my mother would let me rock that hairstyle, too.
Still, I was like lone ranger in my Prince fandom. Because I knew the other kids wouldn't understand (what did these country bumpkin's know about dance music sex romance?), I kept my Prince obsession to myself. But, Purple Rain outed me.
Act your age, mama, not your shoe size
Fans dropped off after Purple Rain because they didn't understand Parade and his next movie, Under the Cherry Moon. That was cool because it just meant more Prince for me. I truly appreciated Prince for his artistry. He was always authentically himself, however strange and freaky it may be. He gave me permission to be just as strange and freaky. The sign of a true artist is their ability to make you feel something. Prince always did that for me.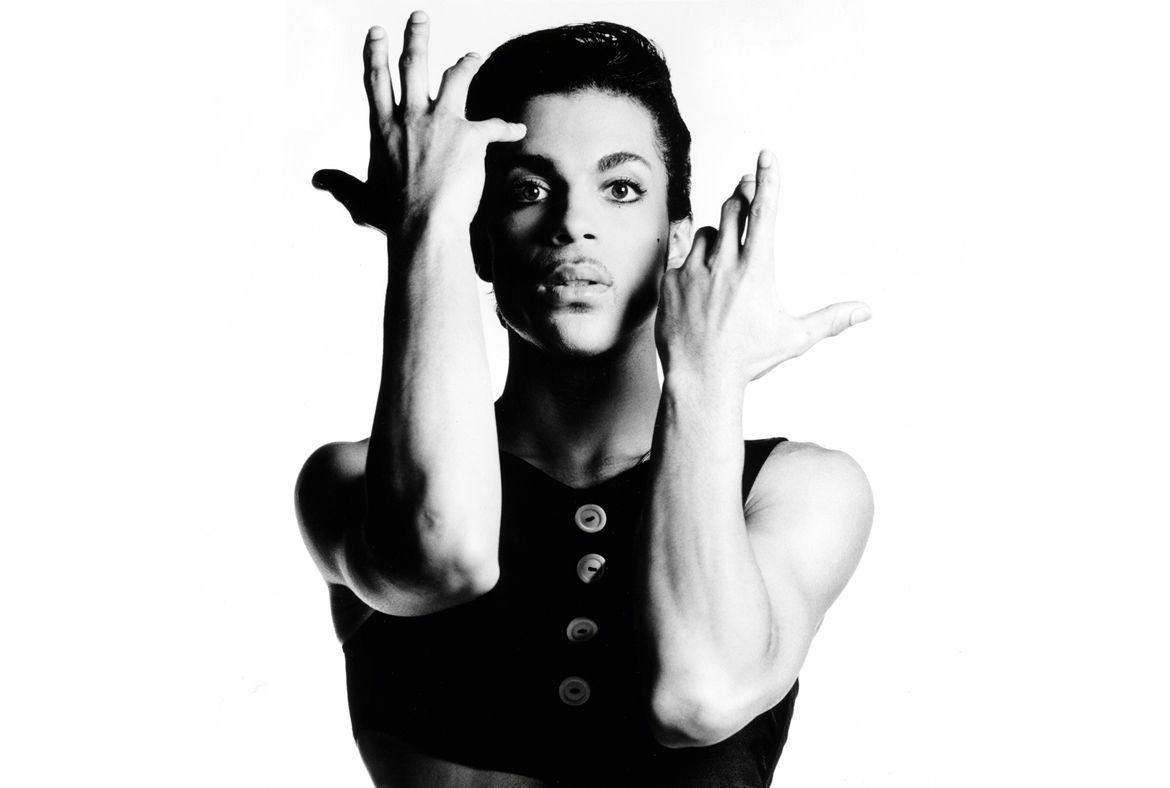 If I was your girlfriend
I grew up but my love for Prince and his music never faltered. He went through some weird stages and so did I. One of my happy discoveries was the moment I first fell in love. I finally had someone I could tie all of Prince's love songs and sexuality and emotions to.  My boyfriend and I made each other mix tapes and I listened to them while sprawled out on my bed, languid and dreamy. There were countless nights we drove around L.A, fingers entwined, greedily searching for one another's lips at every stoplight. Prince was our soundtrack: The Beautiful Ones, If I Was Your Girlfriend, I Wanna Be Your Lover, Erotic City, Adore and Insatiable wafted out of my car windows at three in the morning. I was like, yasss Prince. I get it now. I get it.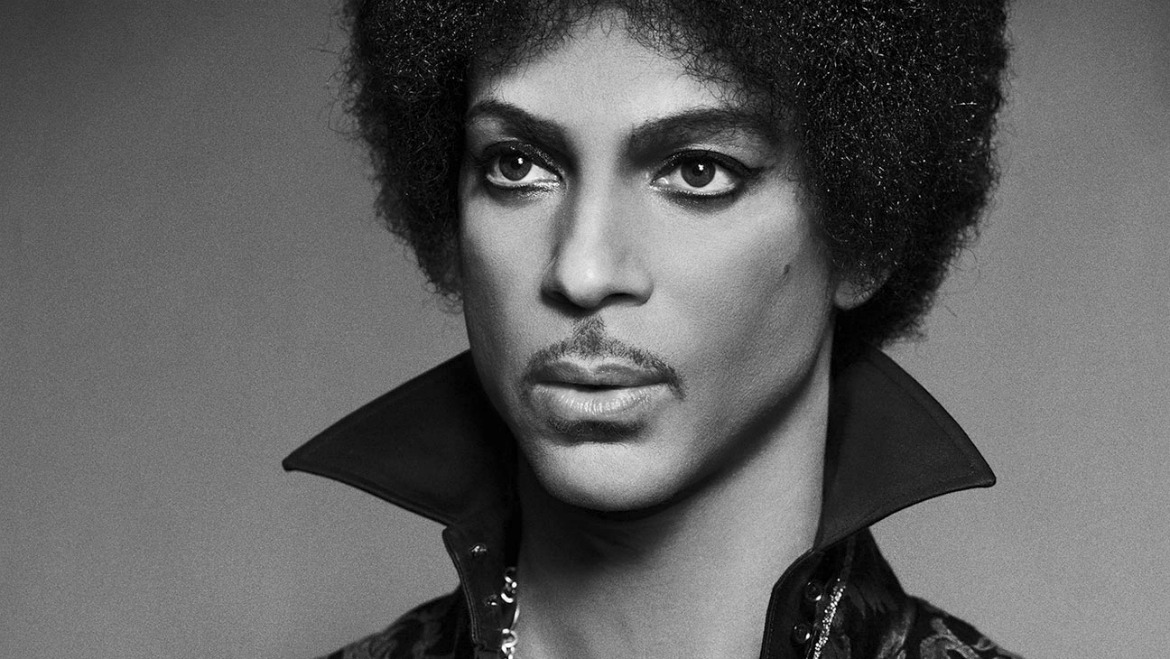 You own my heart and mind, I truly adore you
My boyfriend turned into my husband and when Prince came to L.A in 2004, we bought two tickets off a couple who just had a baby and couldn't go. I couldn't believe my luck. Finally, Prince in concert. We would be breathing the same air. I was so excited.
My husband and I were like two prison escapees out on the town (we left our five kids, age 7, 6, 4, 2 and baby at home with grandma and said deuces). He played all of my favorites and we danced the night away alongside thousands of diehard Prince fans. It was so much fun. Prince even sang Adore especially for us. My husband and I slow-danced to it, right there in the center aisle up in the nosebleed section of the Staples Center. Bucket list item crossed off.
Sometimes it snows in April
The day after Prince died, I had to sit on an airplane for five hours. Instead of sleeping, I popped in my earbuds and listened to his music for the entire plane ride. Each time a different song began to play, I felt the tears, hot and thick, roll down my face. Later, as I was pulling my luggage away from baggage claim, I sang out from the top of my lungs and didn't care when other travelers were looking at me funny.
I've been torturing my kids every day, too. Gawd, mama. When Doves Cry — again?
How can I explain it to them? How can I describe the feeling of utter lightness and freedom I feel every time I hear his music?
It may seem strange to mourn a person you never knew in real life. I know he was just a "celebrity" to some. But, I did know Prince. Prince's music was him, it was his art and it came from his soul. He shared it with the world and he shared it with me, a lonely preteen girl trying to figure out life after her parent's divorce. Prince was special to me and my heart is heavy knowing that his genius is no longer with us. But my heart is light from the realization that he is immortalized by his music, as most artists are. Prince will never die.
His music has carried me through love, passion and heartache. All of it.
Thank you, Prince Rogers Nelson. Rest in peace.