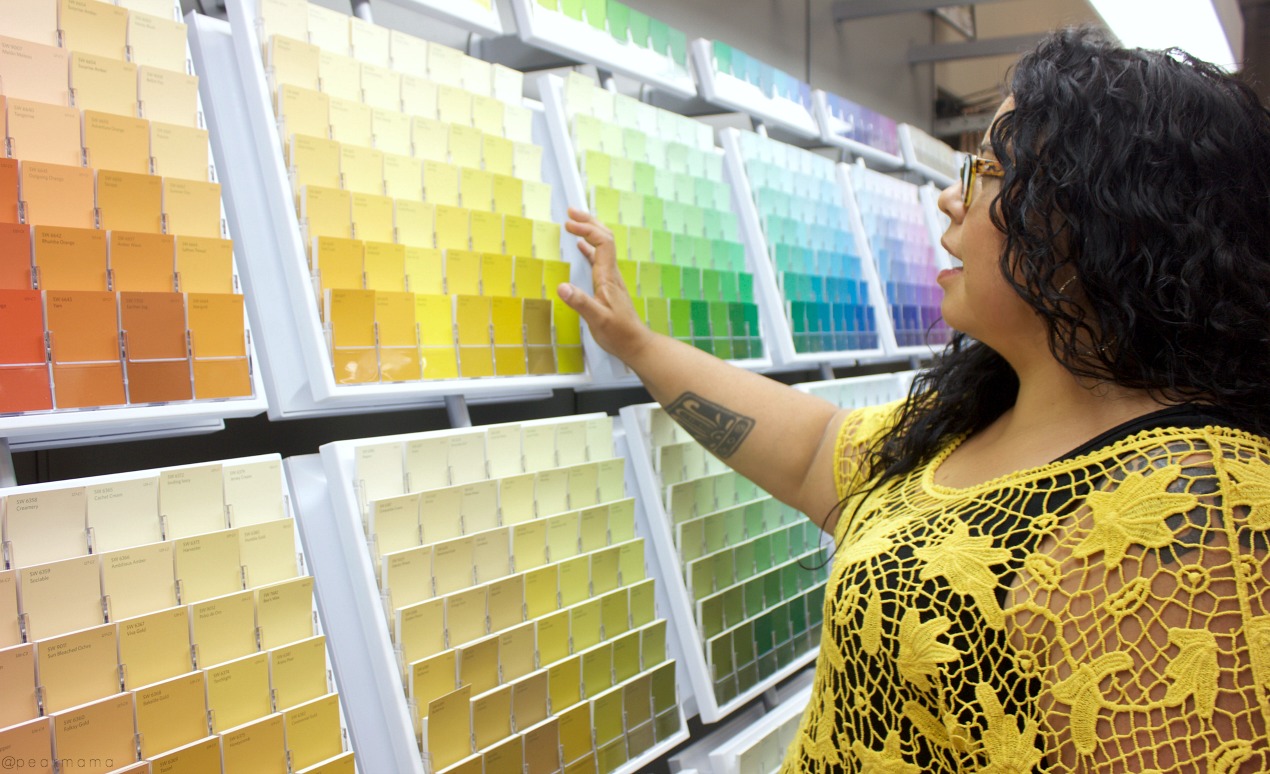 This post is brought to you by Sherwin-Williams. All thoughts and opinions are my own.
The crew at my local Sherwin-Williams paint store here in Riverside know me by now. I usually bust through the glass doors a hot, frazzled mess: hair up in a wild bun and wearing a paint-splattered tee, trying to get everything done while the kids are at school. There is never enough time.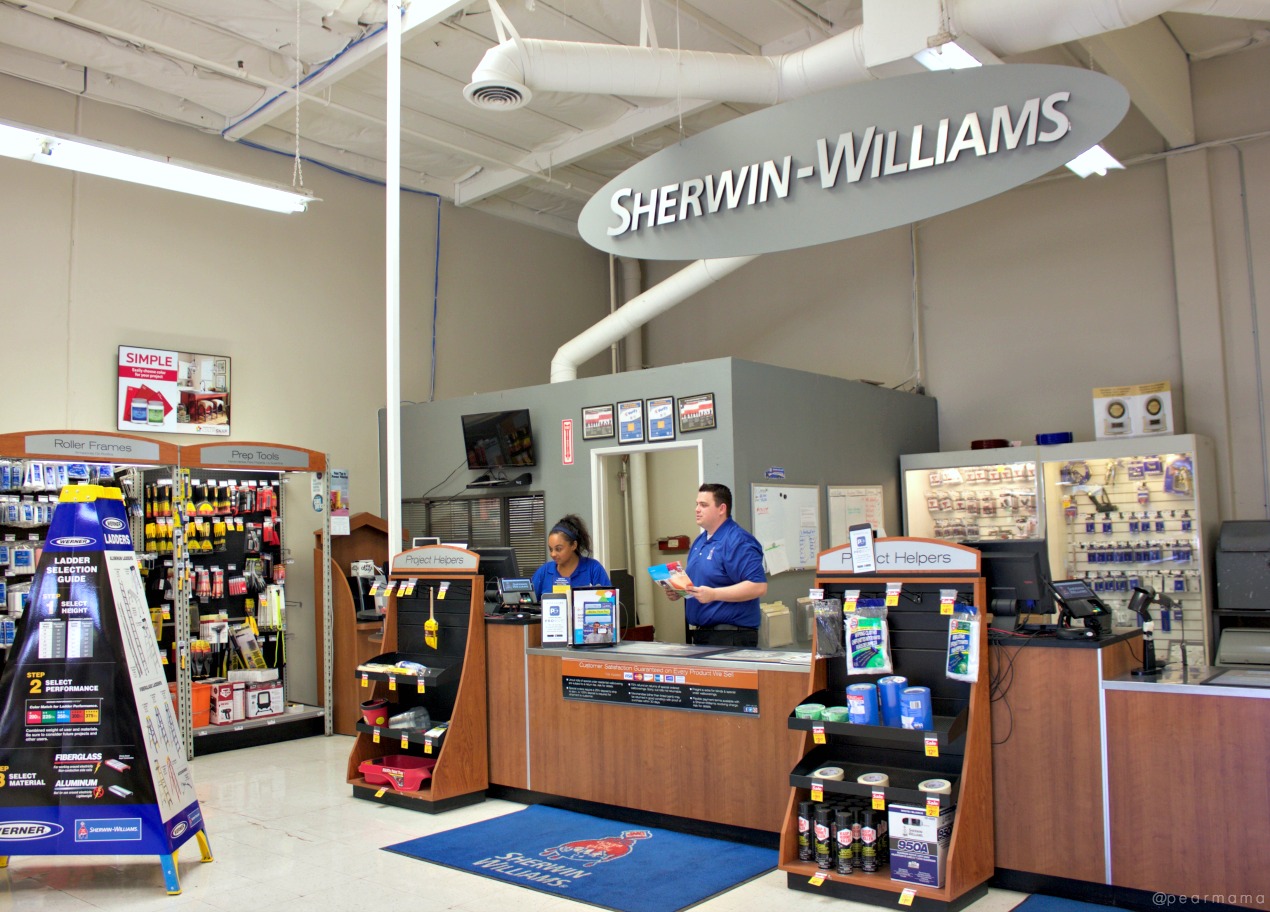 So…what project are you working on this week? they usually ask me as I'm perusing the color swatches and paint brushes. I've got to give major love to my local SW store because they always help me figure out what is the best paint to use for a specific project (I'm partial to the Emerald paint line) and how to find the perfect color for all of the crazy ideas I have. They even help me lug all of the paint gallons to my car, which is pretty awesome.
If you're like me, then you love color — greens, blues, purples, pinks…I love them all. Color is definitely my love language. Paint swatches are my jam and one of my favorite things in-store is the ColorSnap Studio. Rows and rows of beautiful colors all lined up and ready to choose. An in-store color swatch is the truest representation of the color but sometimes it's a real challenge trying to envision the color filling the walls of your home using such a small chip. In order for you to dream big, you need to see it first! The ColorSnap Studio app can help you do that.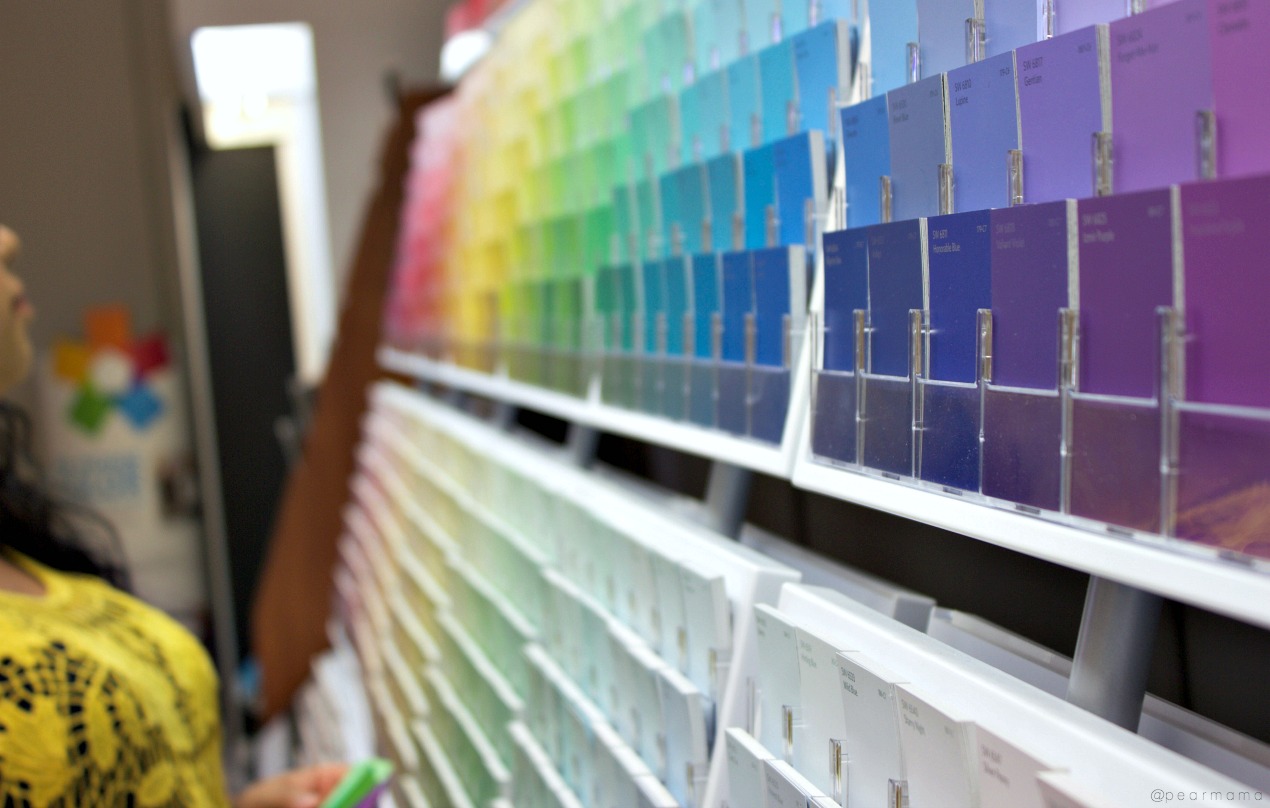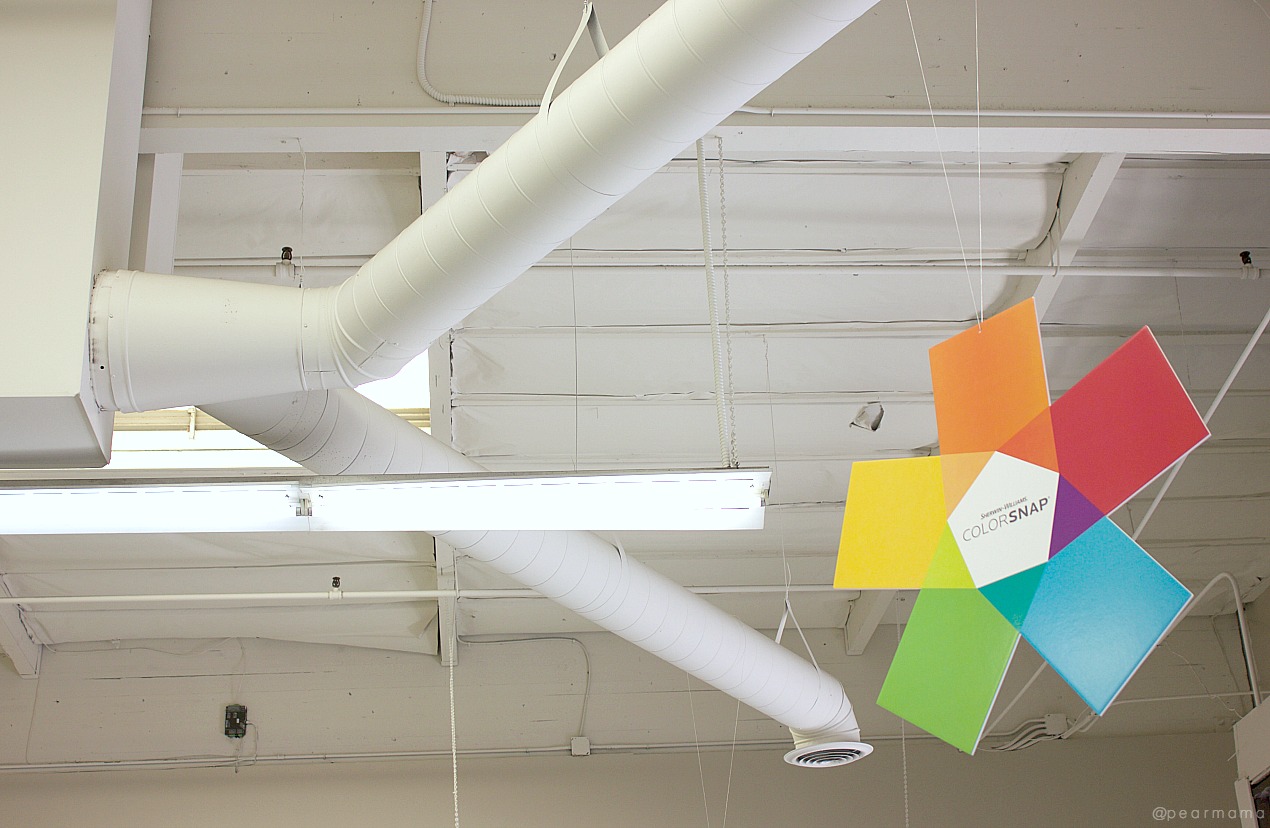 Now, customers can stand in front of a Sherwin-Williams display and snap an image of a color swatch with their smartphone and virtually paint a room scene, allowing them to visualize how it would look in their own spaces with the ColorSnap Studio app. I love how this app can help you kick up your creativity a notch! Colors you would never consider are now on the menu, thanks to ColorSnap that helps you envision your space.
I was looking for a bright sunny color to paint a second-hand mirror I've had propped up against a wall for months.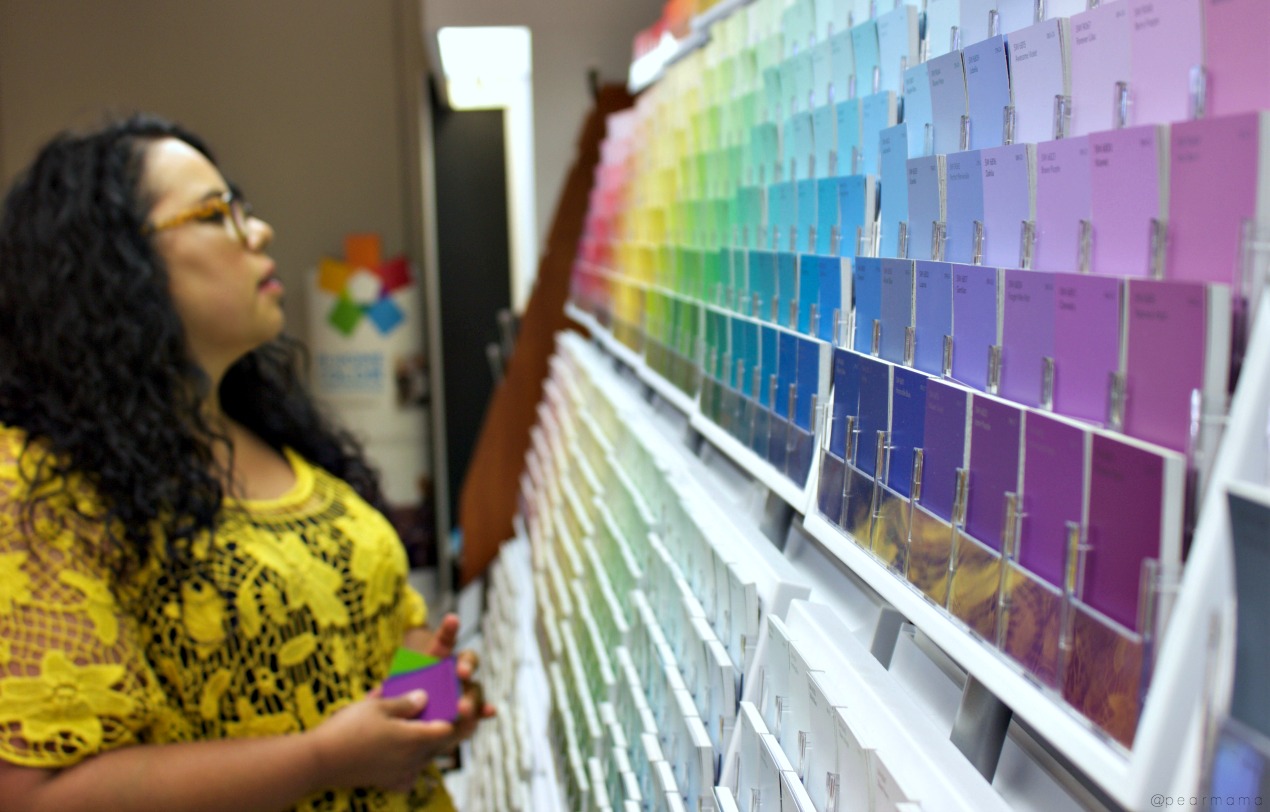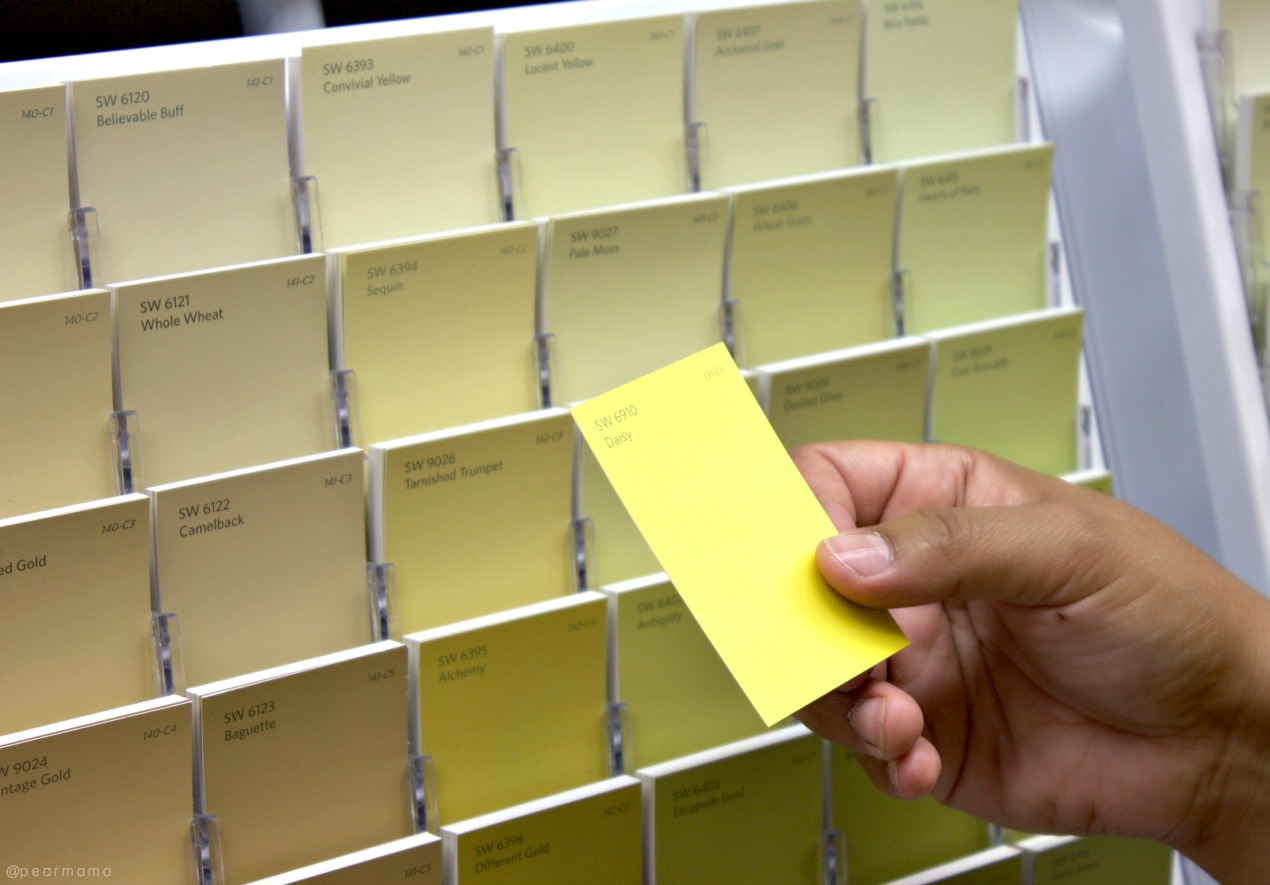 I finally settled on SW 6910 Daisy, in the Harmony Interior Latex Paint line, which offers a zero VOC formula that helps reduce common indoor odors from your pets, cooking and smoke to help rooms stay fresh. When you're living with four teenage boys, this is a good thing. Harmony also contains new technology that helps improve indoor air quality by reducing VOC levels from potential sources like carpet, cabinets and fabrics. This makes me feel good, knowing I'm not adding to the toxins in my home.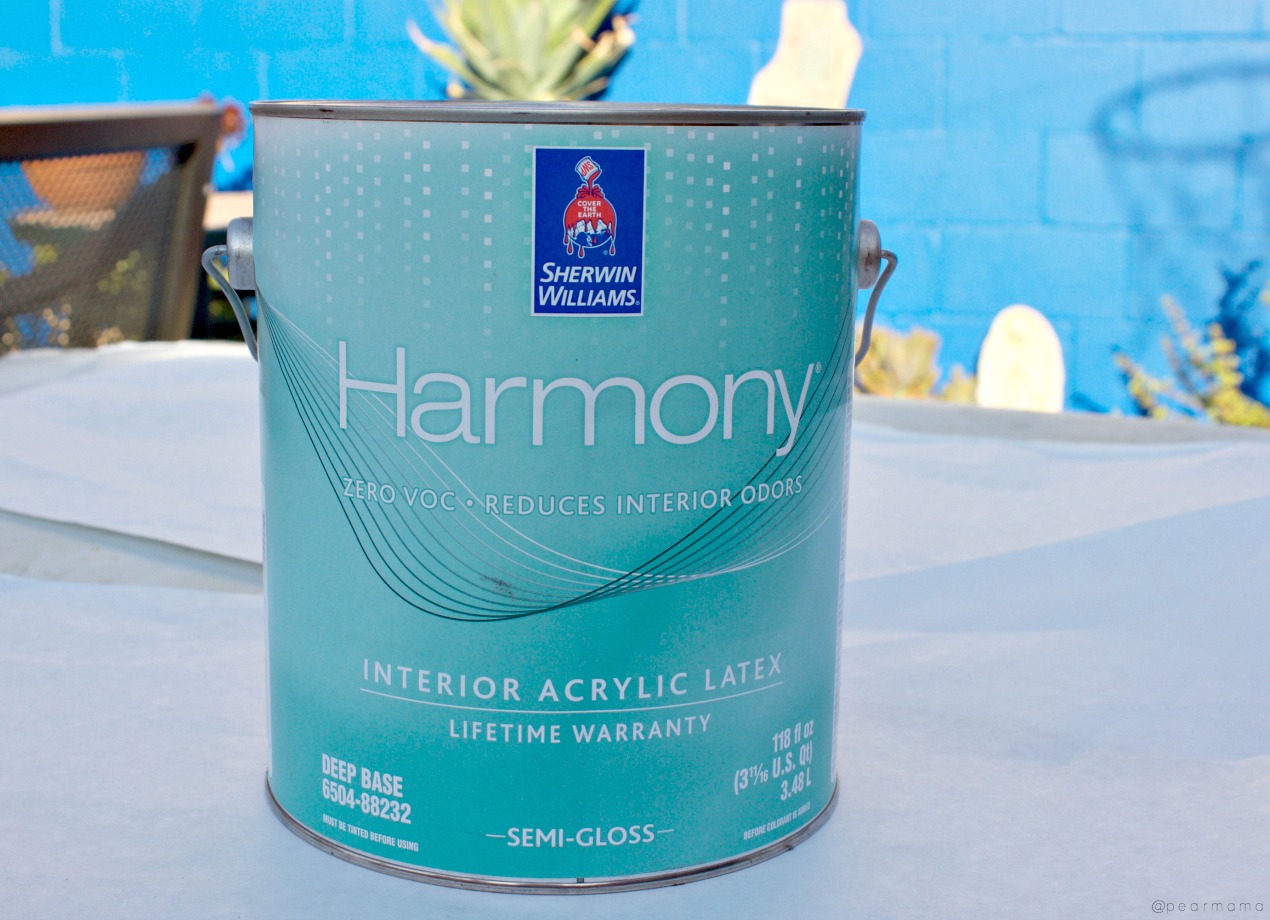 My second-hand mirror just needed a little bit of love. After lightly sanding and dusting off the excess, I used the blue painter's tape to protect the mirror. This step will help you keep paint smears to a minimum because nobody wants to spend time scraping paint off a mirror. Don't mind my puppy in the reflection — he just loves getting in on the action!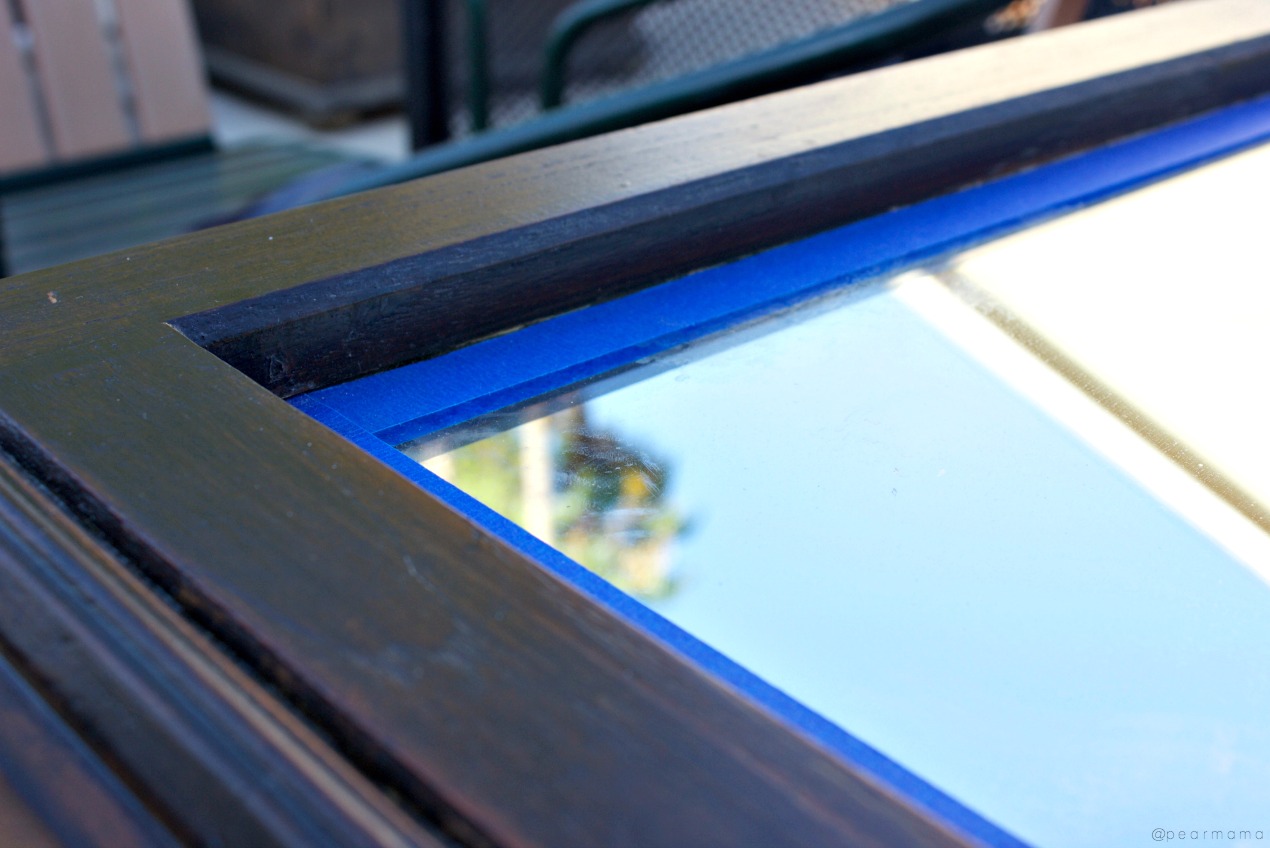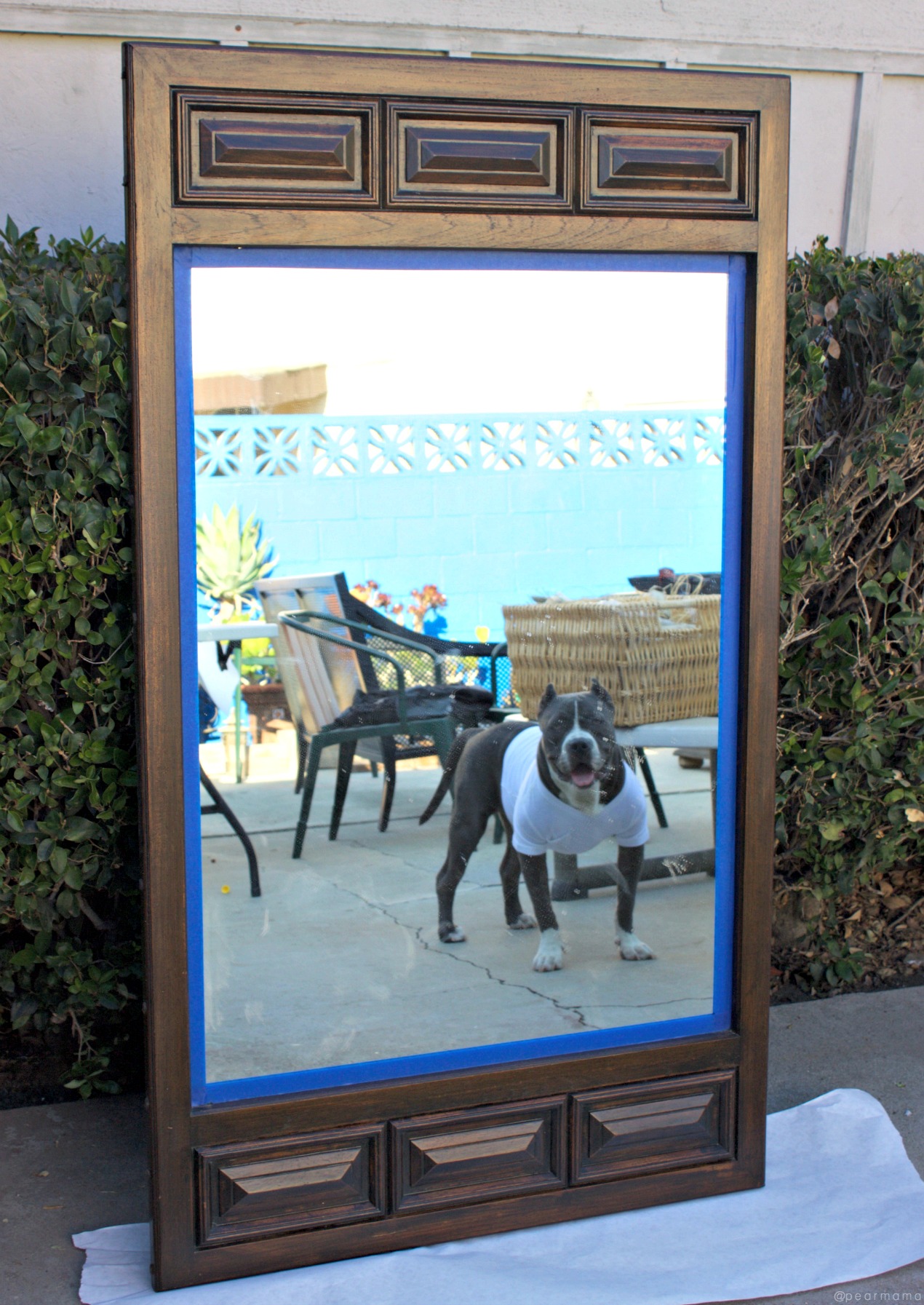 I ended up using three coats of paint just for the extra coverage but I could've stopped at two. Thankfully, the Harmony line of paint comes with a built-in primer so I didn't have to take any unnecessary steps — I just started painting directly on the wood. Let dry between coats and it will be all good in the hood. I love how bright and cheery the Daisy color makes my living room feel!
Goodness knows I probably don't need another brightly colored thing on the walls but you know what, I love it, I love art and this stuff makes me happy. So, yeh.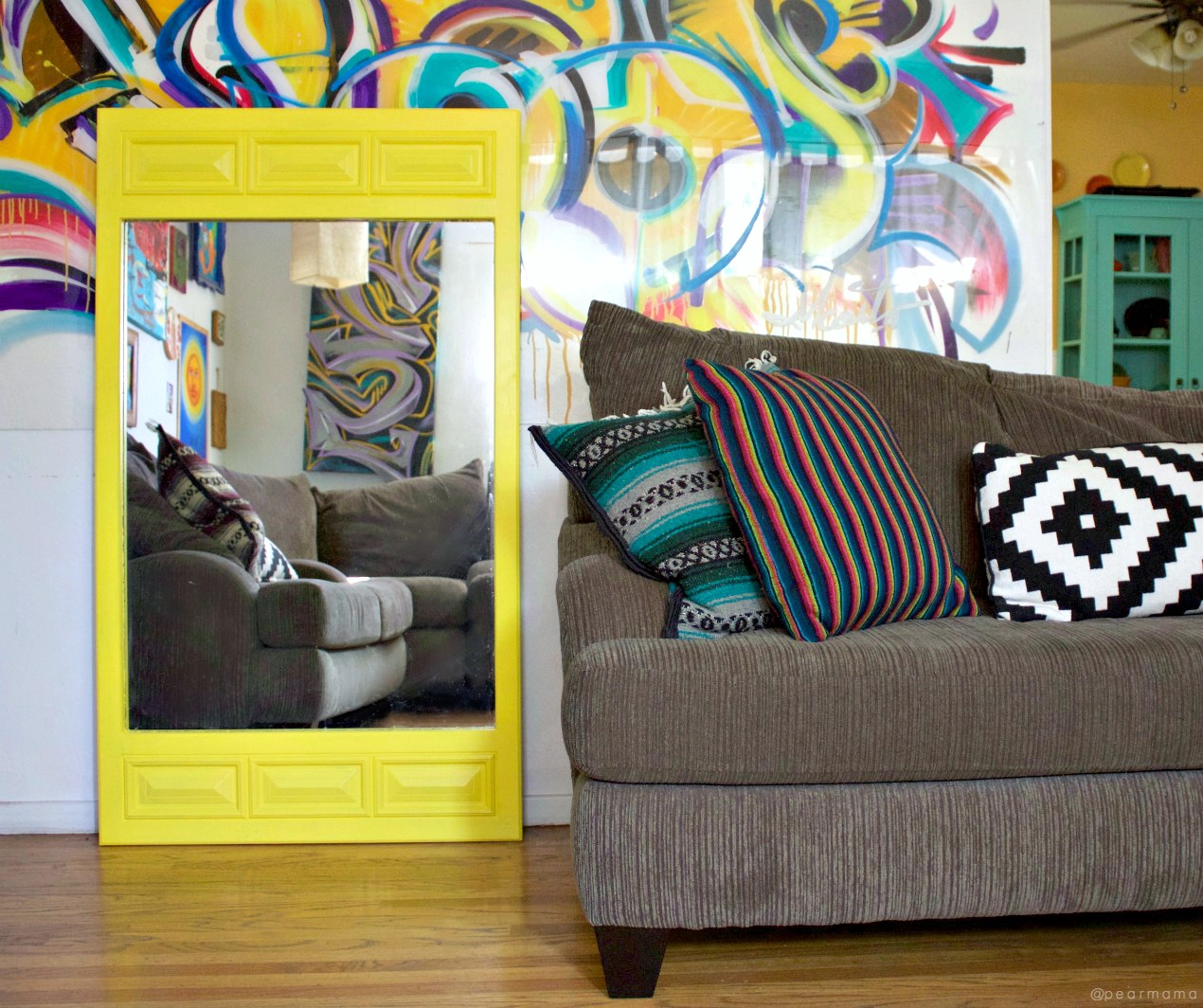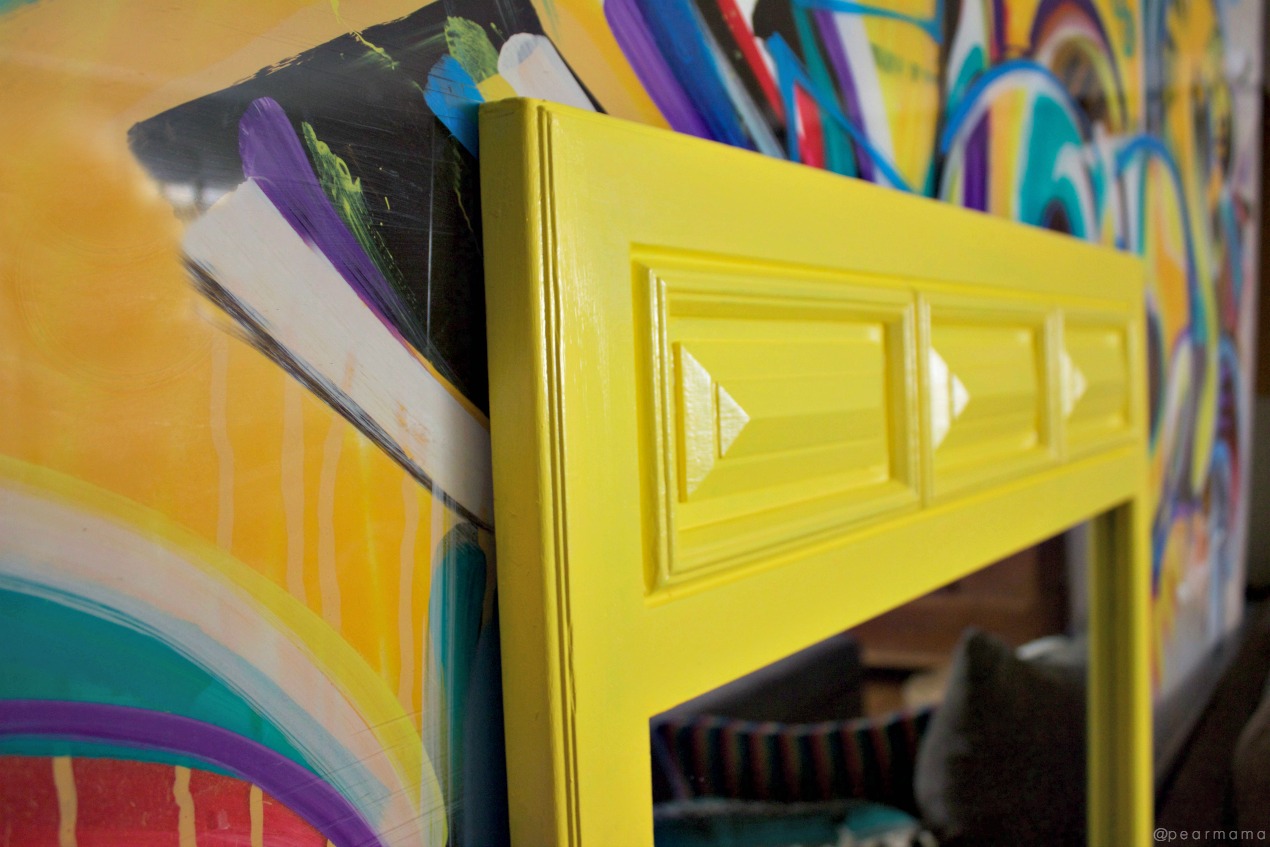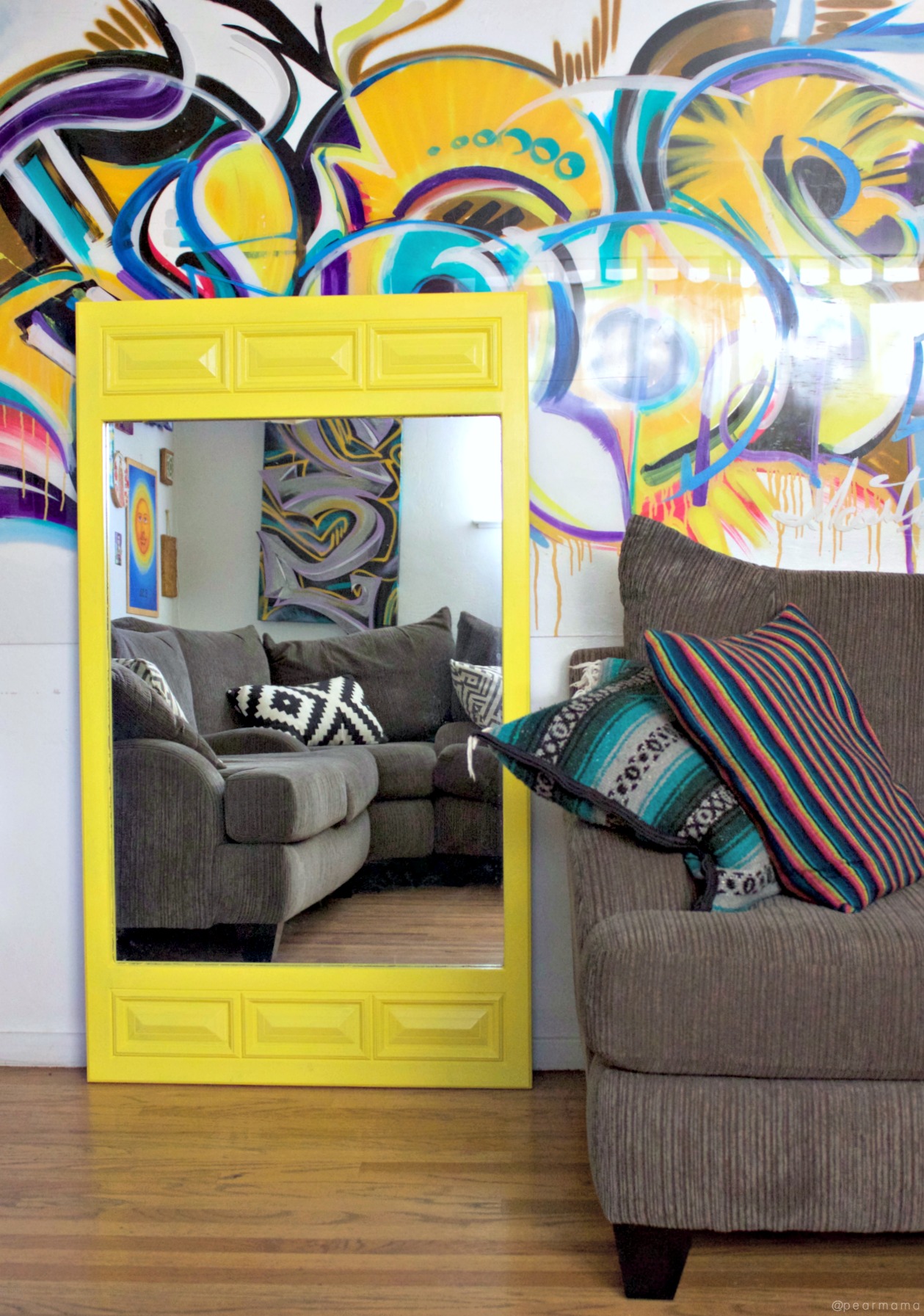 Read this post in Spanish on Sherwin-Williams Latino | Like Sherwin-Williams Latino on Facebook