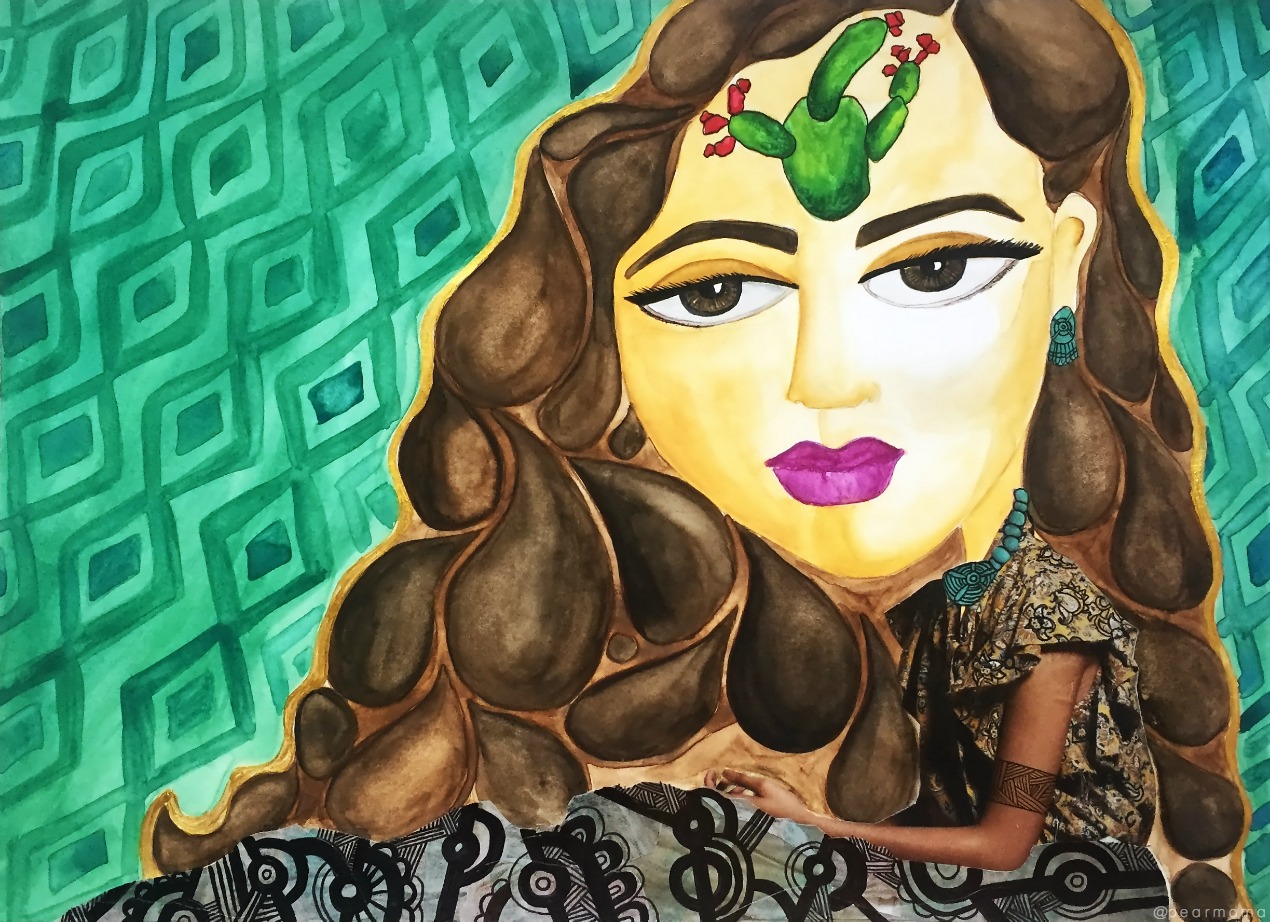 My mama sent me this heavy black and beige Mexican serape poncho with a big Aztec calendar emblazoned on the front.
"I figured you could make some pillows out of it," she said, remembering the diy serape pillows I made a while back. I mean, it screams I am a beaner. I bump Kid Frost's "La Raza". I'm brown and proud.
It's so extra and I love it for being so.
When I unearthed it from the Trader Joe's bag she neatly folded it in, I realized I couldn't cut it up and make it into pillows. Oh, no I couldn't do that. This had to be worn. I showed it to my husband and his eyes lit up. We talked about an upcoming event he could wear it to. It was all love.
It wasn't always like this. I haven't always been comfortable in my brown-ness, my Mexican-American-ness, my Chicana-ness, my other-ness, my melanin. I was living life con el nopal en la frente (with a cactus on the forehead).
When you're a kid, the last thing you want to do is stand out. Flying under the radar is safe. I wanted to seamlessly blend in with the scenery, blend in with the white kids and their Iron Maiden shirts, their lunch of ham sandwiches and Twinkies, their long, straight blonde hair that never frizzed when humidity went up a percentage. Anything that alluded to our differences made me so nervous my stomach went on strike.
Hey, guys. I'm just like you.
And in many ways I was. But in so many more ways I wasn't. The fact of the matter was, I was a brown girl who:
couldn't speak the native tongue
lived with my mother and my siblings and my uncle and my Nana (they're calling it "multi-generational living" these days)
vacationed in Mexico every summer
called my grandfather "Tata" (but I was careful to call him "grandpa" in front of friends)
had a mother who smuggled homemade burritos into Disneyland and Dodger Stadium
had cousins named China, Chon and Chudy
fed our dogs leftover beans
had a great-grandma who steeped marijuana in oil so she could rub it onto her arthritic hands, the bottle on her nightstand protected by her santos
came from a family who hailed from East L.A
had brown brown brown skin that got even browner when the sun was high and hot.
Mijita, how could you ever expect to blend in? 
I feel heart pains to think that I was once ashamed of being Mexican-American. It hurts. Shame in your culture is passed down from parents whose parents fought long and hard to assimilate. My grandfather wanted his children to live successful American lives and sadly, erasing your culture was the way to get ahead in Anglo society. It took me some time to get my bearings. I had to grow up a little. I had to move away. I had to educate myself on my people, my culture, my family. I read books, learned about the civil rights movement, the work of Cesar Chavez and Dolores Huerta, studied Chicano art, the pachucos, gang culture, the Brown Berets, the indigenous people of Mexico and I embraced the ways of my family.
I learned to stand tall. I learned to be proud of my brown skin. I learned to floss the nopal en la frente.