Teach your daughter to love her hair. This is a sponsored post written by me on behalf of Dove™.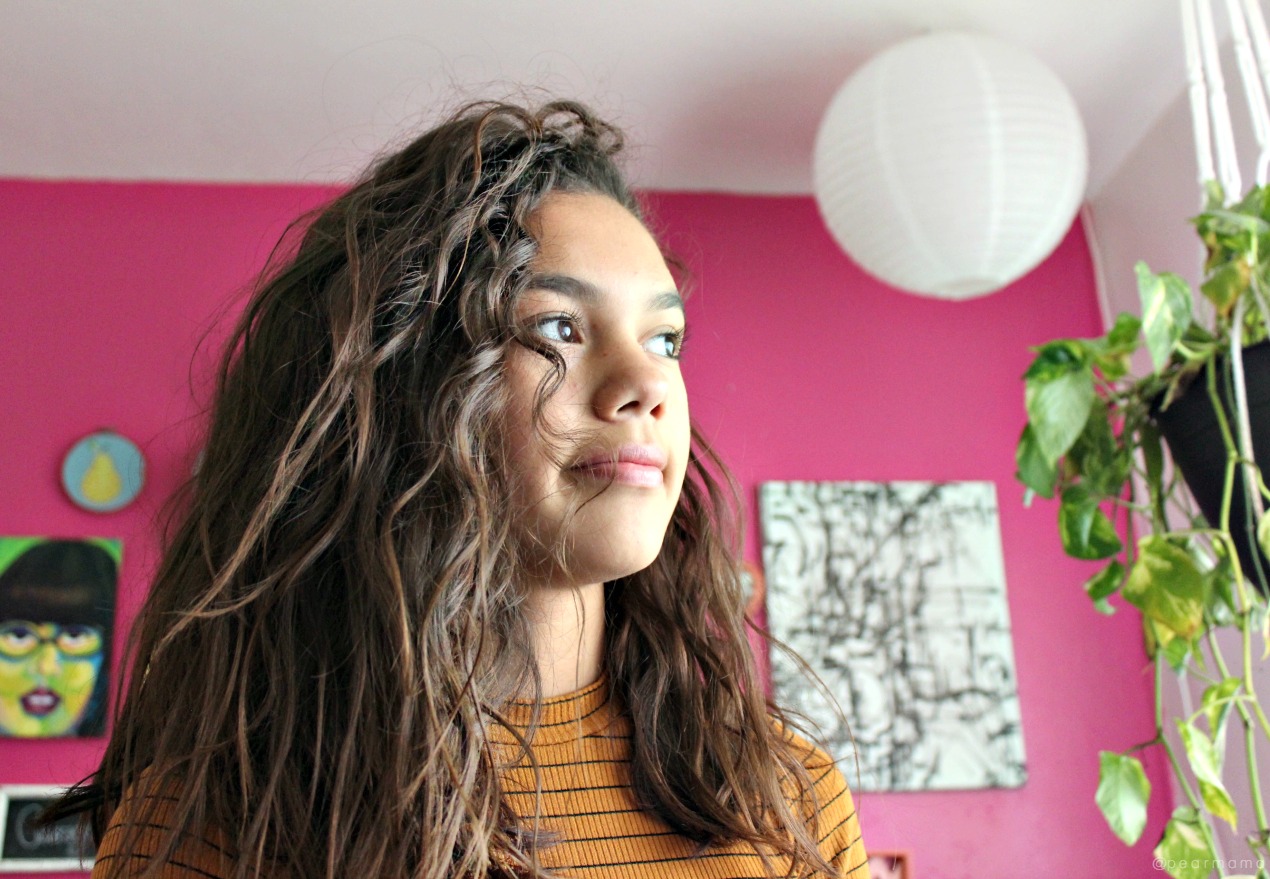 Hair. It's a pretty big thing around here. Probably because I spent many, many years trying to make sense of it.
I got my dark Latina hair — sometimes curly/sometimes wavy/always frizzy — from my mama. I don't think my mama knew what to do with my hair and this is why I spent the first twelve years of my life in braids (French braids, fishtail braids, side braids, you get the picture). It wasn't until I was around eleven that I started to wear my hair loose, and then I realized why my mama made me wear braids for so long. Take a brush through my hair and you were left with a heavenly crown of frizz. Not ringlets, not curls, not soft waves…we're talking 1970's hippie parted down the middle, groovy man frizz. Braids were a no-brainer.
Now I'm a mama with two tween daughters. My oldest daughter's hair looks just like mine did at her age.
—
I was in the 7th grade and totally envious of this girl named Linda. We shared the same bus stop. She was small and thin, with long, smooth straight hair the color of honey wheat. She would sit in her seat on the bus and flip her hair from side to side, talking and laughing. It always looked beautiful and smooth. When I tried to flip my hair, it just looked like a hot mess.
Sigh.
Well, I'm a grown woman now and although I still can't flip my hair around and stay cute, I don't want hair like Linda. I love my own ethnic, wavy, curly, sometimes frizzy hair. But I had to learn how to love it. It's been a journey.
Curly hair sins
I've since discovered all the curly hair sins I was committing over the years that wasn't allowing my hair to be great. Here are a few:
Shampooing my hair every day. This is a major one. Girl, stop losing all of those natural oils. Stop shampooing all that good good down the drain. "Dirty hair" has some texture and gives body to your hair. And besides, unless you are rolling around in the mud, your hair isn't dirty.
Too much heat. Hair dyers. Flat irons. Curling wands. You name it — I've used it on my hair. About three years ago, I decided to quit my flat iron cold turkey. I began to notice some thinning on one side of my hair, the side I was constantly using the flat iron to smooth down frizz. I was like, why God? I need all the hair I can get! Now, I only use a hair dryer with a diffuser on special occasions. I let my hair air dry. Guess what? My curls look just a good.
Brushing my hair. I was guilty of raking a brush through my hair. I cringe at the thought. Stop. If you have curly hair, stop brushing your hair. You can remove tangles with a comb but throw away the brush. Your frizz-free hair will thank you.
Towel drying. A towel never touches my hair these days. A towel has cotton fibers that wreak havoc on curly strands, causing breakage and frizz. These days, I use an old cotton t-shirt to squeeze the excess water from my hair and prop my curls in, turban-style.
Harmful dyes. I've had burgundy hair, purple hair, pink hair, jet black hair. I even did the ombre thing for a while.  All of that hair dye does a major whammy on the texture of your hair.
The thirst. I'm guilty of letting my hair get too dry. I used to think that since my hair was fine-textured, it didn't need extra conditioner weighing it down. Well, my hair was still thirsty. These days, I make sure to spritz a light leave-in conditioner to my ends. My curls thank me now.
These are the things I am teaching my daughter about her hair.
My daughter's hair
My daughter is about to turn 13 and I'm tickled pink that her hair texture is changing. It started off as straight and fine, not a curl to be seen, much this mama's chagrin. But these days, I can thank puberty for changing all that. It's thicker now, wavy and curls are starting to form. Her inner layers are curly and the outer pieces still haven't got their act together. I can sense her frustration every morning when she gets ready for school, her fuzzy baby hairs poking out every which way.
Mama! What am I supposed to do with this hair?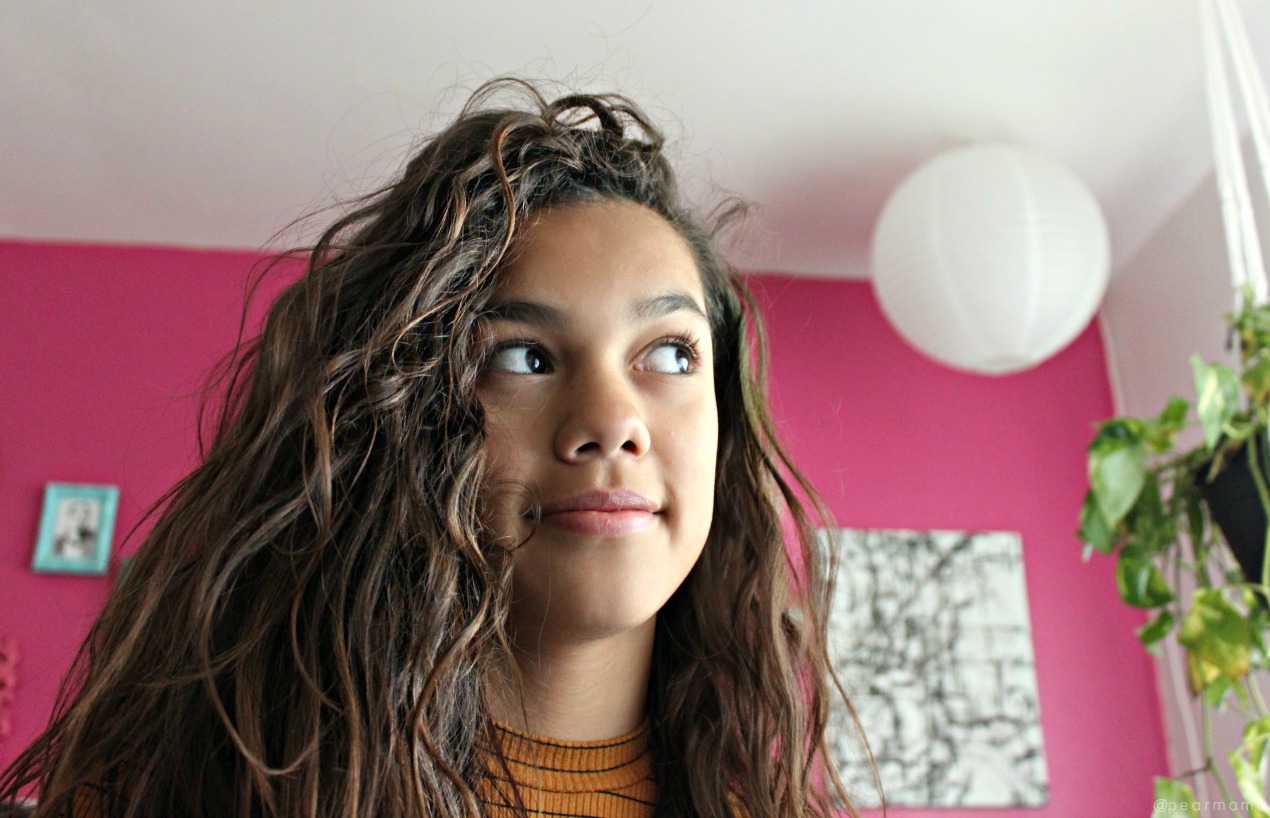 This is where I swoop in with my super mama cape and help her see just how beautiful her mixed texture, head of beachy curls hair really is. In fact, a recent Dove™ study found that 82% of girls learn to care about themselves from their mother. As her mama, it's my job to celebrate her beauty, to make sure she has all the love and encouragement to grow up feeling confident, loving all aspects of herself. Even her hair.
Everyone has their idea of what "beautiful hair" looks like and I'm happy to see that this is changing. 8 in 10 women feel pressure to wear their hair a certain way. For many girls, these pressures begin at an early age. This is so true. I thought Linda's straight, honey wheat was the epitome of beauty and my dark waves were "too ethnic" and "too frizzy".
This doesn't have to be true for my daughter. She can rock those waves and curls and love them because they make her unique and beautiful.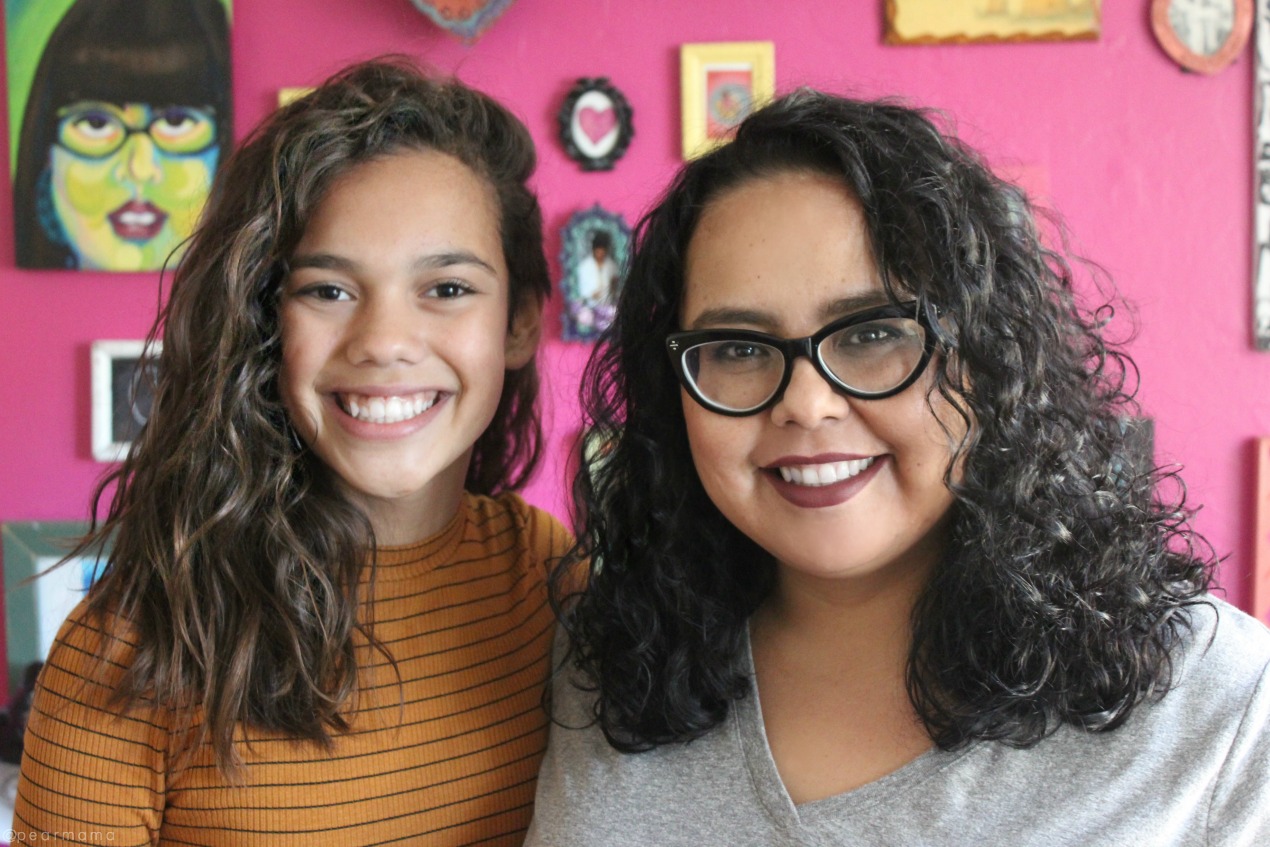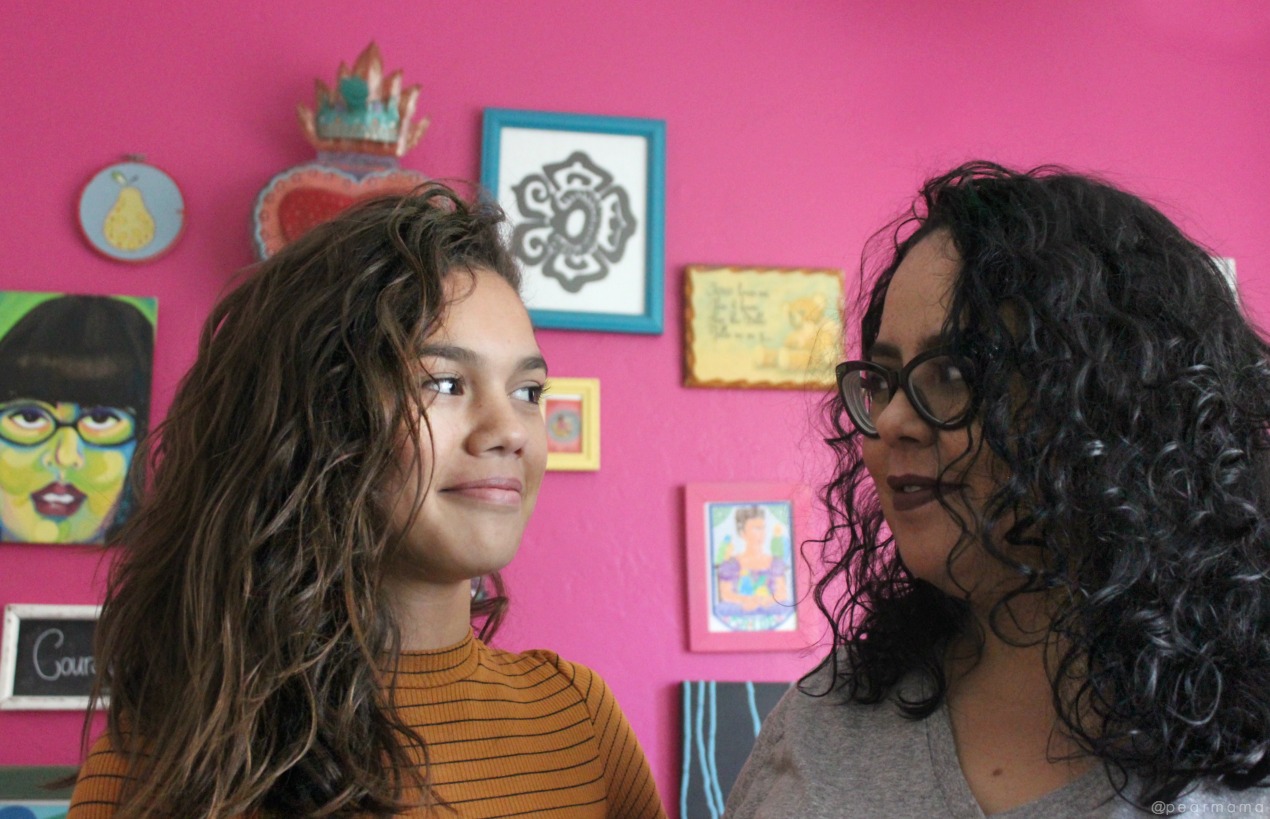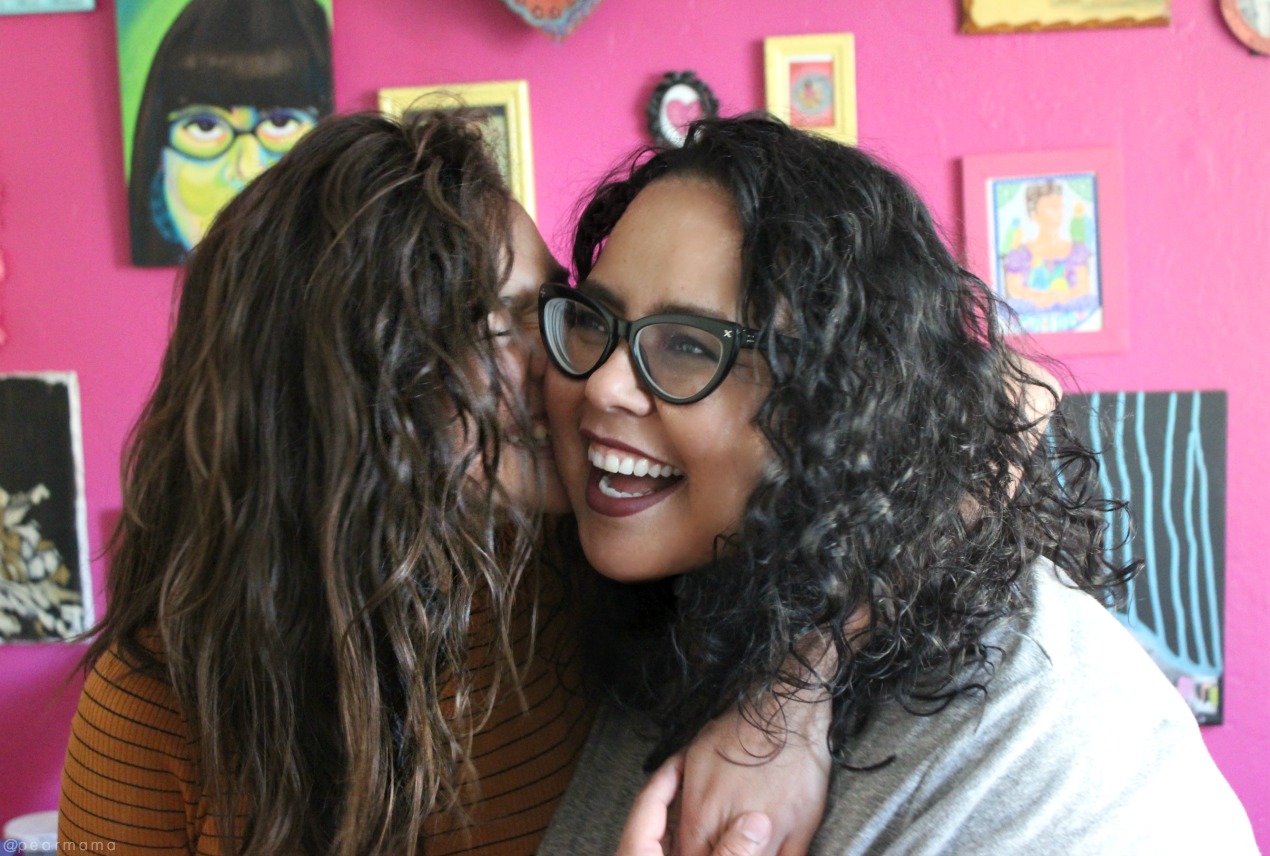 Send your daughter a #LoveYourHair message
Tell her why you love her hair and inspire her to do the same by creating and sharing a custom #LoveYourHair animated message with @Dove: http://bit.ly/2htPH5w
Disclosure: This is a sponsored post written by me on behalf of Dove™.